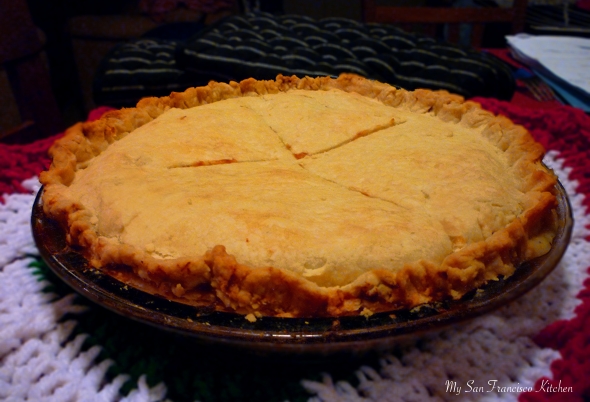 I love making this dish when its cold outside because the hot oven warms up my apartment wonderfully! This recipe takes some time to make, but it will definitely last you a few days. The vegetables and chicken come out really tender. I make this chicken pot pie with homemade crust, just because I can't stand the store-bought kind (even though it will save you a lot of time to use it). Don't forgot to bake the crust in the oven for 15 minutes before you fill it, otherwise the bottom crust will be soggy!

Ingredients
2 medium-sized chicken breasts, cubed
1 cup sliced carrots
1 cup canned green peas
½ cup sliced celery
1 cup diced potatoes
3 cups chicken broth
¼ cup butter
⅓ cup chopped onion
1 clove garlic, minced
½ cup flour
¼ tsp salt
½ tsp pepper
1 cup milk
Instructions
Preheat oven to 375 ºF.
In a saucepan, bring 3 cups of chicken broth to boil (I use chicken boullion). Add potatoes, carrots, celery, and chicken.
Boil for 15 minutes, then remove from heat and drain broth into large container (will use later).
Stir in peas.
Set aside.
In another saucepan, melt butter and add onions and garlic. Simmer for 10 minutes.
Stir in flour, salt, and pepper.
Add 2 cups of the chicken broth and the milk. Stir.
Simmer over medium heat until sauce thickens, then remove from heat and stir in chicken mixture.
Add combined mixture to pie dish over crust and cover with top crust.
Seal crust edges and decorate as desired.
Make four slits in the top center for steam.
Bake for 45 minutes, or until golden brown and filling is bubbly.
Let stand 10 minutes before serving.