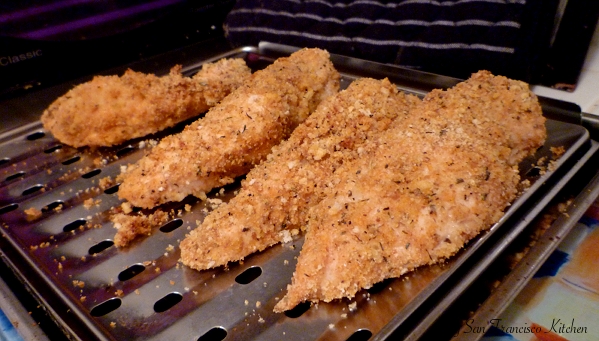 This baked breaded lemon chicken recipe is a fast go-to dinner choice on a busy day. If you have time to marinate the chicken 4 hours ahead, the flavor is even greater! I use both Panko and regular seasoned bread crumbs to make the chicken extra crunchy, but you can use all regular if you don't have Panko bread crumbs. I also add more seasoning to the bread crumbs, especially because Panko usually come unseasoned. Serve with rice and vegetables. Tip: Broil the chicken in a toaster oven for a few minutes to make extra crunchy!

Baked Breaded Lemon Chicken
Ingredients
2 boneless, skinless chicken breasts
4 tablespoons butter, melted
2 tablespoons lemon juice
1 garlic clove, minced
½ teaspoon salt
¼ teaspoon pepper
¼ tsp Italian seasoning
1 tsp lemon zest
pinch of onion powder
¼ cup seasoned bread crumbs
¼ cup Panko bread crumbs
Instructions
Preheat oven to 350 ºF.
In a bowl, combine the butter, lemon juice, garlic, salt and pepper.
Pour bread crumbs on a plate and mix in Italian seasoning, lemon zest and onion powder.
Cut chicken breasts in half to make 4 pieces.
Dip chicken in butter mixture, then coat with crumbs.
Place on a greased broiling pan and drizzle with remaining butter mixture.
Bake for about 25 minutes, then transfer to a toaster oven and broil for a few minutes.
Watch carefully to make sure tops do not burn!
This post is sponsored by: