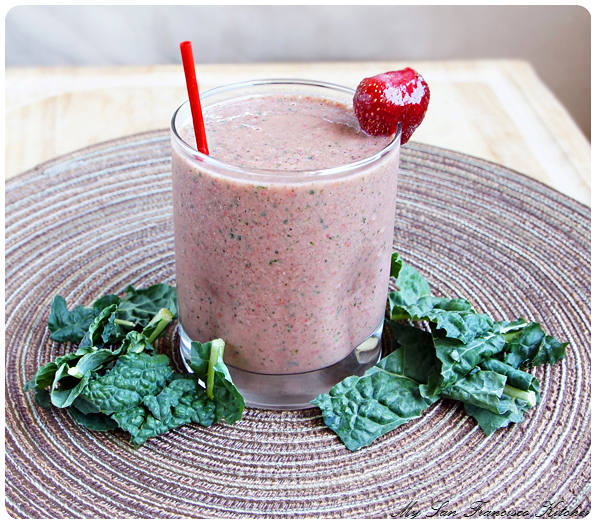 If you are looking for a great energy boost in the mornings or at lunch, you have to try this kale smoothie recipe! I have to admit, I completely despise eating kale. I have tried a few different recipes and did not like any of them. I know kale is incredibly healthy, but even when I buy it at the grocery store I cringe at the thought of incorporating it into a meal each day it sits in my fridge. For me, kale is worse than broccoli! I know there are some people out there who love kale, even in the raw…but the only way I found I can incorporate it into my diet is smoothies. I created this delicious berry kale smoothie because it allows me to consume raw kale, which preserves the nutrients as opposed to cooking it. I can barely tell I am "eating" 1/2 cup raw kale in just one 8 oz smoothie. The yummy strawberries and raspberries hide the taste, and if you blend it well enough you barely notice a difference in texture too! I haven't jumped on the "green smoothie" bandwagon yet, but maybe someday I'll get there…What's your favorite power smoothie to get you through your day?
School starts again in exactly 1 week, and I can't say I am looking forward to it. Let's just say, I have mixed feelings. I wish I could get the attitude back when I was a bright-eyed first year, but now entering my third year of pharmacy school I am starting to feel a little bit burnt out, anxious to start my career, and fearful of starting my rotations this spring.
Here is a picture of one of my favorite spots at Bryce Canyon during day 4 of our trip.
Day #4: Bryce Canyon {Natural Bridge}
Kale Smoothie
Prep time:
Total time:
Ingredients
1 cup orange juice
1/2 cup plain yogurt
1 banana
1/2 cup frozen organic strawberries
1/4 cup frozen organic raspberries
1 cup organic kale
Instructions
Rinse and strain kale. [img src="http://mysanfranciscokitchen.com/wp-content/uploads/2012/09/kale-smoothie1.jpg"]
Add all ingredients to a magic bullet cup or blender and blend well to desired texture. [img src="http://mysanfranciscokitchen.com/wp-content/uploads/2012/09/kale-smoothie2.jpg"] [img src="http://mysanfranciscokitchen.com/wp-content/uploads/2012/09/kale-smoothie-ingredients.jpg"]
Makes 16 oz (enough for two)
This post is sponsored by: