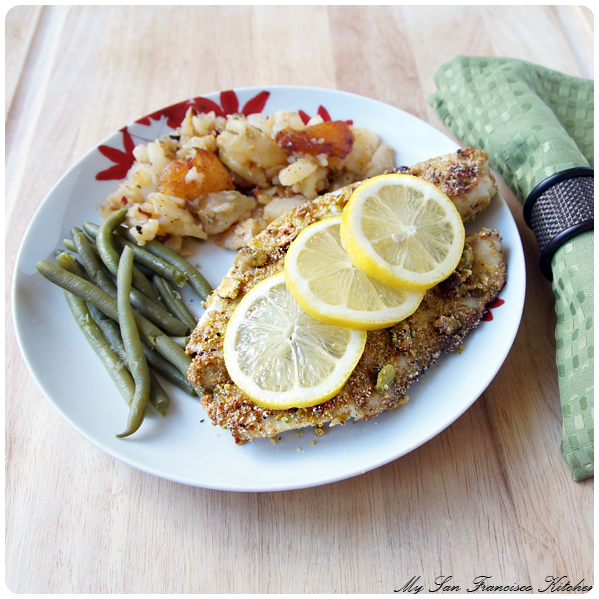 I think I found my new favorite fish recipe…pistachio crusted fish. For this pistachio crusted fish recipe, I used tilapia fillets; however, I have seen similar recipes using pistachios with halibut or salmon. I personally think a pistachio crust tastes best with a light white fish, but that's just me. I was surprised at how fast and easy this pistachio crusted tilapia recipe is – all you need it pistachios, corn meal, olive oil, salt and pepper. I love the taste of a fresh squeeze of lemon on top once the fillets are done. My husband described them as "crispy and delicious, yet light." I love this recipe because after you finish eating you don't feel like you are going to pop! Its a healthy dish, but incredibly satisfying at the same time. I hope you love it too!
Today I found out my French Apple Tart recipe was published in Sweet Dreams magazine – my very first publication! I was so excited, especially because this is one of my favorite recipes. Read more here.

Pistachio Crusted Fish
Ingredients
3 boneless, skinless tilapia fillets
1 cup milk
½ cup shelled pistachios
¼ cup cornmeal
Salt and pepper
Olive oil
Instructions
Rinse tilapia fillets and place in a shallow bowl filled with milk. Let stand 10 minutes, then turn over and let stand another 10 minutes.
In the meantime, coarsely grind pistachios in a mini food processor or chopper (you can also chop finely by hand). I used my magic bullet.
Transfer ground up pistachios to a large plat and mix in corn meal with a fork.
Heat a few tablespoons of olive oil over medium high heat (should not be smoking) in a large skillet.
Remove the fillets from the milk one at a time and sprinkle both sides with salt and pepper.
Press each side into the pistachio cornmeal mixture until each side is well coated.
Place into the skillet and fry each side about 4 minutes. Check underneath to make sure the crust is not burning-if it is, turn down the heat!
When done the crust should be golden brown and crispy, and the fillet should be opaque and flake easily.
Slice a fresh lemon and place on top of each fillet.
Makes 3 fillets
Lastly, as promised, here is a photo of day 3 of our trip!
Day #3: Zion National Park {look how huge the walls tower above me!}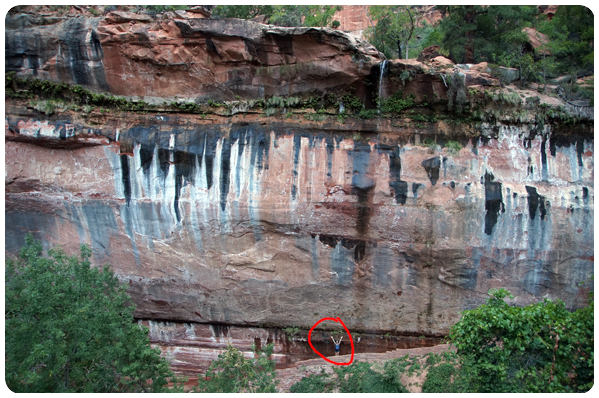 This post is sponsored by: