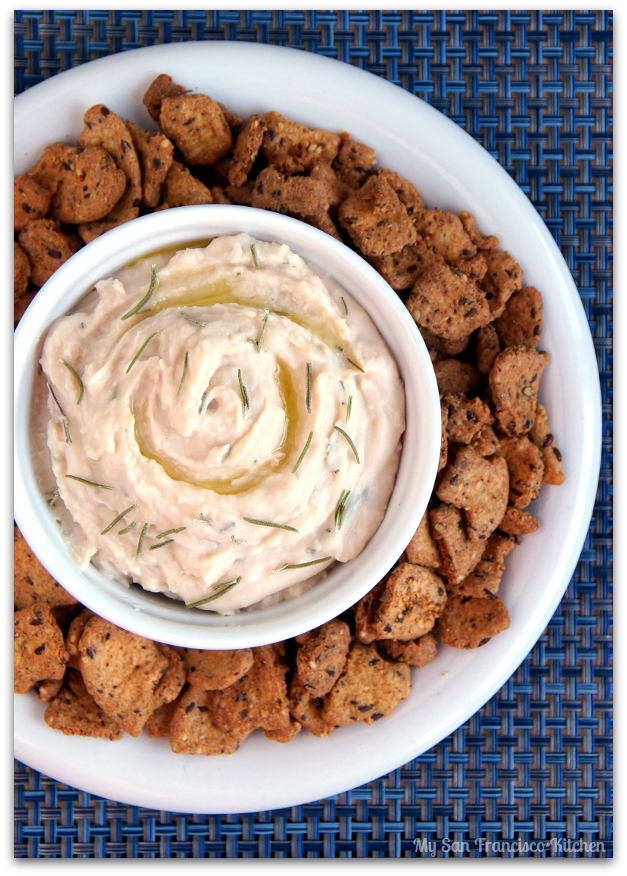 It's the weekend! Not officially for me yet since I have to work tomorrow, but I am really looking forward to my day off on Sunday! OK, so I discovered the most amazing bean dip the other day. I have never been a mayo person, so whenever I create dip recipes I always try to make them as healthy as possible. This lemon rosemary white bean dip is healthy and the perfect companion to your favorite snack. It goes well with almost everything, from fresh vegetables to crackers to wraps. Garlic, lemon, rosemary, and olive oil blend nicely together in this creamy white bean dip. My favorite snack to eat with it is NatureBox Chia Seed Crackers (www.naturebox.com). Warning: they are super addicting!

Next time you throw a party, whip up a batch of this lemon rosemary white bean dip. I promise, your guests won't be disappointed!
For the full Lemon Rosemary White Bean Dip recipe, check out this post on the NatureBox blog! Enjoy :)!
I am off to do some yoga so I feel like I did some form of exercise for the day. Now that I am working from sunrise to sunset 6 days a week, working out has been a real challenge (I am usually an outdoors runner, and not so much a gym person – looks like that will have to change, and soon!).
Have a great weekend!