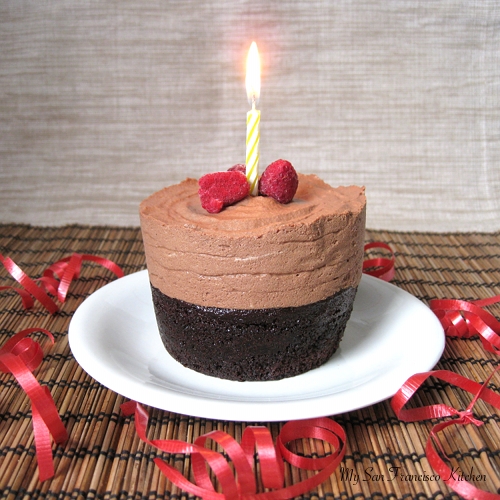 HAPPY BIRTHDAY FABI!
I made Fabi [[my amazing fiance]] this mini chocolate mousse cake for his birthday this week. We are both chocolate lovers, and a chocolate cake topped with silky chocolate mousse seemed like an incredible combination for his birthday cake. Every year I bake him a huge double layered cake, and guess who ends up eating it all? Hmmm wayyy too much cake for two people to finish in a few days!! This year I made two mini cakes for us to enjoy! The recipe makes a little more than this (both mousse and cake), so I made 3 cupcakes with the extra batter and gave them to some friends. I guess you could probably cut it in half, but it was the first time I tried this particular recipe and I wanted it to be perfect (which it was!!). It makes enough for 4 mini cakes in total. All I can say about this chocolate mousse cake is…MMMMMMMMMM =)
ps. He will probably kill me when he finds out I posted this silly picture…its the first time we visited San Francisco!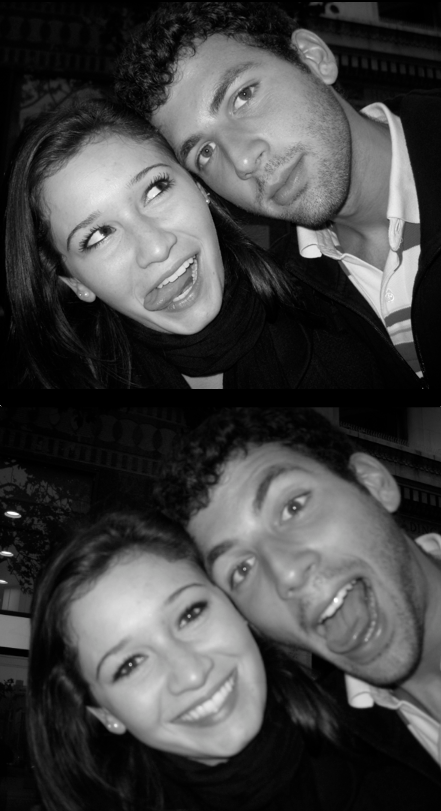 XoXo

Mini Chocolate Mousse Cake
Ingredients
Mini Chocolate Cakes
⅔ cup all-purpose flour
⅓ cup unsweetened cocoa powder
⅔ cup sugar
½ tsp baking soda
¾ tsp baking powder
¼ tsp salt
1 egg
¼ cup milk
3 tbsp vegetable oil
½ tsp vanilla extract
Chocolate Mousse
8oz semisweet chocolate chips
2 tbsp unsalted butter
½ cup water
3 egg yolks
2 tbsp granulated sugar
1¼ cups whipping cream
Instructions
Mini Chocolate Cakes
Preheat oven to 350 degrees.
Spray 2 ramekins with cooking spray and set on a baking sheet.
Add flour, cocoa, sugar, baking soda, baking powder, and salt to a standalone mixer bowl fitted with paddle attachment and whisk until blended.
Add egg, milk, oil, vanilla, and ¼ cup water and mix on medium speed until smooth and combined, ~ 4 minutes.
Pour batter into ramekins until a little more than ½ filled. Use remaining batter for cupcakes, or if you have extra ramekins you can make more cakes!
Bake until a toothpick inserted into the center comes out clean, about 25-30 minutes.
Transfer to a wire rack and cool.
Once cool, run a butterknife around sides of cakes and remove from ramekins.
Trim the tops off of each cake to make 2 even flat surfaces on top and bottom.
Transfer to a baking sheet lined with parchment paper.
Mousse
Add chocolate and butter and ¼ cup warm water to a glass/metal bowl over a small saucepan filled with simmering water over low heat (the bowl should NOT be touching the water) or double boiler.
Heat chocolate until melted.
Remove from heat once melted and cool for 10 minutes.
In a small heavy saucepan, whisk egg yolks, sugar and remaining water over low heat until mixture reaches 160 degrees F, about 1-2 minutes. Do not keep your eyes off or stop mixing because egg yolks will cook and cause the mousse to be lumpy.
Remove from the heat and whisk into chocolate mixture.
Cool for 5-10 minutes.
In a chilled mixing bowl, whip heavy cream on high speed until peaks form.
Fold chocolate in whipped cream with a large spatula.
Refrigerate for 10 minutes, then transfer to a cake decorating bag with a hole in the top.
Cut two strips of parchment paper or wax paper double the height of the cake (or more if you are making more cakes) and wrap around base of each cake. Tape to hold together in a circle.
Use the cake decorating bag filled with mousse to pipe mousse on top of cake staying inside the wax paper circle until you reach the top or desired height of mousse.
Refrigerate at least 4 hours, then remove wax paper carefully and serve with chocolate shavings or fruit as topping/garnish.
Makes up to 4 mini cakes
This post is sponsored by: