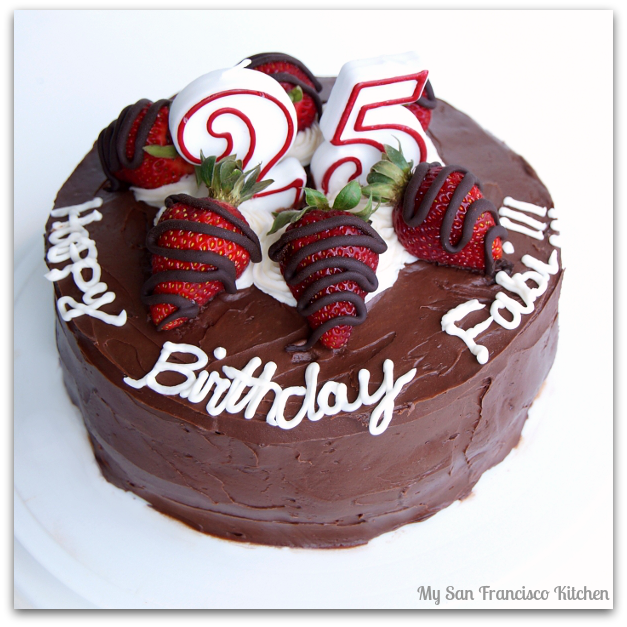 A few days ago, my husband celebrated his "quarter of a century" birthday. We celebrated by having dinner with a small group of friends, and with this chocolate mousse cake I made from scratch. I was nervous because after tweaking an old chocolate cake recipe many times, I was still making changes from notes from the last time. It never came out bad, but there was always something I wanted to do different for the next time. For example, last time I made it I thought it was a little too sweet, so this time I took out some sugar and hoped it wasn't lacking too much sugar… This time I was 100% happy with my chocolate cake recipe! It came out moist, and not too sweet or rich, but had just the right amount of sweet chocolate flavor. My favorite kind of chocolate cake to bake is chocolate mousse cake. I won't lie, this cake takes forever to make – so make sure you have a few hours to dedicate to it! The result, however, is very much worth the effort… 😉
Some time-saving tips are to use store-bought mousse and frosting (you can find both in the baking isle near the cake mixes), but if you have a little more time and are interested here are two recipes for both made from scratch: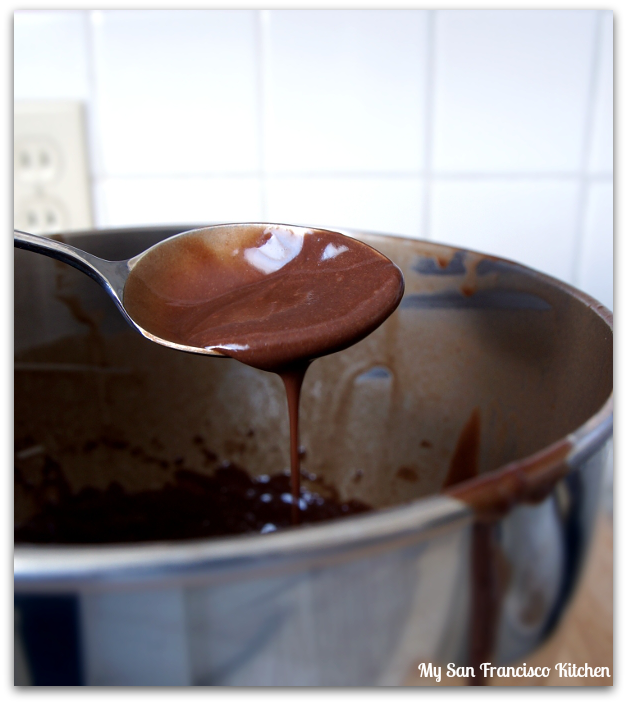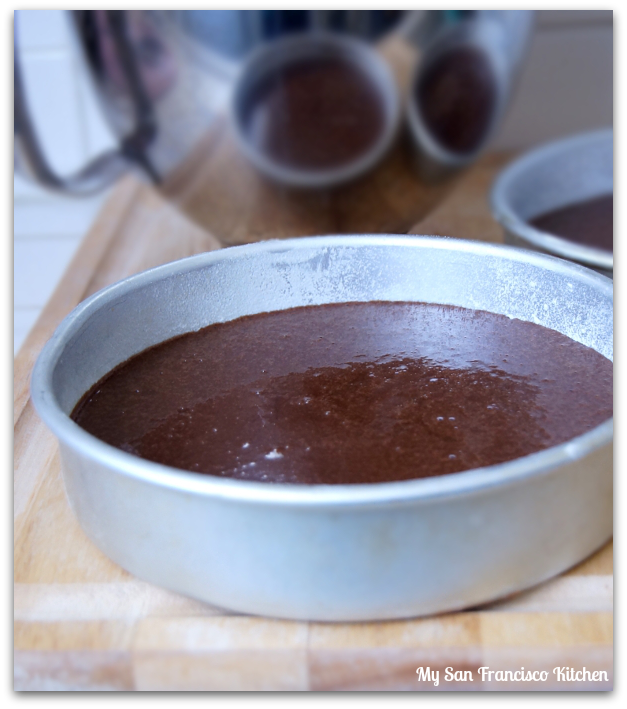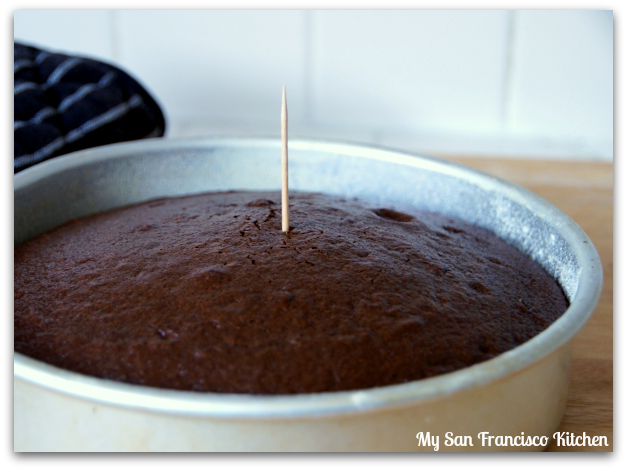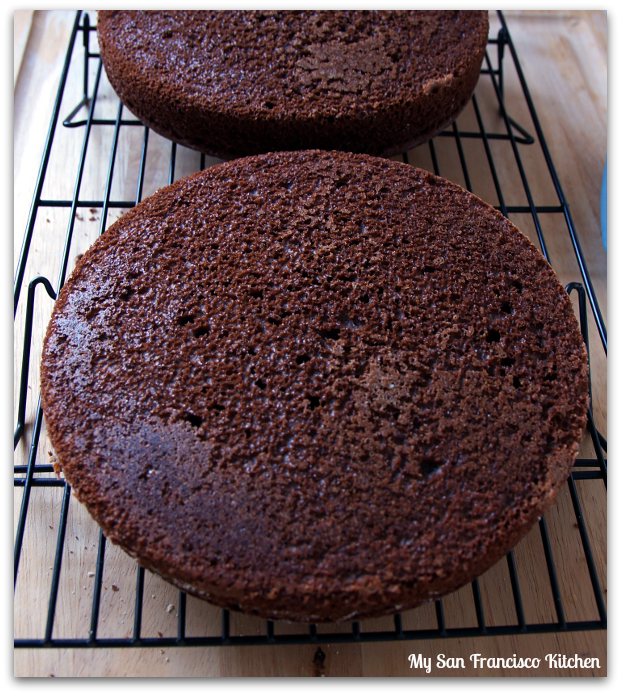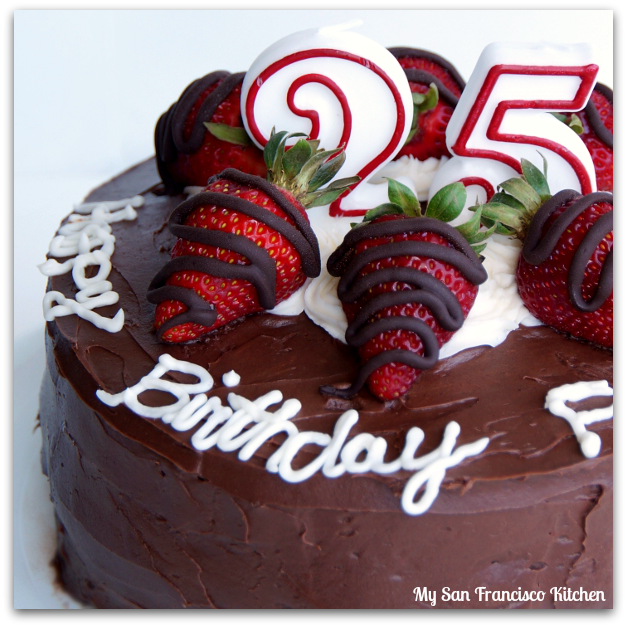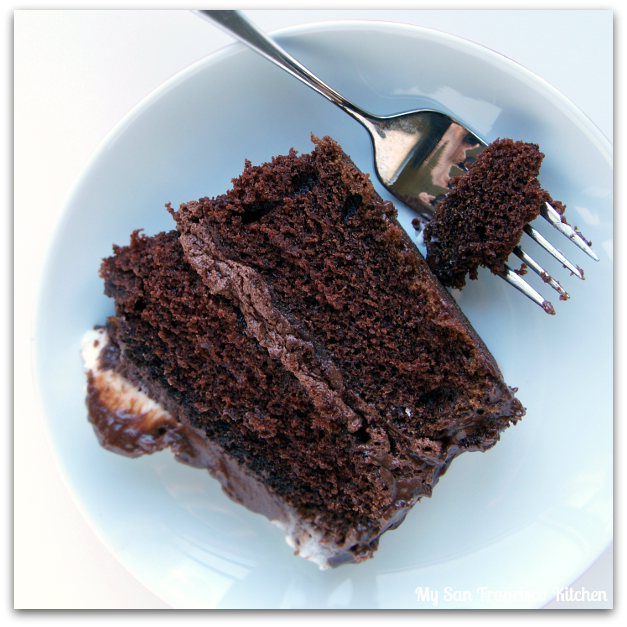 Chocolate Birthday Cake
Ingredients
2 cups all-purpose flour, plus 2 tbsp for cake pans
¾ cup unsweetened cocoa powder
1¾ cups sugar
2 tsp baking powder
1 tsp baking soda
1 tsp salt
2 eggs
1 cup milk
½ cup vegetable oil
2 tsp vanilla extract
1 cup boiling water
Instructions
Grease two 9-inch cake pans with cooking spray or butter.
Add 1 tbsp flour to each cake pan, and rotate like a steering wheel over a sink until the flour completely coats the pan. Shake out excess flour into the sink.
Preheat oven to 350 degrees F.
Add flour, cocoa powder, sugar, baking powder, baking soda, and salt to a standalone mixer bowl fitted with paddle attachment (you can also use an electric mixer and add ingredients to a large bowl).
Mix the dry ingredients on low speed for 30 seconds.
Add eggs, milk, vegetable oil and vanilla to the flour mixture and mix on medium speed about 2 minutes.
In the meantime, boil 1 cup of water.
Turn off the mixer and add the boiling water.
Beat on medium speed for 1 minute.
Use a spatula to transfer the batter evenly between the two 9-inch cake pans.
Bake for 30 minutes, or until a toothpick inserted in the center comes out clean.
Cool for 10 minutes, then loosen carefully with a thin spatula or knife and turn over onto a wire cooling rack.
Cool for 30 minutes before frosting.
While waiting for the cake to cool, prepare mousse and frosting (see recipes above, or use store-bought).
Add the mousse to a cake decorating bag (or ziplock bag with a 1-inch hole in the corner) and chill in the freezer for 7 minutes.
If the cake layers are not flat on each side, use a large serrated knife to cut a thin layer off. Tape a piece of parchment paper around one layer of cake (should be three times the height of one cake layer).
Pipe the mousse over the cake layer in a circle, until it completely covers the layer and is about 1 to 1½ inches in height.
Place in the refrigerator to chill for at least 1 hour.
Place the other layer of cake on top of the mousse and carefully unwrap the parchment paper from the cake.
Frost and decorate as desired.
Makes one double layered 9-inch cake