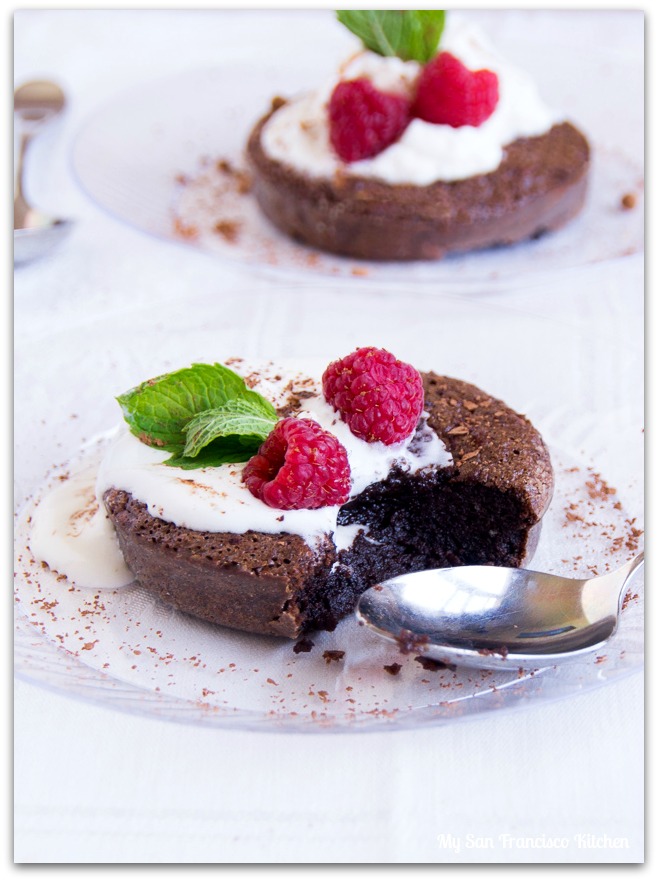 Did you know that chocolate lava cake is one of my top favorite desserts? It is right up there with tiramisu and apple pie. After a long week studying like there is no tomorrow, I felt entitled to a little chocolate treat 😉 I got this recipe from Chinet®, who asked me to bake & photograph it for them (see original recipe here). I will never need to look for a molten chocolate lava cake recipe again! It has just the right amount of rich, and it is the perfect dessert to whip up any night of the week. No need for a special occasion, but it is a great "dessert for two" for anniversaries or birthdays. Top with with freshly made whipped cream, fresh raspberries and a few leaves of mint.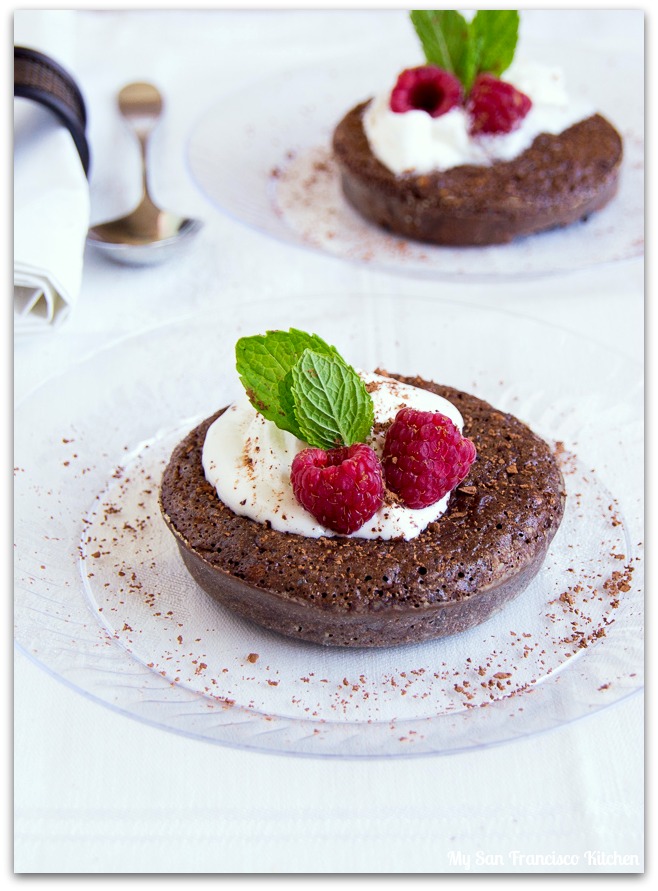 Chocolate Lava Cake
Ingredients
½ cup (1 stick) unsalted butter
2 tbsp all-purpose flour
⅔ cup semisweet chocolate chips
2 tbsp cold heavy cream
2 tbsp confectioners' sugar
2 whole eggs
2 egg yolks
¼ cup sugar
1 tsp vanilla extract
1 pinch salt
Whipped Cream
½ cup cold heavy cream
2 tbsp confectioners' sugar
Fresh raspberries
4 sprigs mint
Sweetened cocoa for garnish
Instructions
Preheat the oven to 450 degrees.
Grease and flour 4 (6-ounce) ramekins or baking dishes with the 1½ teaspoons of butter and 1 teaspoon of flour in each, tapping out the excess flour. Set on a baking sheet.
In a double boiler, or a metal bowl set over a pan of simmering water, melt the remaining ¼ pound of butter with the chocolate, cream, and powdered sugar, stirring until smooth. Remove from the heat.
In a bowl, whisk together the eggs, egg yolks, sugar, vanilla, and salt until thick ribbons form, about 3 minutes. Sift 2 tablespoons flour into the egg mixture and fold together.
Fold the chocolate into the egg mixture. Divide among the prepared dishes and bake until the sides of the cake are set and the tops are puffed but still soft, about 12 minutes.
Remove from the oven and let cool in the ramekins for 2 minutes, then unmold onto dessert plates.
Meanwhile, in a bowl, whip the cream until beginning to form soft peaks. Add the sugar and beat until stiff peaks start to form.
Spoon a dollop of the whipped cream on each unmolded cake, and garnish each plate with raspberries and a sprig of mint.
Sprinkle cocoa over the cakes, and serve.
Makes 4 cakes
Recipe adapted from Chinet®