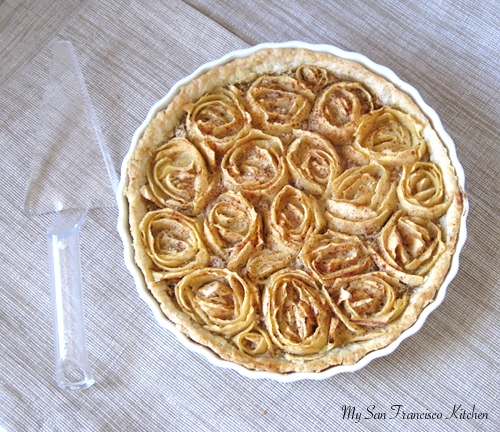 Why is it that Sundays always go by so fast? I spent most of this lazy afternoon baking a French apple tart with Fuji apples (you can use Granny Smith if you like it more sour than sweet). I just LOVE the presentation of this particular dessert-rose apples! It takes a lot of time to thinly slice all of the apples and then arrange them into roses by hand on top of the frangipane (an almond cream filling)….but the time spent is definitely worth it. This is a perfect dessert to serve with afternoon coffee or tea. My final exams are 1 week away, but I haven't been thinking about them all day…It looks like this will be my last big project in the kitchen for another 2 weeks, but hopefully I will have time to cook a little bit…I just can't stay away for that long! XoXo

Tarte aux Pommes à la Frangipane (French Apple Tart)
Ingredients
Pastry crust:
1⅓ cups all-purpose flour
¼ tsp salt
½ cup unsalted butter, softened
1 egg yolk
3 tbsp cold water
Frangipane filling:
6 tbsp butter, softened
½ cup granulated sugar
1 egg and 1 egg yolk
1 tbsp apple brandy (can sub vanilla, but will have a different flavor)
⅔ cup ground almonds
2 tbsp all-purpose flour
Topping
5 fuji (or granny smith) apples, peeled
1 tsp granulated sugar
Lemon juice
Cinnamon for garnish
Instructions
Pastry crust
In a medium bowl, mix flour and salt together with a fork.
Cut in the butter with a pastry blender, then add 1 egg yolk and 1 tbsp water and stir with a fork or hands.
Add remaining water and mix until the mixture forms large crumbs.
Gather dough into a ball, and then wrap in plastic wrap and flatten into a disc.
Refrigerate for 30 minutes, or until firm.
Frangipane
Cream together the butter and ½ cup of sugar in a standalone mixer until well blended.
Add in the egg and then the egg yolk one at a time while mixing.
Add apple brandy or vanilla.
Add 2 tbsp flour and sliced almonds to a food processor and grind until fine. Add to the batter and mix on low speed until well blended. Set aside.
Roll the pastry dough out on a floured surface to about a 12 inch circle. Fold into quarters, and place in a tart or pie dish and unfold.
Press dough into the bottom and up the sides, then poke holes using a fork all over the bottom and sides.
Place in the refrigerator to chill until firm.
Preheat the oven to 400 degrees F and place a baking sheet inside the oven.
Slice apples and use a knife or peeler to make thin slices, both long and short to get a variety of sizes to work with. Set peelings into a large bowl, dripping lemon juice over occasionally to keep from browning.
Use a spatula to transfer the frangipane into the chilled pastry, and spread evenly.
Arrange the apple slices in roses, working from the outside in and using different shaped peels for each rose layer. The longest peels should go on the outside of each rose, forming a circle in which you can layer additional peels. Use the fragipane as "glue" to hold up your roses.
Place the tart on top of the baking sheet in the oven.
Bake for 15 minutes, then reduce the oven temperature to 350 degrees F.
Bake for another 10 minutes, then remove from oven and sprinkle sugar and cinnamon over the top of the tart.
Return to the oven for 15-20 more minutes, or until slightly browned.
Cool on a wire rack or stove-top.
Serve with vanilla ice cream, yogurt, or whipped cream either hot or cold.
See this recipe on weekend potluck!
This post is sponsored by: