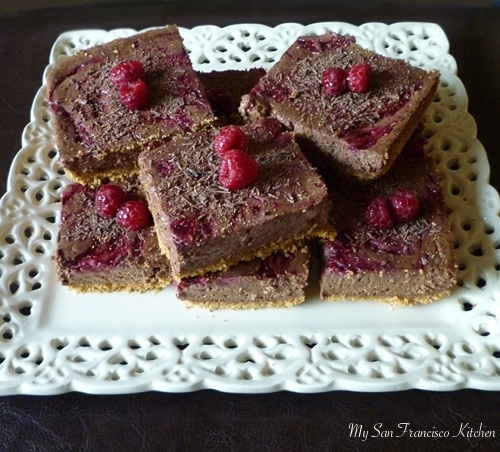 Today was a gorgeous day here in San Francisco. I took a few hours and went to the beach to relax a bit, it was so nice! I have never seen so many people out on the beach, but then again these clear sunny days with temperatures over 70ºF are rare. This morning I made these chocolate raspberry cheesecake bars since I had no dessert in the apartment. They are made with homemade graham cracker crust, chocolate cream cheese filling (I used LIGHT cream cheese), raspberry purée swirled on the top and finally topped with dark chocolate shavings and fresh raspberries. Yummmmm 🙂 Two weeks until finals…maybe these cheesecake bars with give me a study boost this week!

Chocolate Raspberry Cheesecake Bars
Ingredients
Crust
12 graham crackers
3 tbsp granulated sugar
⅓ cup butter, melted
Filling
16 oz light cream cheese
3 eggs
2 tbsp lemon juice
1 tsp vanilla extract
½ cup semi-sweet chocolate chips, melted
⅓ cup unsweetened cocoa powder
2 tbsp granulated sugar
Topping
¾ cup frozen raspberries
1 tsp cornstarch
1 tbsp water
1 tsp granulated sugar
1 dark chocolate bar
Instructions
Melt chocolate chips in a little dipper crockpot (if do not have, microwave a little at a time right before adding to filling later on).
Grind graham crackers in a food processor into fine crumbs.
Combine with melted butter and sugar in an 8x8 square glass baking dish, and press with fingers to form crust.
Refrigerate for 15 minutes.
In the meantime, purée raspberries and cornstarch in food processor or blender.
Pour into a small saucepan, add water and bring to a boil.
Stir in sugar and simmer for 2 minutes, stirring occasionally.
Remove from heat and let cool.
Preheat oven to 300 °F.
In a mixing bowl or standalone mixer with whisk attachment, beat cream cheese until fluffy.
Beat in vanilla and lemon juice until well blended.
Beat in eggs, sugar, and cocoa and melted chocolate.
Take crust out of refrigerator, and pour cream cheese mixture over it.
Drop raspberry sauce by teaspoonfuls over the top, evenly.
Cut through the top with a butterknife to swirl the raspberry sauce into the cream cheese.
Carefully place the cheesecake into the center of the preheated oven, and bake for 45 minutes at 300 °F.
Remove from oven when center is almost set, and cool for 1 hour.
Refrigerate for at least 5 hours before cutting and serving (best results: refrigerate overnight!).
Using a peeler make dark chocolate shavings from the candy bar.
Top bars with shavings and fresh raspberries.
Makes 9 bars
See this recipe on:

Get your own little dipper (perfect for melting chocolate without burning it!):

This post is sponsored by: