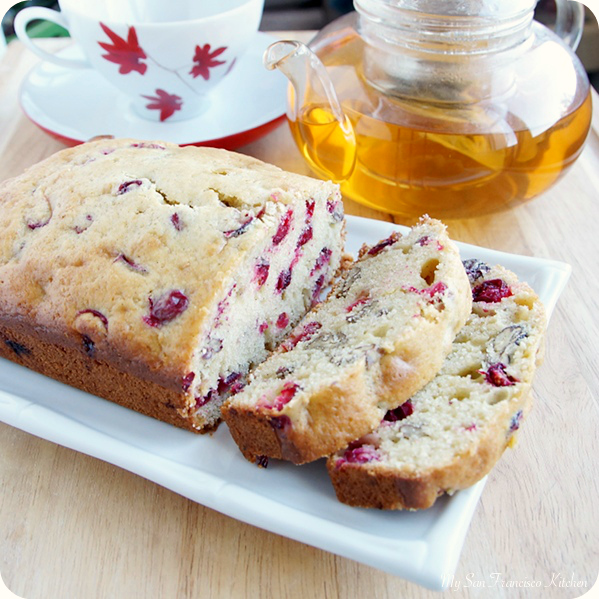 Once again I found myself with too many fresh cranberries that were about to go bad, so I chopped them up and threw them into this wonderful cranberry walnut bread. I love the hints of lemon, orange and cinnamon in this sweet and tart bread. It would make a beautiful Christmas gift for friends, family, neighbors, teachers, etc. Just wrap each loaf in plastic wrap after it they are finished cooling and tie it with a big red bow! You can also decorate the loaf by drizzling glaze over it, but this will make it more sweet and I personally prefer less sweet breads. This recipe makes only one 9×5 inch loaf, so if you want more you will need to double/triple the recipe. Serve with warm tea for an afternoon treat.
I have two more finals to go, and hopefully they go much better than the first one did :/ I am soo ready for Christmas break! Are you staying home for the holidays, or will you be traveling somewhere?
XoXo

Cranberry Walnut Bread
Ingredients
1 cup fresh cranberries, coarsely chopped
¾ cup granulated sugar
⅓ cup canola oil
¼ cup milk
1 tbsp orange juice
1 tsp vanilla extract
1 tsp freshly grated lemon peel
1 tsp cinnamon
2 eggs
1½ cups all-purpose flour
2 tsp baking powder
½ tsp salt
½ cup coarsely chopped walnuts
Instructions
Preheat oven to 350 degrees F.
Add cranberries, sugar, oil, milk, orange juice, vanilla, lemon peel, cinnamon and eggs to a mixing bowl and stir well with a wooden spoon.
Whisk the flour, baking powder and salt together in a separate bowl and then slowly mix into the batter.
Stir well until all ingredients are well blended.
Stir in the walnuts.
Grease a 9x5 inch loaf pan and pour in the batter.
Bake 45-50 minutes, until a toothpick comes out clean and the top is slightly golden brown and firm to the touch.
Cool for about 10 minutes before transferring to a wire cooling rack.
Makes 1 loaf
This post is sponsored by: