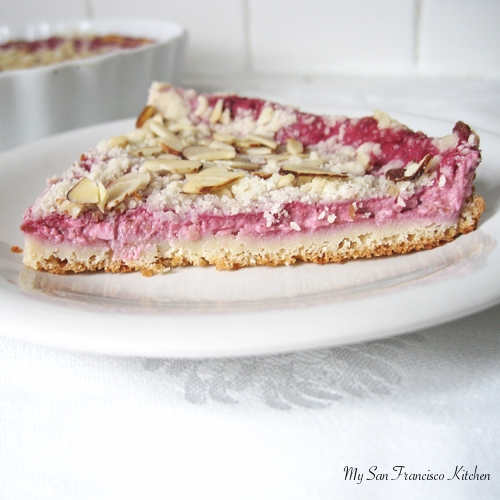 Lately I have been looking for "light" dessert recipes because my wedding is less than 4 months away and I want to look my best! That means no more cookies for a while :/ I used light cream cheese and low fat yogurt to create this light raspberry crumb cake and it came out delish! I love the sliced almonds topping. It isn't too sweet to the point of making you feel sick after eating it, and it is still a very satisfying dessert for those of you counting calories!
Recipe adapted from Fitness Magazine.

Ingredients
1 cup all-purpose flour
⅓ cup sugar (+ 1 tbsp for raspberry sauce)
Pinch of salt
5 tablespoons unsalted butter
½ cup low-fat vanilla yogurt
1 tsp vanilla extract
1 egg
½ tsp baking powder
¼ tsp baking soda
4 ounces light cream cheese
1 cup fresh or frozen raspberries
1 tbsp cornstarch dissolved in ¼ cup warm water
Sliced almonds for topping
Instructions
Preheat oven to 350 degrees F.
Combine flour, sugar, and salt in a large bowl, then cut in butter with a pastry blender until crumbly.
Remove ½ cup and set aside for later.
Add yogurt, vanilla, egg, baking powder, and baking soda to crumb mixture.
Beat with electric mixer at medium speed until blended.
Pour into 8-inch-round nonstick pie dish.
Add raspberries, 1 tbsp sugar and cornstarch mixture to a small saucepan and heat over medium heat. Bring to a soft boil and simmer for 5 minutes, stirring occasionally.
Add cream cheese and raspberry sauce and beat at low speed until blended.
Spread evenly over batter.
Top with reserved flour mixture and sliced almonds.
Bake for 45 minutes (edges will be browned and center firm).
Cool and then refrigerate at least 3 hours before serving.
Makes 8 slices
This post is sponsored by: