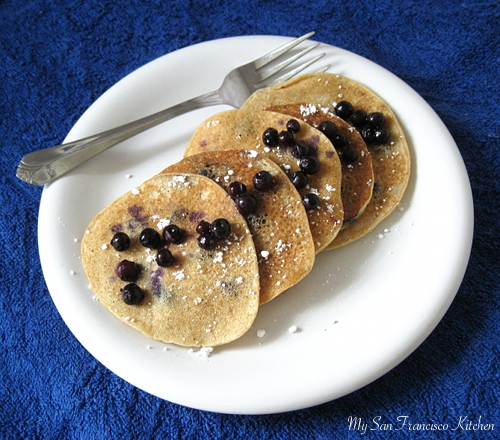 These blueberry pancakes are made with 50% whole wheat flour and applesauce for some of the butter for a healthier breakfast. I like to make smaller ones and top them with blueberries and powdered sugar. I don't even need syrup with these because the blueberries already give them so much flavor.
You may be wondering by now if I have fallen of the Earth or something. In my previous post, I mentioned I am now on Spring break, so technically I should be baking up a storm in the kitchen and laying out in the sun when I'm now. One thing has stood in the way: WEDDING PLANNING! If any of you have planned a wedding, you know it is insane how many things need to be done. So far in the last 3 days, I have: found my wedding dress & veil, spent 4 hours looking at flowers for bouquets and arrangements, bought my garter, went to one cake tasting (going to another today and hoping they won't charge $700 like the one yesterday…!), and figured out favors. Basically, no time for the kitchen. At least the weather in LA has been really cloudy and cold so I don't feel bad about missing out on any sunny weather.
XOXO
Healthy Blueberry Pancakes
Ingredients
1¼ cups white whole wheat flour (or ½ white, ½ whole wheat)
¼ tsp salt
2 tsp baking powder
½ tbsp granulated sugar
¼ tsp vanilla extract
1 egg
1 cup milk
½ tbsp applesauce (can sub melted butter)
½ cup frozen blueberries, thawed
Instructions
Heat a medium-sized skillet over medium heat.
Add all ingredients except blueberries to a blender and blend together, or whisk by hand.
Spray skillet with cooking spray and pour batter in a circle motion to form 3 small pancakes on the skillet.
Drop a few blueberries on top, and gently submerge into batter using a spatula.
Wait until holes form and then flip over for 30 seconds.
Serve with butter, powdered sugar, and blueberries on top.
Makes 12 small pancakes
This post is sponsored by: