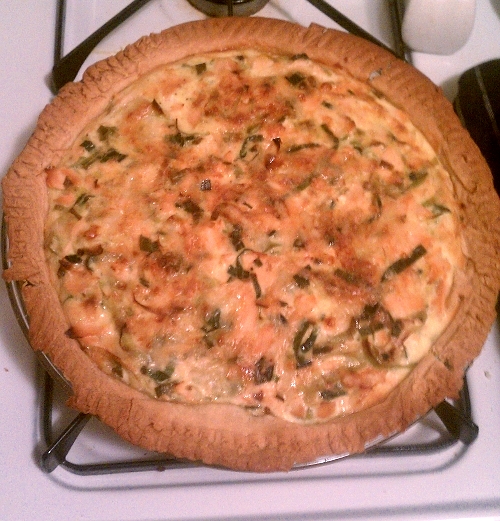 I have made many Quiche Lorraines, so I thought I would switch it up tonight and try something new: salmon and leek quiche. I wanted to make it with spinach as well, but I only had frozen spinach in the freezer and last time I tried using a little bit of frozen spinach in a quiche it was extremely watery 🙁 Anyways, I spent some time doing research, and was not happy with any of the recipes I came across…so I combined them to make my own!
Salmon and Leek Quiche Recipe
Ingredients
One fresh leek
1 large salmon fillet
3 eggs
1/2 cup of cream (or sub sour cream)
1/2 cup milk
3/4 cup swiss & gruyere cheese mixture
1 homemade or store-bought crust
1 tbsp olive oil
1/4 tsp pepper
1/4 tsp salt
Step 1
Preheat the oven to 400° F. Heat a tablespoon of olive oil (or butter if you prefer) over medium heat in a large skillet. Chop the leek into thin slices, and toss into skillet. Season with salt and pepper. Let simmer over low-medium heat for 20 minutes, stirring occasionally.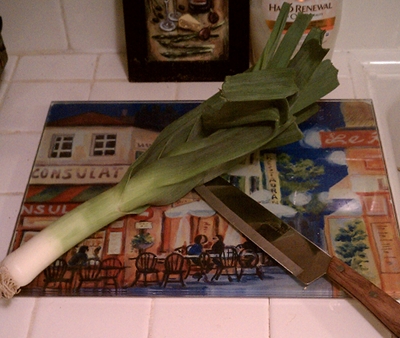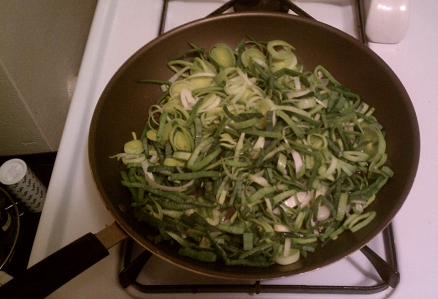 Step 2
While the leek is simmering, boil water in a 4-quart pot. Once boiling, add salmon fillet (can cut in half if does not fit). Poach salmon fillet for 10 minutes. It is important that the salmon does not dry out, so check it for flakiness before the 10 minutes is up. Once flaky with the touch of a fork, drain well and pat with a paper towel.
Step 3
Break the 3 eggs into a large bowl, and add 1/2 cup milk and 1/2 cup cream (or sour cream sub). Beat well. Add a pinch of salt and pepper to taste. Shred salmon with a fork and add to bowl. Add leek and 3/4 cup swiss and gruyere cheese mixture, and mix with spoon until blended well.
Step 4
Pour mixture into pie shell, and bake for 45 minutes (remember to cover the outer edges of the crust after about 15 minutes with tinfoil to avoid burning).
Voilà! Enjoy 🙂
Final Thoughts & Critique
When I made the quiche, it came out really delicious, but I only added 1/4 cup of milk and 1/4 cup of sour cream. It was a tiny bit dry, which is why I increased these amounts for the final recipe. I also added too much leek for my taste, so be careful with how much you add-like I said, I prefer spinach over leek, so a little less would have made it perfect for me. Let me know if that helps, and what you think of the recipe!