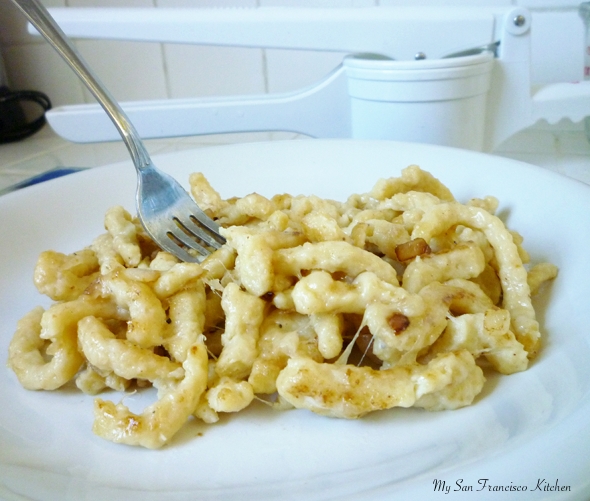 Some people compare this dish to American "mac 'n cheese", but I think the two are very different. In Germany, this käsespätzle recipe is typically offered as a side dish, but it can also be served as a main. However, spätzle is usually served as a main dish with some kind of meat and sauce. With a good spätzle maker, you will be surprised at how easy this dish is to make! Fabi's mom got one for me for Christmas last year, and it has made life sooo much easier 🙂 You can find them on Amazon pretty cheap (see below). Tip: Rinse bowl and spätzle maker with hot water right away to avoid batter drying on the dishes….this takes forever to clean off!

Ingredients
3 eggs
1 cup milk
3 cups flour
¼ tsp nutmeg
pinch salt
pinch pepper
2 qt water
1 tbsp butter
½ cup swiss cheese, shredded
Instructions
Beat eggs and milk together with a fork.
Add nutmeg, salt, and pepper.
Slowly add flour a little at a time and mix with a fork.
Once all flour is added, dough should be elastic.
Let stand for 5 minutes while bringing a 3 qt pot filled with water to boil.
Add dough to spätzle maker and press through. Let the dough hang into the water (be patient, it will fall off by itself, no need to cut it off).
When noodles rise to the top, they are done. Strain well with a straining spoon and drop into a bowl.
Heat 1 tbsp butter in a large skillet.
Add chopped onions and simmer for 7 minutes.
Add spätzle and sprinkle swiss cheese on top.
Stir until all cheese is melted.
See this post on
Wednesday Eats
!
Get your own spätzle maker!

This post is sponsored by: