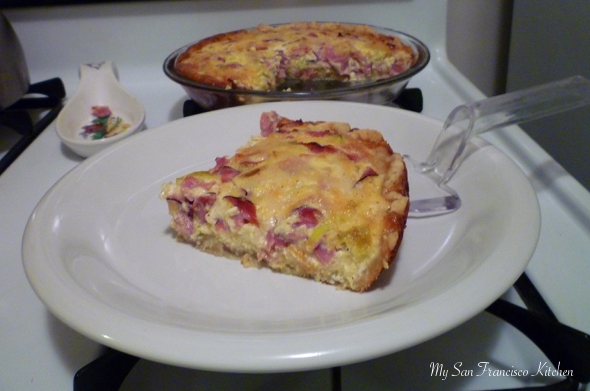 I can't tell you how many Quiche Lorraine recipes I have tried, and they have all come out either too bland or too runny! I was cleaning out my kitchen drawer the other day and found a Quiche Lorraine recipe used by my grandma and mom. I remember having it before and that it tasted perfect, so I was excited to try to make it myself. It turned out great-perfect amount of flavor, and not runny at all. I substitute ham for bacon to make it a little healthier. Quiches are great because you can make them for any meal, and for any occasion! Tip: Make homemade pie crust ahead of time to save time.

Ingredients
1 tbsp olive oil
1 cup sliced leek
1 cup chopped ham
1½ cups swiss and gruyere cheese
1 tbsp flour
3 eggs
1 cup milk
½ cup cream
¼ tsp salt
¼ tsp pepper
¼ tsp nutmeg
Instructions
Heat olive oil over medium heat in a skillet.
Add sliced leek and simmer for 10 minutes, stirring occasionally.
Beat eggs in a large bowl, then add milk, salt, pepper, nutmeg, ham, and leek.
Mix flour and cheese in a separate bowl, then add to egg mixture and stir.
Pour over crust, and bake at 425 ºF for 15 minutes.
Cover pie crust edges and bake at 325 ºF for 45 minutes.
Let stand 10 minutes before serving.