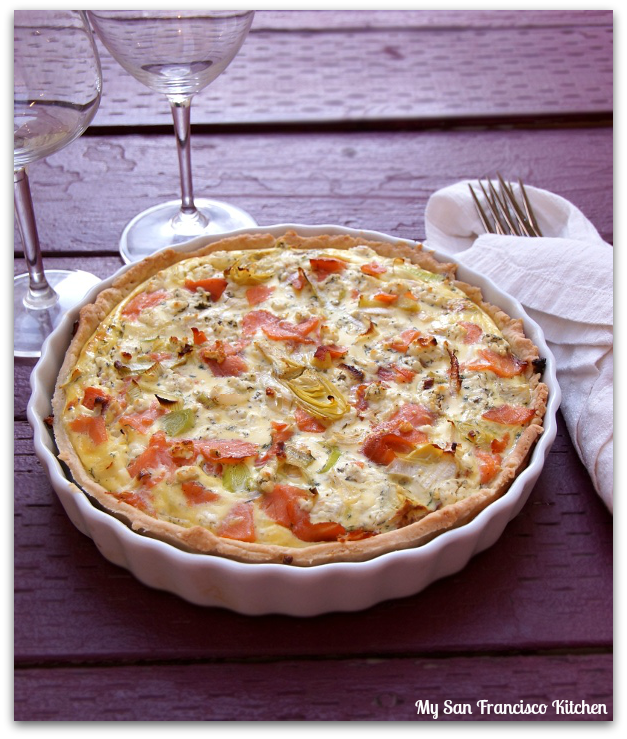 I have never had good luck with quiche recipes… until I tried this one, smoked salmon, goat cheese and artichoke quiche. They always turn out runny, no matter what I do! I almost gave up on making quiche, except that my husband loves it so much. Now, I personally LOVE goat cheese, and loved that this recipe incorporated it instead of your usual Swiss or Gruyere. It was incredibly flavorful! I know not everyone likes goat cheese, but I am sure one of the other cheeses would still go well with this recipe.
This quiche recipe is a little time-intensive, but I promise it is so worth the effort in the end!!
I also made a new discovery (don't make fun of me that I am just realizing this now): My stand mixer is AMAZING at making dough! No more pastry blender needed. I just cubed the butter and added all of the ingredients in, and used my flat paddle attachment to mix up some crumbly dough. It is so much easier than how I was making it before!!
Next step: while refrigerating the dough for the crust, sauté the leek and artichoke in a small amount of oil or butter until browned.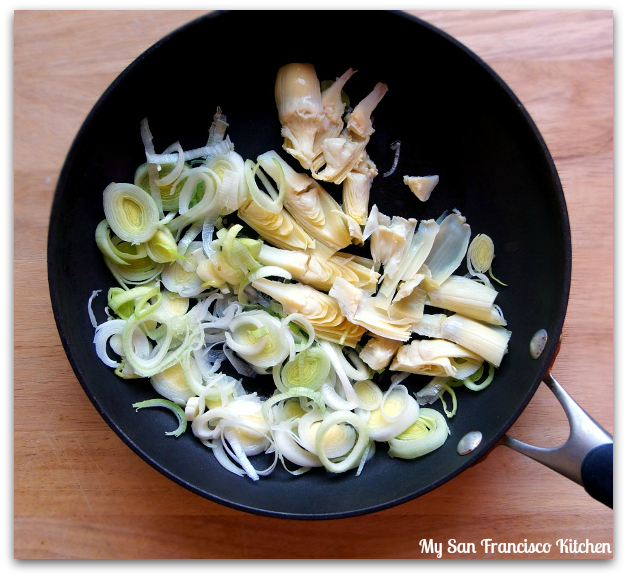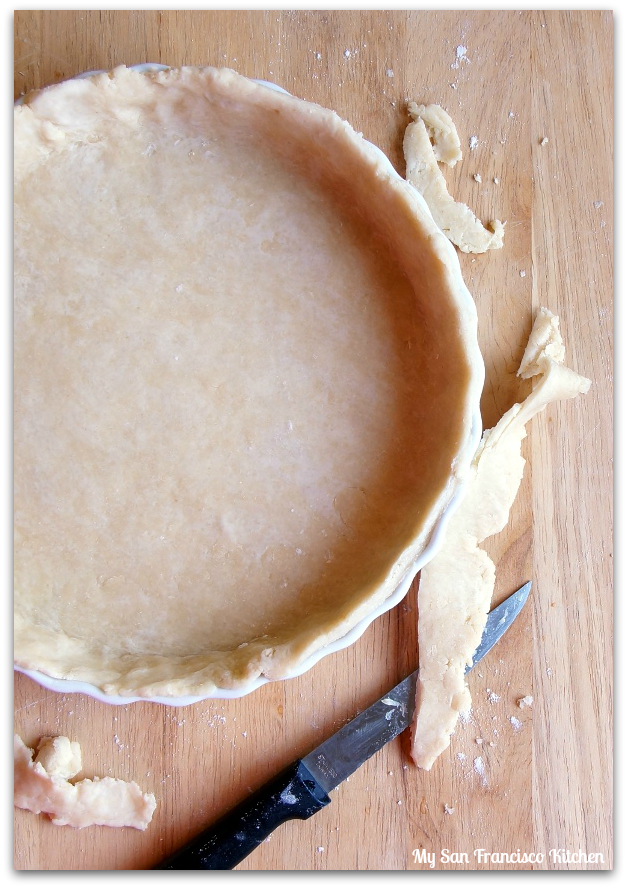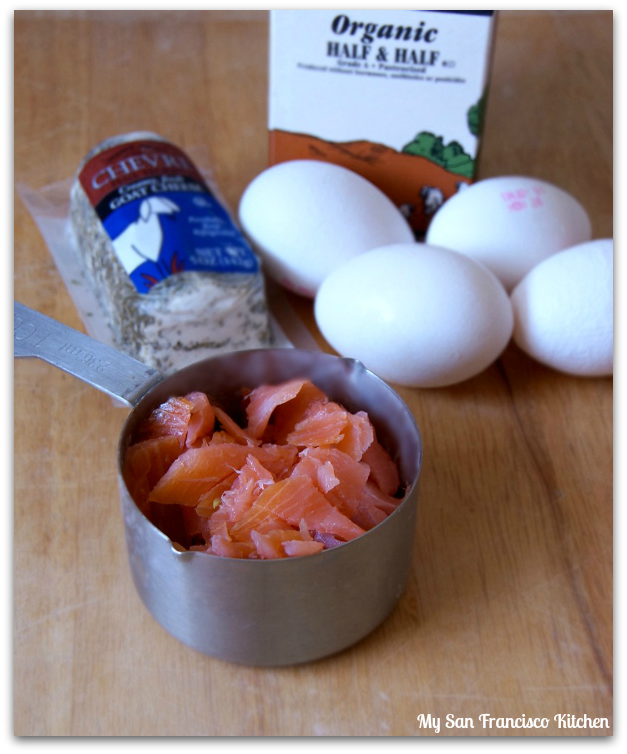 Here is the secret step to getting a firm quiche: bake half of the egg mixture until slightly firm, then top with the rest of the ingredients!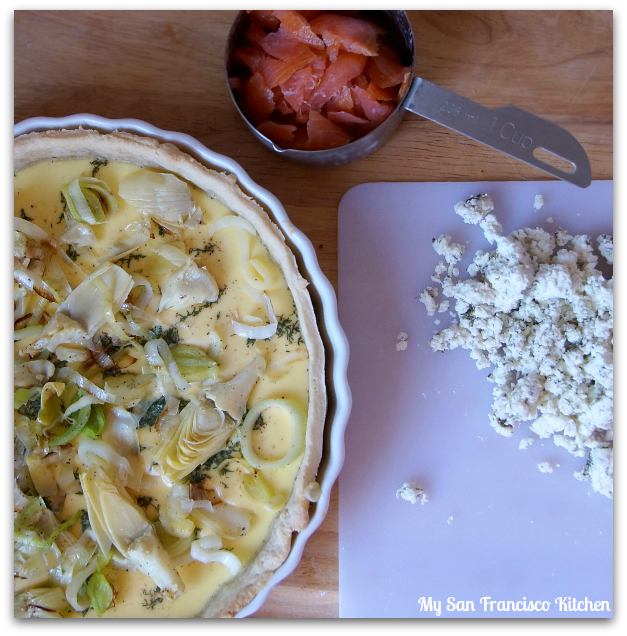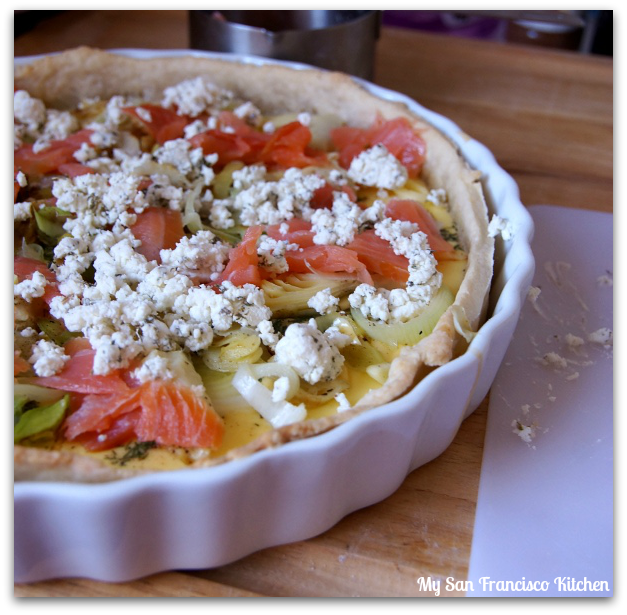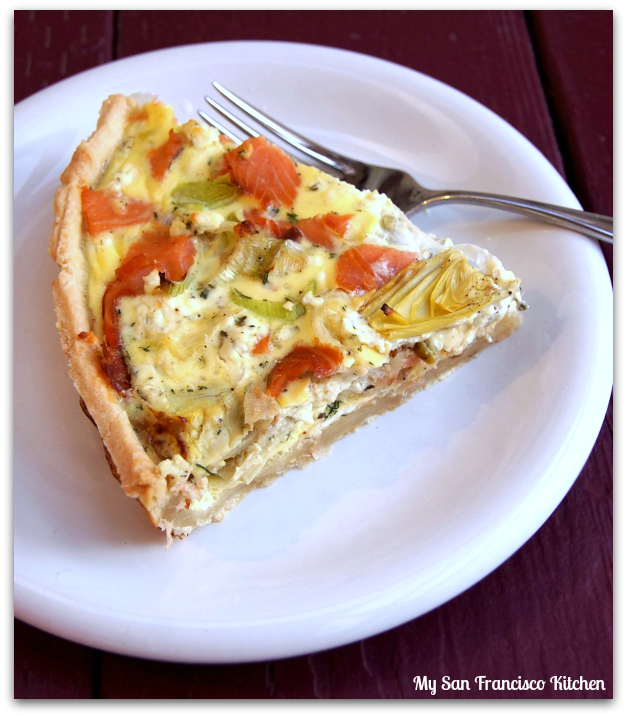 Enjoy!

Salmon Artichoke Quiche
Ingredients
Crust:
2 cups all-purpose flour
2 tsp sugar
¾ tsp salt
7 tbsp unsalted butter, chilled and cubed
4-6 tbsp cold water
Filling:
1 tbsp canola oil
1 leek, thinly sliced
6 artichoke hearts, chopped
1 cup chopped smoked salmon
4 eggs
1 cup half-and-half (or heavy cream)
1 tbsp dill
Pinch salt, black pepper, and nutmeg
4 oz goat cheese, crumbled
Instructions
Add flour, sugar and salt to a stand mixer fitted with paddle attachment and mix on low (can also add to a mixing bowl and whisk together with a fork).
Add the butter and continue mixing until crumbly.
Add the water, 1 tbsp at a time, while mixing.
Wrap dough in plastic wrap and chill in the refrigerator for 30 minutes.
In the meantime, sauté the sliced leek and artichokes in oil in a skillet on medium-low heat until browned, then remove from heat and set aside.
Preheat oven to 350 degrees F.
Roll dough on a floured surface to ~14 inch circle, ¼ inch thick.
Transfer to a greased 9-inch tart pan or springform pan, and press the dough into the sides.
Poke multiple holes around the bottom and sides of the dough with a fork, then place in the oven and bake for 20 minutes.
In the meantime, whisk together the eggs, half-and-half, dill, salt, pepper and nutmeg in a bowl.
Once crust is done, remove from oven and add half of the egg mixture. Place back in the oven and bake for 15 minutes at 400 degrees F. It should be slightly firm.
Remove from the oven and add half of the remaining ingredients to the top, then pour the remaining egg mixture over and finally top with the remaining ingredients.
Bake for another 40 minutes.
Let cool for 5-10 minutes before serving.
Makes 1 9-inch quiche
 This recipe is adapted from Fine Cooking, Smoked Salmon, Goat Cheese and Artichoke Quiche