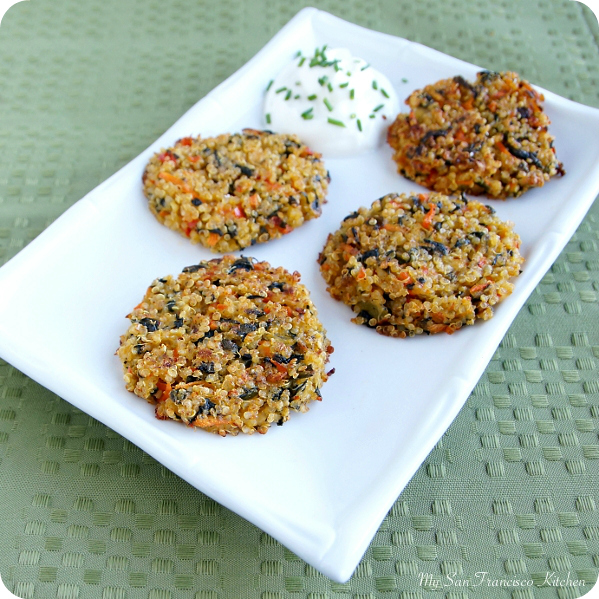 Ever since I got back to San Francisco from my trip to LA last weekend I feel like I hit the ground running and haven't stopped. Between unpacking, cleaning, grocery shopping, half-marathon training, assignments, quizzes, a presentation, and a paper (which I still need to get done tonight), I have had no time to myself! I still have a lot to do tonight, but I just had to share these delicious veggie quinoa cakes with you. The story behind these quinoa cakes? Well, when I got back from my trip this weekend, I opened the refrigerator to find the very same vegetables I left my husband to cook with 5 days before staring back at me (cooking is not one of his passions). I was craving quinoa for lunch, and voila! the idea of vegetable quinoa cakes was born. A little bit of onion, carrots, red bell pepper, spinach, garlic with a pinch of salt and pepper mixed with quinoa and eggs make a great appetizer or side dish. I love that quinoa is a healthier grain (ok, so it isn't technically a grain) than rice, because it has more healthy fats and is considered one of the best non-animal protein sources you can eat! When I cook vegetarian/vegan dishes, I always try to include quinoa because it adds important amino acids to your diet that many other vegetarian foods lack. I decided to leave breadcrumbs out, but I think they would make a great addition to this basic recipe. The possibilities are endless when it comes to which vegetables to add – you can play around with different flavors. These do take some time and effort, but they are so worth it! I love serving them with sour cream; since they are a cake, they are on the dry side. Note: These are soft cakes, not crispy – only the outer edges are crispy from browning in the pan!

Vegetable Quinoa Cakes
Ingredients
2 cups cooked organic white quinoa
½ onion, finely chopped
3 cloves garlic, finely chopped
1 organic red bell pepper, finely chopped
1 large organic carrot, shredded
½ cup chopped organic spinach (fresh or frozen)
2 tbsp olive oil
2 eggs
Salt and pepper to taste
Instructions
In a food processor, finely chop onion, garlic and red bell pepper.
Heat 2 tbsp olive oil in a large skillet over medium heat.
Add chopped onion, garlic and red bell pepper and sauté for 7 minutes, stirring occasionally.
In the food processor, shred the carrot and transfer to the skillet.
Add the spinach and stir well.
Cook for 5 minutes, stirring occasionally.
Add the quinoa, salt and pepper and stir well and remove from heat.
Allow mixture to cool for 10 minutes.
Beat two eggs in a small bowl and add to the cooled quinoa mixture.
Mix well with a wooden spoon until completely coated in egg.
Preheat oven to 350 degrees F.
In another skillet, heat a small amount of olive oil over medium-high heat.
Use your hands to form a golf-ball sized ball of the quinoa mixture and set onto the skillet. Press down with the back of the wooden spoon to flatten.
Cook for 3 minutes, until the bottom turns golden brown, then flip and brown the other side. This will help keep them together, so don't skip this step!
Repeat until all of the quinoa mixture is used up.
Transfer to a greased baking sheet, placing them 1 inch apart.
Bake for 10-15 minutes.
Serve warm with sour cream or other topping.

Makes 16 small cakes
Nutrition Information
Serving size:
1 cake
Calories:
46
Fat:
2g
Saturated fat:
0.25g
Carbs:
3.3g
Fiber:
0.6g
Protein:
0.77g
This post is sponsored by: