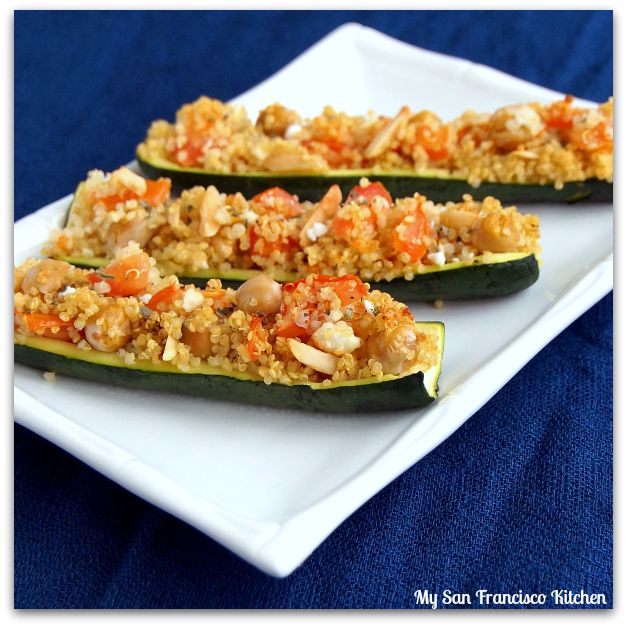 For my week off, I made a "to-do" list:
Clean out my closet [as my mom says, if you haven't worn it in one year, donate it!]
Re-organize the kitchen
Run
Tan
Ok, so the last one probably won't happen. I do live in San Francisco, remember?? 🙂 It has actually been sunny the past few days, so you never know!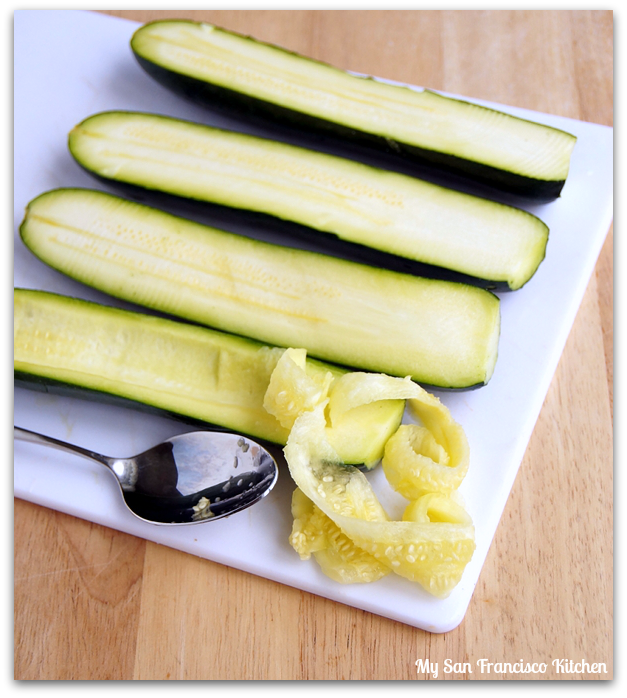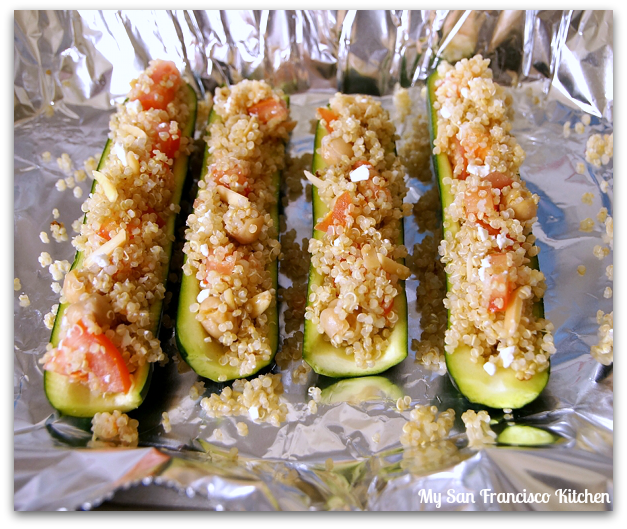 Quinoa Zucchini Boats
Ingredients
4 medium organic zucchini
1 cup organic white quinoa
2 cups filtered water
2 cloves garlic, minced
2 tbsp olive oil
2 organic roma tomatoes, diced
¼ cup light feta cheese
¼ cup garbanzo beans
2 tbsp slivered almonds
1 tsp dried basil
Salt and pepper, to taste
Instructions
Add water, garlic and quinoa to a rice cooker (or bring water and garlic to boil, then add quinoa and once it starts boiling again lower heat and cover) and cook for 15 minutes. Remove lid, fluff and cool.
Preheat oven to 400 degrees F.
Line a baking sheet with two pieces of aluminum foil, side-by-side.
Slice the zucchinis in half, longwise.
Use a teaspoon to carve out the seeds.
Add olive oil, tomatoes, feta cheese, basil, almonds and garbanzo beans to the quinoa and mix well.
Fill zucchini boats with quinoa mix and place on the aluminum foil, four per sheet.
Take each side of the aluminum foil and bring together over the top of the zucchini boats to cover them.
Bake for 18 minutes, then open aluminum foil for the last 7 minutes until slightly browned. If you like it crunchier, you can leave it open-faced longer.
Makes 8 zucchini boats