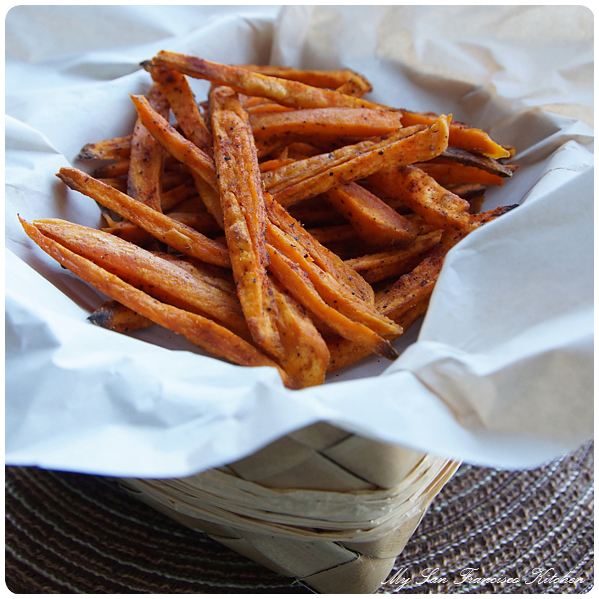 You caught me.
I am supposed to be studying for my pathology midterm tomorrow (8am – yikes), but I got tired of staring at my notes all day AND I am waiting for the husband to get home AND I just had to share this baked sweet potato fries recipe with you. I'm kind of obsessed with them. Last time I made them I ate the entire batch myself in under 5 minutes – no joke [sorry Fabi, I promise to make more this weekend]. The first time I had these was at a little restaurant called Dish in the beautiful Santa Barbara, CA where my lovely friend Erin used to work and I've been hooked ever since. I prefer them over french fries, and they are really healthy for you because they aren't fried and they are loaded with vitamin A and C. All they need is a little olive oil and any spice you like. I season mine with garlic salt, paprika and cayenne pepper – SO GOOD.
What is everyone up to this weekend? I am trying to figure out what to do since my next midterm isn't until Wednesday, so I want to take a little break… Hmmmm…
Oh, and don't forget to enter my giveaway for a free NatureBox!! You have a few more days to enter =)
OK…back to studying…

Baked Sweet Potato Fries
Ingredients
2 sweet potatoes
2 tbsp olive oil
Paprika
Garlic Salt or Powder
Cayenne Pepper
Instructions
Preheat oven to 415 degrees F.
Wash and peel the sweet potatoes, then slice them into fries (if you have a mandolin slicer, this will work perfectly!).
Toss the fries into a large bowl and drizzle the olive oil over them.
Coat the fries in olive oil by using your hands (sorry, it gets a little messy here!).
Add as much of the seasonings as you would like, either in a large ziplock bag and shaking to coat or by alternating with mixing the fries with your hands in the bowl.
Line the fries up next to each other on a baking sheet (this will give you the best results as they will all cook evenly!) and sprinkle with more seasonings if desired.
Bake for 20-30 minutes, depending on how crispy you like them.
Carefully turn over halfway if you want them extra crispy.
This post is sponsored by: