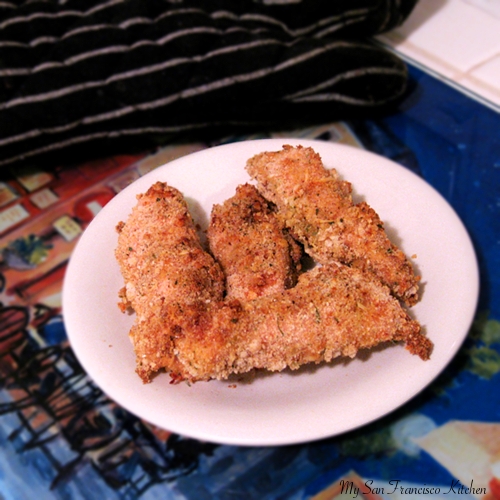 The other night I was craving chicken fingers, so I made these baked Italian chicken fingers with Italian and Panko bread crumbs. They are so crunchy and delicious! Lately I have been trying "quick and easy recipes" like this one because I get home from work around 7pm and I hate eating really late. It only took a few minutes to defrost some frozen chicken breasts, cut them into strips and toss them in the seasonings and into the oven. This recipe is really healthy because it contains NO OIL. I use an egg in place of vegetable oil. These would make a great lunch dish too, with a side of fries of course! If you have more time, a wonderful side would be these baked garlic fries. You can also try topping with a marinara sauce and fresh grated Parmesan cheese…yum!

Baked Crispy Italian Chicken Fingers
Ingredients
2 boneless, skinless chicken breasts
1 egg, beaten
¼ cup Italian bread crumbs
¼ cup Panko bread crumbs
1 tbsp grated Parmesan cheese
1 garlic clove, minced
Instructions
Preheat oven to 425 degrees F.
Pour Italian and Panko bread crumbs onto a large plate and mix in grated Parmesan cheese with a fork.
In a medium bowl, beat egg with minced garlic.
Slice chicken breasts in half to get 4 thin strips.
Dip chicken breast strips in egg, then roll in the bread crumb mixture.
Place on a greased broiler pan or baking sheet, and bake for about 12 minutes. Turn over when halfway done.
This post is sponsored by:
See this post on Weekend Potluck!