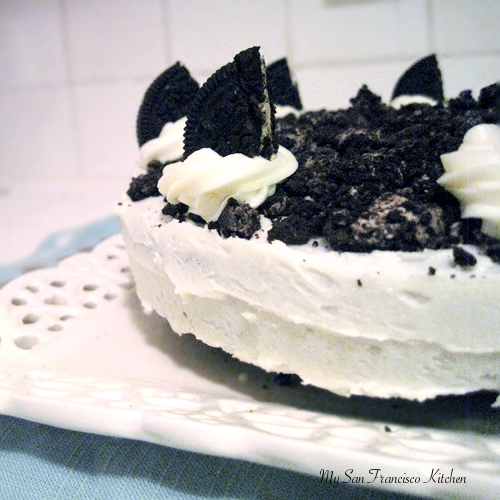 I guess this week's theme is "oreos" since last night I made these white chocolate dipped oreos, and tonight I made this delicious oreo cookie cake. I used to make a similar kind with my mom, but sometimes we used cool whip for the frosting and we would freeze it. Other times we made it this way, with traditional vanilla frosting and crushed oreos…yum!

Heavenly Oreo™ Cookie Cake
Ingredients
¾ cup sugar
¾ cup all-purpose flour
⅓ cup unsweetened cocoa powder
¾ tsp baking powder
¾ tsp baking soda
½ tsp salt
1 egg
½ cup milk
⅛ cup vegetable oil
⅛ cup unsweetened applesauce
1 tsp vanilla extract
⅓ cup boiling water
1 cup vanilla frosting
10 Oreo cookies
Instructions
Preheat oven to 350°F. Grease and flour one 9-inch round baking pan (double recipe to make 2).
Add sugar, flour, cocoa, baking powder, baking soda and salt to a standalone mixer bowl and whisk together.
Add eggs, milk, oil and vanilla and beat on medium speed for about 2 minutes.
Stir in boiling water with a spoon. Scrape batter into baking pan using a spatula.
Bake 20-25 minutes or until wooden pick inserted in center comes out clean.
Cool for 10 minutes, then transfer from pan to wire cooling rack.
Cool completely before frosting with vanilla frosting (see recipe link above).
Grind Oreos by hand or using a food processor and sprinkle on the top of the cake.
Decorate as desired with remaining frosting and Oreos.
Makes 1 9 inch single layer cake
This post is sponsored by: