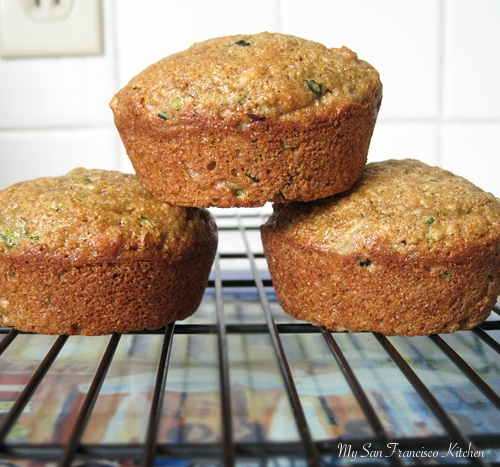 Happy Sunday, everyone! Don't you just LOVE Sundays? You can lounge around in your pjs until noon and spend the whole day in the kitchen baking (or maybe thats just me) 🙂 I have to admit, I have NEVER tried zucchini bread before. I have a huge sweet tooth, and the thought of a healthy vegetable in a sweet bread sounded horrific. However, I have been searching for healthier breakfast treats to take with me to school in the mornings because even though those chocolate croissants and double chocolate muffins look amazing in the Nurseteria [what we call the student cafeteria at school since it is in the nursing school building], the thought of needing to up the running time every week as a sacrifice just doesn't seem worth it to me. Anyways, I decided to create my own zucchini muffin recipe using some top-rated recipes I found searching the web. Instead of using all-purpose flour, I substituted it for 1/2 whole wheat flour (you can get this at Trader Joes). You will get the same result by using 1/2 white, 1/2 whole wheat flour for this recipe. I also used applesauce to sub for 1/2 of the oil most recipes call for. They turned out incredibly amazing. I'm serious. They taste so moist and buttery, WITHOUT any butter! I think this is my new favorite muffin recipe…who would have thought! Tip: Double the recipe for a larger batch, this zucchini muffin recipe only makes 4 large muffins.

Whole Wheat Zucchini Muffins
Ingredients
¾ cup 100% white whole wheat flour (or 50:50 white & whole wheat)
½ cup sugar
¼ tsp baking powder
¼ tsp baking soda
¼ tsp salt
½ tsp ground cinnamon
1 egg
⅛ cup applesauce
⅛ cup vegetable oil
1 cup finely shredded organic zucchini (~1)
½ cup chopped walnuts
Instructions
Preheat oven to 350 degrees F.
Add all ingredients except for the zucchini and walnuts in a bowl, and stir about 50 times until well blended with a wooden spoon.
Wash and scrub the zucchini and chop of the ends with a knife.
Use a grater to shred the zucchini into small pieces into a measuring cup (you may also want to try a food processor).
Add shredded zucchini and walnuts and stir in a few times until just blended.
Scoop batter to fill a greased large muffin pan ⅔ full.
Bake for 20-25 minutes, checking with a toothpick or fork for doneness (should come out clean).
Let cool on a cooling rack, and serve warm with a glass of cold milk.
Makes 4 large muffins
This post is sponsored by:
See this post on this week's weekend potluck!