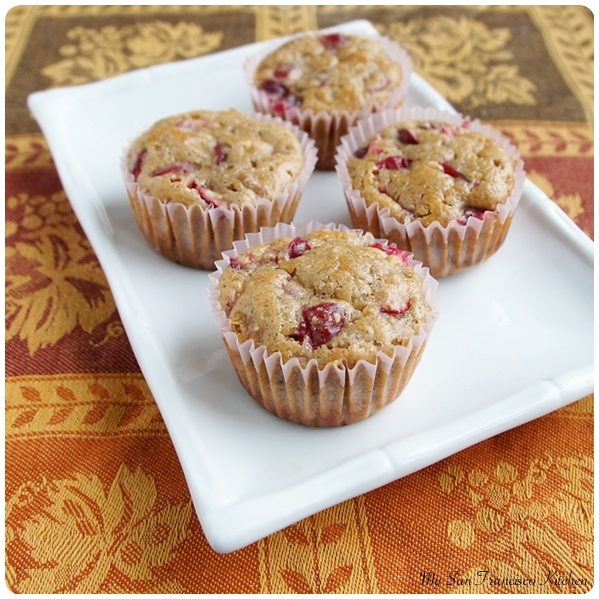 December is just a few days away, which means winter is coming very fast! I am holding onto these last few weeks of fall before the craziness of finals, shopping, and traveling starts. Don't get me wrong, I love the holidays (especially the baking part of it!), but things are so calm and peaceful right now in these last days of November. Today I made these cranberry walnut muffins. I absolutely love the combination of the tart taste of the cranberries, crunchiness and nutty taste of the walnuts, and the sweet and spiced taste of the muffins. They always come out perfectly moist, and the best part is they are low fat since my recipe uses apple sauce (this also adds great flavor!). So why cranberries? No, they aren't left over from Thanksgiving – my mom made an amazing cranberry sauce and we used them all up for that. My husband decided to join me when I was heading out to the grocery store the other day, and I love when this rare occasion happens because he always seems to find things at Trader Joe's that I haven't seen before, or at least never thought about buying. It is always nice to have a change in the usual shopping list! Anyways, he picked out these fresh cranberries, and although we have both tried cranberry juice and sauce, we have never eaten them plain. After biting into one back at home, we both decided they were too bitter to eat alone (duh!) and I thought about what to make with them. These cranberry walnut muffins came to mind, and so here they are! I must say, they taste SO much better in these muffins. We still have half of the bag left, so I will need to come up with another way to use them fast. Any ideas?
If you haven't entered my giveaway for $25 grocery store gift card to get your holiday baking shopping started, you still have a few weeks to enter! All you have to do it leave me a comment here.
It's almost the weekend! What are your plans this weekend? Will you be decorating for the holidays, or are you done? I haven't started my decorating yet, but I plan on starting today!

Cranberry Walnut Muffins
Ingredients
1½ cups all-purpose flour
½ tbsp baking powder
¼ tsp baking soda
⅓ cup brown sugar, packed
⅓ cup granulated sugar
¼ tsp salt
1 tsp ground cinnamon
½ tsp ground ginger
⅔ cup whole milk
1 egg
4 tbsp unsalted butter, melted
¼ cup unsweetened apple sauce
¾ cup fresh cranberries, chopped
⅓ cup walnuts, chopped
Instructions
Whisk together flour, baking powder, baking soda, sugars, salt, and spices in a large mixing bowl.
Add milk, egg, apple sauce, and melted butter and stir with a wooden spoon until well combined.
Stir in walnuts and chopped fresh cranberries until just combined.
Preheat oven to 375 degrees F.
Spoon muffin batter into baking cups lining a muffin pan until they are about ¾ filled.
Bake for 20 minutes, or until a toothpick comes out clean and the tops are turning slightly golden brown.

Cool on a wire rack for 30 minutes before serving (to minimize sticking to the paper liners).
Makes 12 muffins
This post is sponsored by: