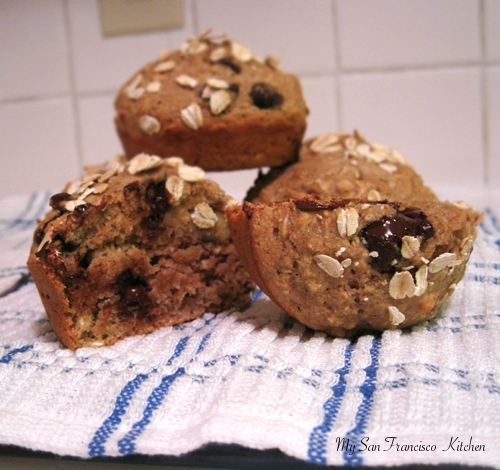 This quarter I have had the longest days ever at school & work. Bringing some snacks with me keeps me going throughout the day. I finished off my last dark chocolate bar from Trader Joe's at work tonight, so I had to make some more snacks to bring tomorrow. I have never been a very good "morning person" and lately I have even been running out of time to eat breakfast before I have to run to catch the shuttle to school. Tonight I made some of these low fat oatmeal breakfast muffins to bring with me to school tomorrow morning. I can't wait to eat one with my coffee 🙂 They are made with 50% whole wheat flour and applesauce, with NO BUTTER OR OIL. I try to balance sinful recipes with healthier ones, and lately I have been making too many recipes that have a lot of butter or fat eeek. I love this recipe because you can add so much variation to it: raisins, nuts, spices, chocolate, peanut butter, and the list goes on! Note: If you overbake these muffins, they will come out dry. There is a fine balance between under and overbaking, which you will perfect with practice!

Healthy Oatmeal Breakfast Muffins
Ingredients
1 cup rolled oats
1 cup milk
1 cup white whole wheat flour (or 50/50 white & wheat flour)
½ cup brown sugar, packed
½ cup unsweetened applesauce
2 egg whites
1 tsp cinnamon
Pinch of nutmeg
½ tsp vanilla extract
1 tsp baking powder
½ tsp baking soda
¼ tsp salt
½ cup semi-sweet chocolate chips
2 tbsp chopped walnuts (optional)
Instructions
Add oats and milk to a large bowl and let stand 30 minutes.
Preheat oven to 400 degrees F.
Combine the rest of the ingredients except chocolate chips and walnuts and stir with a wooden spoon until well blended (~50 stirs).
Stir in chocolate chips and walnuts.
Lightly grease a muffin pan and scoop batter in until ⅔ full. Sprinkle oats on top.
Bake for 20 minutes (tops should be golden brown).
Immediately transfer to a cooling rack and let cool before serving.
Serve with coffee or a glass of cold milk.
Makes 6 large muffins or 10 medium
Get your own large muffin pan:
This post is sponsored by: