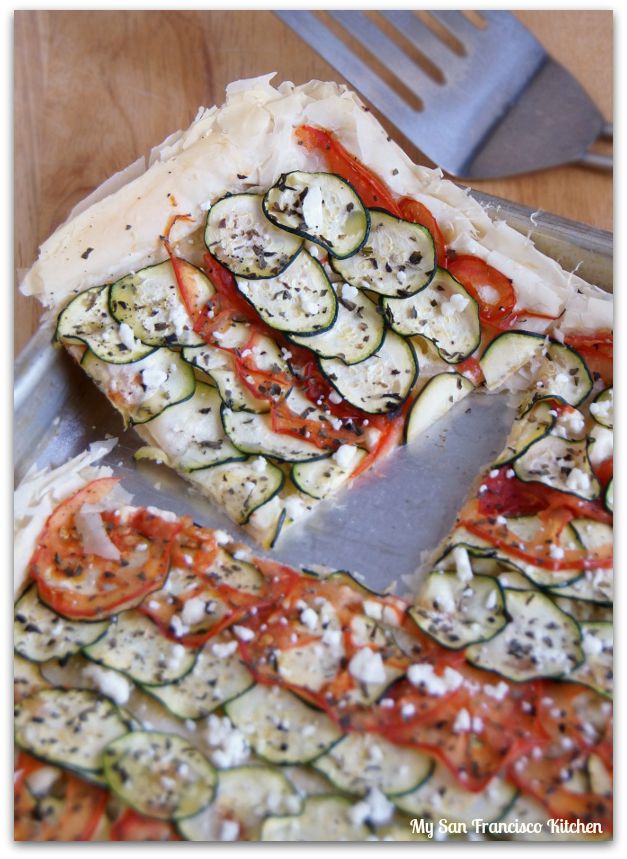 This weekend the weather is gorgeous in San Francisco. When I look out my windows, it reminds me of summer weather, and I forget it is already fall! However, it is a little chilly outside! I made this tomato zucchini phyllo tart for an afternoon snack. We are trying to eat more vegetables, so this weekend when I did the grocery shopping for the week I bought so many vegetables. Now the challenge will be to eat them all this week!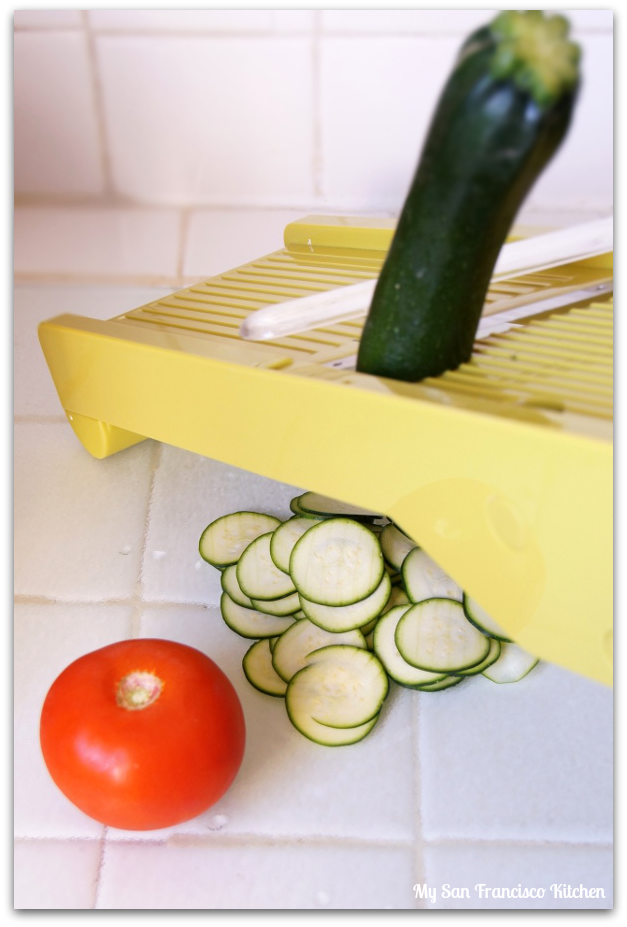 I used my mandolin slicer to slice the zucchini and tomatoes very thin so the water could evaporate off quickly in the oven and the dough would not get mushy. It came out really crispy!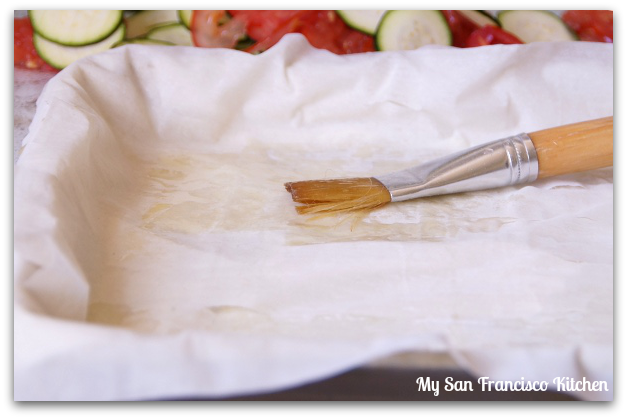 Spread a thin layer of olive oil between each layer of phyllo dough, and sprinkle some Parmesan cheese on top of each layer. Then sprinkle feta cheese on the very top layer, then place the zucchini and tomato slices and brush with olive oil.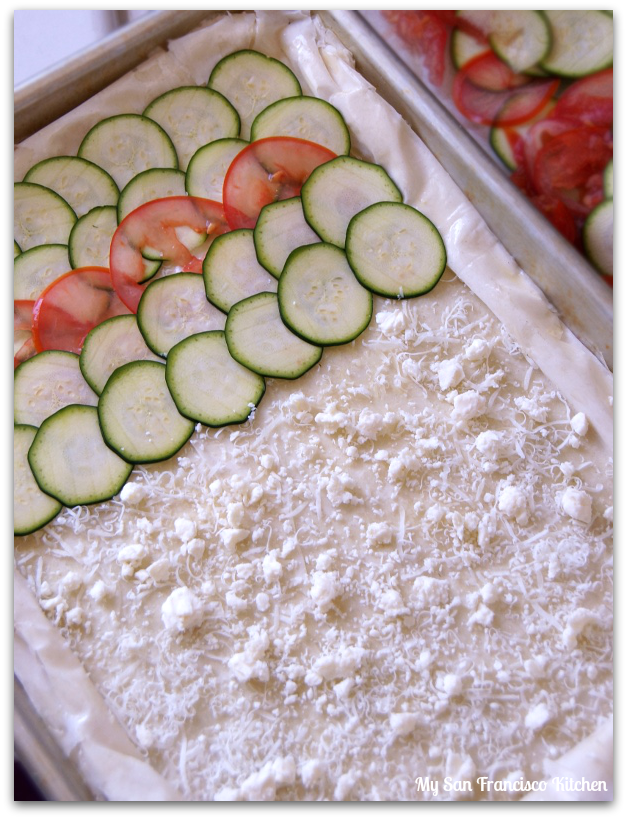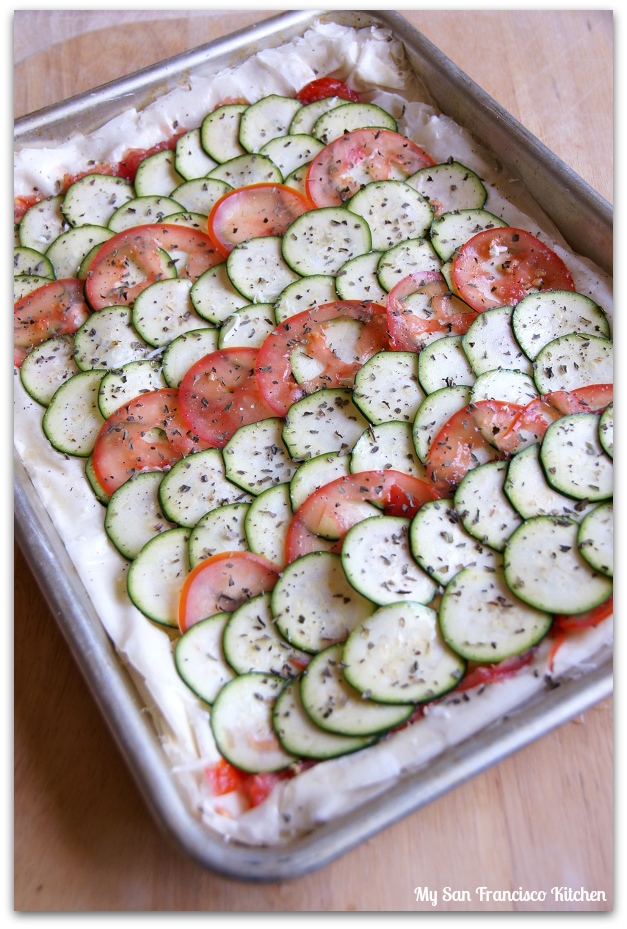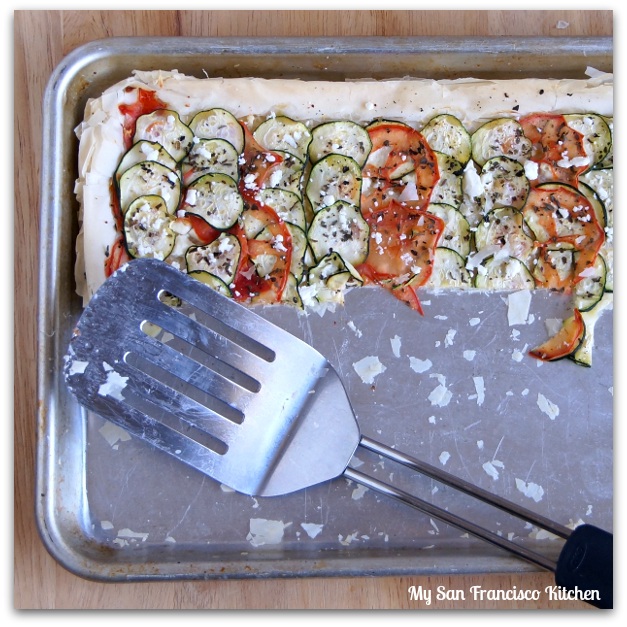 Tomato and Zucchini Tart
Ingredients
10 sheets of phyllo dough
1 large zucchini
2 tomatoes
¾ cup crumbled feta cheese
⅓ cup shredded Parmesan cheese
1 tbsp dried basil
Olive oil
Instructions
Preheat oven to 350 degrees F.
Thinly slice the zucchini and tomatoes with a mandolin slicer ⅛ inch thick (or as thin as you can with a knife!).
Place 1 sheet of phyllo dough on a greased baking sheet, letting the edges hang over the sides.
Brush olive oil over the dough and top with another. Repeat, sprinkling Parmesan cheese every 2 layers.
Tuck the edges underneath on all sides.
Sprinkle Parmesan cheese and feta cheese over the very top layer of phyllo dough, then layer zucchini and tomatoes on top.
Brush with olive oil on the vegetables and edges of the tart and sprinkle with dried basil.
Bake for 25 minutes, until edges are golden brown.