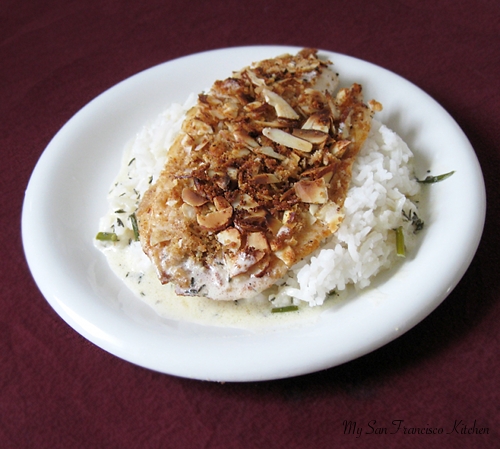 A couple of weeks ago I mentioned I was trying to start a Sunday tradition, where I [attempt] to cook a fancy dish and try out some new recipes, and even though its finals week I still wanted to take an hour break to make dinner. At first I wanted to make macadamia nut crusted halibut (one of my favorite dishes), but I realized I only had sliced almonds. When I went to the grocery store, they told me due to the stormy weather they wouldn't have halibut until Wednesday >.< He recommended tilapia as a substitute, and while tilapia is not my favorite fish I figured I would give it a try for my almond crusted tilapia recipe! It actually came out really good, but now I have to compared it to halibut one of these days. The beurre blanc sauce tasted sooo yummy and went perfect with this recipe. Beurre blanc is "white butter" in french. Some tips: 1) get out all of your ingredients before you get started 2) multitask (timing is everything ;)) and finally, 3) try to use creme fraiche…you can substitute heavy cream but I love the taste of creme fraiche and I think it makes the sauce really flavorful. Good luck!
Almond Crusted Tilapia with Beurre Blanc
Ingredients
Beurre Blanc Sauce
3 tbsp dry white wine
1 tbsp white wine vinegar
1 tbsp minced shallots
1 tsp thyme
4 tbsp creme fraiche (sub heavy cream)
1 tbsp unsalted butter
2 tsp chopped fresh chives
1 tsp lemon juice
Salt and pepper to taste
Tilapia
2 tilapia fillets
1 tbsp olive oil
1 tbsp unsalted butter
2 tbsp bread crumbs
⅓ cup sliced almonds
1 tsp unsalted butter, melted
1 egg, lightly beaten
Instructions

Beurre blanc
Combine wine, vinegar, shallots, and thyme in a small saucepan over medium heat.
Boil until liquid has evaporated.
Stir in creme fraiche and boil 2 minutes while stirring.
Decrease heat to low.
Add butter and whisk until melted.
Stir in chives, lemon juice, salt and pepper.
Cover and keep on low heat.
Tilapia
Preheat oven on broiler setting.
Pat fillets dry with a paper towel, and season with salt and pepper.
Heat oil and butter in a large skillet over medium-high heat.
Saute fillets 2 to 3 minutes on each side, or until lightly browned.
Transfer to a baking sheet, and cool 3 minutes.
In the meantime, stir together bread crumbs, almonds and melted butter in a small bowl.
Brush tops of fillets with egg, and spread almond mixture over the top.
Broil fillets 1 to 2 minutes, or until browned (careful not to burn!!).
Place fillets on to of jasmine rice, and spoon beurre blanc around it and drizzle on top.
Makes 2 fillets
This post is sponsored by: