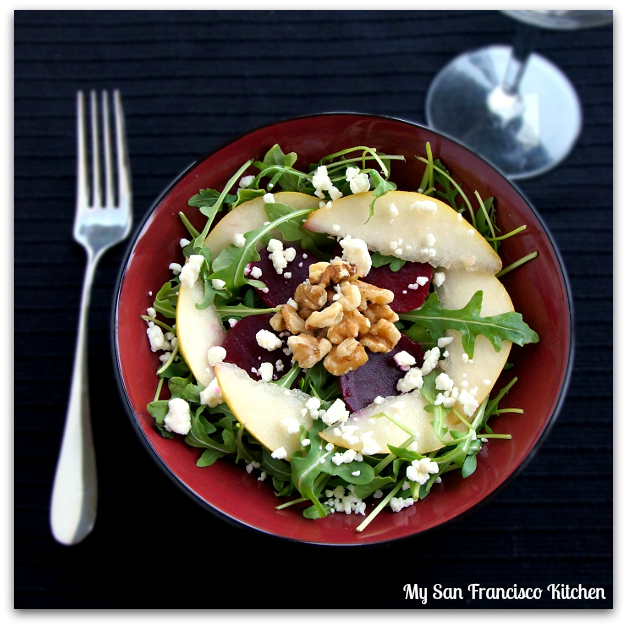 So far, my first week at the hospital has been going great! I have had the opportunity to work on some really interesting cases, and I am learning a lot. I have been pretty tired every night when I get home (probably just not used to regular "grown up work hours" since I have not worked full-time in forever!), but I heard some of my classmates on other rotations are only getting a few hours of sleep – so I really can't complain. The biggest challenge so far has been eating healthy now that I don't have the chance to come home and have lunch everyday like I used to. I have tried and failed all week to make and bring a lunch with me, and ended up eating at the cafeteria. Don't get me wrong, the cafeteria has healthy choices, but when I walk by and smell the pizza or fries or chicken fingers, I can't resist! It's horrible. I have not eaten so poorly like I have been this week in a long time. My goal for next week is to start packing easy salads, like this pear walnut arugula salad, and healthy sandwiches for my lunch. Note: If you don't like blue cheese, you can switch it out for any crumbled cheese you want, or omit the cheese completely.
Do you bring your lunch to school/work, or do you usually eat out at your favorite place?
I am so excited to share my book with you tomorrow!! It has been a lot of work, but worth it in the end because I am thrilled with the end result. More details soon! XoXo
Pear Walnut Arugula Salad
Ingredients
2 cups organic arugula, trimmed & rinsed
1 pear, sliced
½ cup sliced beets
¼ cup blue cheese
½ cup walnuts
Apple Cider Vinaigrette Dressing
⅔ cup olive oil
⅓ cup apple cider vinegar
1 tsp Dijon mustard
1 tsp sugar
¼ tsp black ground pepper
¼ tsp salt
1 tsp freshly chopped parsley
Instructions
Add arugula, pears, beets, blue cheese and walnuts to a large salad bowl and toss.
Add all salad dressing ingredients to a cruet and shake well (you can also add them to a small bowl and whisk together).
Drizzle salad dressing over the salad and toss together just before serving.