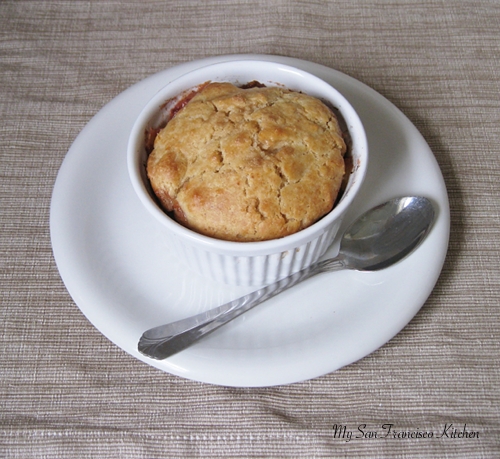 Happy Saturday! I had work today and brrr is it cold outside. I got home and made a warm peach cobbler to warm up the apartment. It smells so good in here right now! This is a fast and easy dessert, and you can double it to make a larger dish to serve more people. I use these simple white ramekins to make single servings.
I feel like I was JUST complaining about finals week, and here it is upon me once again. Basically, next week = hell. Monday starts out with pharmacology and pharmaceutical chemistry, followed by therapeutics on Wednesday, pharmacokinetics on Thursday and physiology on Friday. God help me! Can someone come over and cook and bake for me all week? 🙂 If you don't hear from me for a while, I'll be in the library 24-7… XoXo
Ingredients
Filling:
3 fresh peaches, pitted, peeled and sliced
2 tsp brown sugar
1 tsp cinnamon
½ tsp vanilla
1 tbsp all-purpose flour
Crust:
½ cup all-purpose flour
½ tsp baking powder
¼ tsp baking soda
2 tbsp brown sugar
2 tbsp unsalted butter
⅓ cup milk
Brown sugar for garnish
Instructions
Bring a large pot of water (filled halfway) to boil.
Preheat oven to 425 degrees F.
Add peaches to boiling water for 45 seconds, then remove and let cool for 1 minute.
Slice down seam and twist to remove the pit, then peel and slice into thin slices.
Divide slices between two ramekins.
Add brown sugar, cinnamon, vanilla, and flour to the top and mix.
Bake in oven for 10 minutes.
Meanwhile, add crust ingredients to a bowl.
Cut in the butter with a fork until crumbly (may need to use fingers).
Add the milk and stir with fork to form a wet dough.
Remove ramekins from oven and drop spoonfuls of dough on top.
Garnish with brown sugar and return to the oven.
Bake 15-20 minutes, until bubbly and crust is golden brown.
Serve warm with vanilla ice cream.
Makes 2 ramekins
Get your own ramekins:

This post is sponsored by:


Disclaimer: I participate in the Amazon Affiliate program.