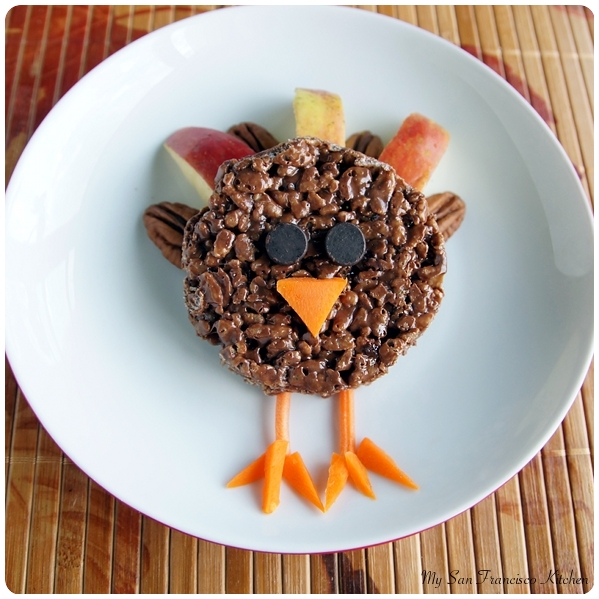 Have you ever heard of stress baking? Well, I do it. A lot. Mainly because of pharmacy school. I had 2 midterms yesterday, so not only did I bake myself a whole pan of brownies while I was studying for them during an all-nighter, when I came home after taking the exams, I went straight to my kitchen, pulled out some chocolate, marshmallows and Rice Krispies and somehow ended up with these chocolate rice cereal turkeys! I think they are a cute and healthier alternative to all of the pies and cookies usually found on the Thanksgiving dessert table, because they use much less butter. This would be a really fun project to do with kids as well. The different colors of apples are perfect for the feathers, and the pecans give them a nice brown touch. I used carrots for the beak and feet, and chocolate chips for the eyes. You can use frosting to make the eyes look much better than the ones I did, and get creative with the different fruits and veggies you can use for the feathers!
If you can't tell, I am getting super excited about Thanksgiving next week. I get to see my family, and I haven't seen them since July! What are your plans for Thanksgiving? Do you usually host the dinner, or go to Mom's?
It's raining here in SF today, but hopefully the weather will get better for the weekend. It is definitely a sweats, blanket and movie kind of day, but I will make my best effort to get to the gym tonight! Have a great weekend =)
Chocolate Rice Cereal Turkeys
Ingredients
3 tbsp unsalted butter
¼ cup unsweetened cocoa powder
½ cup semi-sweet chocolate chips
1 bag large marshmallows (~40)
6 cups rice cereal
2 apples, 1 carrot, pecans and/or other decorations
Instructions
Line a 9x13 inch baking sheet with parchment paper (or grease).
Melt butter in a large pot over medium heat.
Add cocoa and chocolate chips, and stir frequently until the chocolate chips are almost fully melted.
Add marshmallows and stir frequently until melted and the mixture is homogenous.
Add rice cereal and mix with a wooden spoon until well combined.
Transfer to the baking sheet and immediately press with greased hands or wax paper to flatten.
Cool in a freezer for 15 minutes, or let stand a few hours before cutting.
Use a knife or biscuit/cookie cutter to cut small circles (the size of your palm or smaller) and set aside.
Wash and peel carrot, then cut in half lengthwise (from top to bottom).
Cut out triangles for the beaks, and use the scraps for feet. Cut thin sticks for legs.
Wash and slice apples, then arrange apple slices, pecans and carrots to form the turkeys.
Makes 20 turkeys (nutrition information is for chocolate rice cereal circles only, it does not include decorations)
Nutrition Information
Serving size:
1
Calories:
121
Fat:
3.5
Sugar:
12
This post is sponsored by: