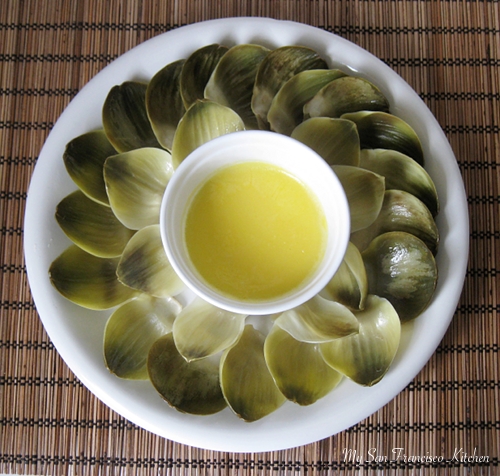 Today was the San Francisco Golden Gate Bridge's 75th anniversary birthday, and there have been festivities going on all day long. Fabi and I walked down to what we thought would be a secret viewing spot for the firework show at 9:30pm taking place over the bridge, but about halfway there we noticed the crowd of people getting larger and larger, with people coming from every direction all headed towards ours… I guess out secret view of the golden gate bridge in the Presidio was not a secret afterall, but it was still much better than 4th of July last year at Fort Mason (we couldn't even walk it was so packed!). We ended up having a lovely view of the fireworks, and my android pic doesn't do the incredible 20 minute show justice.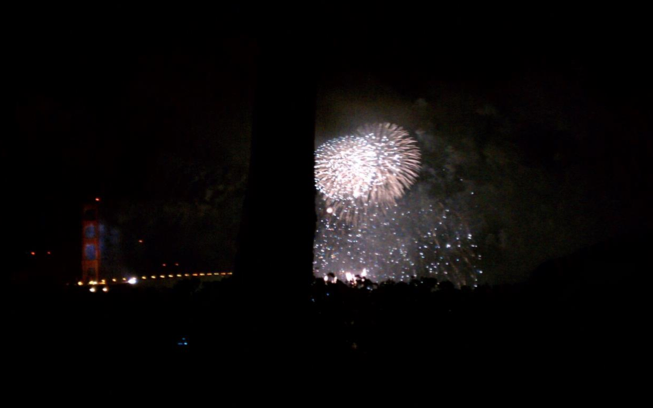 Did you know that I love artichokes? I put artichoke hearts in my pasta, in pizza pockets, and love them in salad. They are sooo goood. I think they make a really fun appetizer too. I remember the first time I had them…my aunt made them for a family gathering and I had no idea how to eat them until she taught me how! The only problem is that they aren't very filling…after a whole artichoke I am usually still not satisfied. However, this is one reason they make a great appetizer or snack that won't fill you up before dinner! I want to experiment with different sauces to dip them in. Once at a restaurant we went to in Lake Tahoe they served this appetizer with a garlic sauce that was amazing. Hollandaise sauce is always a classic choice for the dip, and I think the lemon flavor is a nice pair with artichokes (also asparagus, yum!). I know it ruins the "healthiness" of artichokes because it is so fattening, but it tastes so yummy! Whoever came up with combining egg yolks and butter in the same sauce was clearly trying to kill someone with a heart attack. An easier/faster artichoke dip is just melting some butter and adding lemon juice and freshly minced garlic – YUM. Next time I want to try grilled artichoke, because I have only tried cooking them by boiling so far. Happy Memorial Day, what are you doing to celebrate? I am planning on a relaxing day at home.

Artichokes and Hollandaise
Ingredients
Hollandaise Sauce
2 egg yolks
½ tbsp freshly squeezed lemon juice
¼ cup unsalted butter (1/2 stick)
Pinch salt
Pinch cayenne pepper
Artichoke
2 artichokes
1 tbsp olive oil
1 tbsp lemon juice
1 garlic clove, chopped into 4 pieces
¼ tsp salt
1 quart of chicken broth (water will work as well)
2 bay leaves
Instructions
Hollandaise Sauce
Whisk or stir the egg yolks and lemon juice together rapidly with a wooden spoon in a small saucepan with no heat.
Turn heat on to the lowest setting possible, and continue to whisk rapidly.
Add ⅛ stick of butter (half of what you start with) and continue to whisk until melted.
Add the other half of the butter and continue to whisk until the sauce is thickened and doubled in volume.
Remove from heat and whisk in the pinch of salt and cayenne pepper.
Cover and let stand until ready to serve (makes about ½ cup).
Artichokes
Fill a large pot with chicken broth (or water) and bring to a boil.
Add olive oil, salt, lemon juice, bay leaves and garlic pieces.
Trim artichoke stem off and any discolored/hard leaves at the bottom, and trim the top off about1 inch.
Rub all over with fresh lemon juice to prevent discoloration.
Place each artichoke sitting upward in the boiling water.
Cover and turn the heat down to low. Simmer for 30-35 minutes, until a knife easily pierces the bottom. Turn artichokes occasionally (I turn mine upside down after 10 minutes, then back at 20 minutes).
Drain and let cool.
Peel off leaves and arrange on a dish, with hollandaise sauce in the middle for dipping.
This post is sponsored by: