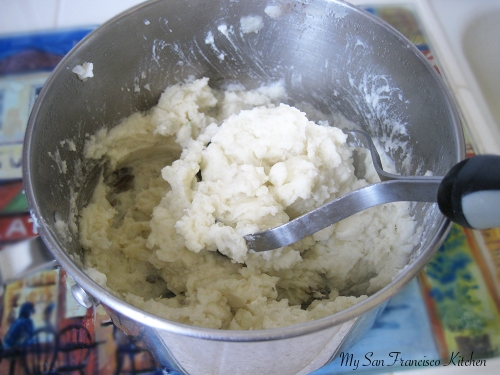 This morning I got up at 7am and went on a run through foggy Presidio Heights. I was proud of myself because whenever I attempt to set my alarm early enough to get a run in before the day starts, I usually shut it off and go back to sleep. I am glad I got myself out of bed this morning because it felt great! There were many people already out and about running or walking their dogs. I have to leave for work soon, but I wanted to post this recipe for homemade creamy garlic mashed potatoes because I made them yesterday for lunch and they turned out really yummy! This recipe is adapted from Alton Brown's garlic mashed potatoes recipe, but I tried to make it a little lighter and I added some garlic salt and some parsley in the end for extra flavor. I served it with German meatballs (recipe to come soon!) and the two went great together. Happy Tuesday! XoXo
Recipe adapted from Alton Brown's Creamy Garlic Mashed Potatoes Recipe, 2004.

Creamy Garlic Mashed Potatoes
Ingredients
4 medium russet potatoes
2 tsp garlic salt
1 cup half-and-half
½ cup milk
4 cloves fresh garlic, minced
½ cup freshly grated Parmesan cheese
Parsley for garnish
Instructions
Boil potatoes for about 40 minutes, until a fork easily pokes through.
Once cool enough, peel skins off and place cover back on pot.
In a medium saucepan, add half-and-half, milk, garlic, and garlic salt and bring to a gentle boil over medium heat while stirring.
Once bubbles begin to form, reduce heat to low and stir occasionally to thicken.
Add sauce and Parmesan cheese to potatoes in original pot and mash with a potato masher until creamy and well blended.
Add more milk if needed.
Serve warm and sprinkle with fresh parsley.
This post is sponsored by: