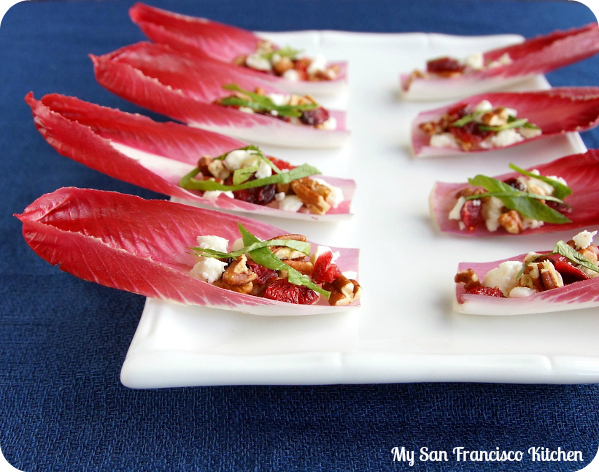 For Valentine's Day, California Endive Farms sent me this beautiful bouquet of fresh endive! I couldn't wait to try out some new recipes with them, and I made this healthy red endive appetizer with dried cranberries, pecans, light crumbled feta cheese and arugula. Endive naturally have a slightly bitter taste, so the sweet dried cranberries and smooth feta cheese add a pleasant flavor, while the crunchy pecans add a great texture. I didn't use a lot of arugula as you can see, since it was more for garnish than flavor. I think endive make a beautiful appetizer! You may choose to drizzle a champagne or red wine vinaigrette if desired, but I prefer them either way. Do you have a favorite endive recipe??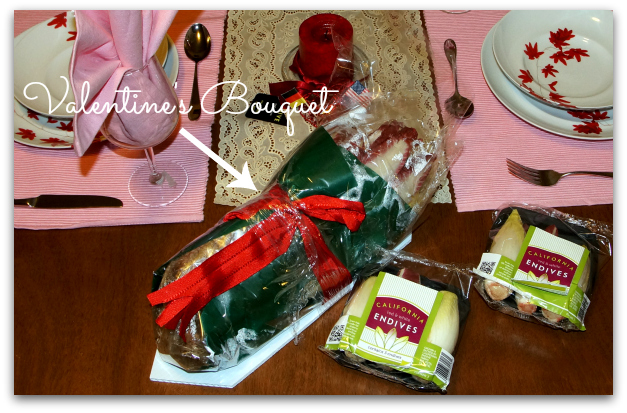 Red Endive with Dried Cranberries, Pecans, Feta and Arugula
Ingredients
1 red endive
½ cup dried red cranberries
⅓ cup light crumbled feta cheese
⅓ cup chopped pecans
A few arugula leaves (thinly sliced) for garnish
Instructions
Chop the bottom off of the endive and carefully peel it apart.
Fill each endive piece with dried cranberries, feta cheese, pecans and top with thinly sliced arugula for garnish.
Drizzle with a champagne or red wine vinaigrette if desired.
Makes about 16 pieces