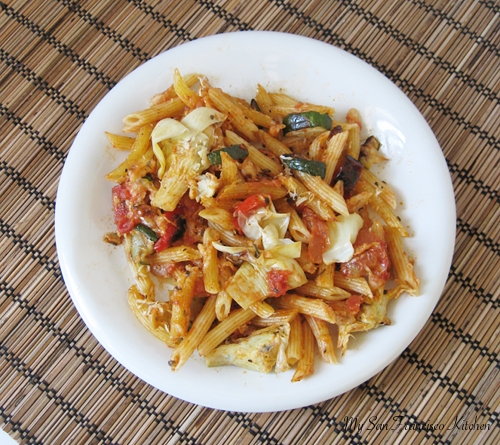 Yesterday I got to counsel my first transplant patient on immunosuppressant medications. It is one thing to learn about all of the drugs in class, but to get to speak to someone face to face who is actually going through the disease state you learn about is another. Up to this point, I have gotten pretty good at counseling on over-the-counter remedies, how to use an inhaler, smoking cessation, and how to test blood glucose, but it seems like pharmacy school is getting more and more challenging as we are starting to study more complicated disease states. This week's topic was "heart failure", and I am still trying to untangle the crazy treatment algorithm and which patients should or should not receive which medications. I hope I can manage to learn everything before the final exam in a few weeks :/
After I got home from the gym today I was craving something with tons of fresh vegetables…this baked roasted vegetable penne pasta recipe seemed perfect since I had a lot of vegetables I needed to use up in the refrigerator. It is made with red bell pepper, artichoke hearts, onion, zucchini, and tomatoes that are drizzled with olive oil and then roasted in the oven before being tossed with slightly cooked penne noodles, cheese, and baked in the oven. The flavors are incredible and each bite tastes so fresh.
Off to do the huge laundry pile I have been avoiding all day! XoXo

Ingredients
1 red bell peppers, diced
1 zucchini, cut into ¼ quarter pieces
1 tomato, sliced
¼ yellow onion, minced
2 tbsp olive oil
½ tsp black pepper
2 tsp dried Italian herbs
2½ cups penne pasta
1½ cups marinara sauce
½ cup shredded mozzarella cheese
Fresh Parmesan cheese for topping
Instructions
Preheat oven to 425 degrees F.
Wash and slice all vegetables and toss into a large bowl.
Add olive oil, pepper, and Italian herb seasoning and mix well.
Spread out on a baking sheet and bake for 15 minutes, careful not to burn (can turn over halfway though).
In the meantime, bring a pot of water to boil and boil penne pasta for about 5 minutes and then drain immediately.
Toss roasted vegetables with pasta in the same bowl used earlier, and add mozzarella cheese and marinara sauce and stir well.
Transfer to an 8x8 baking dish and top with freshly grated Parmesan cheese.
Bake for 20-25 minutes at 425 degrees F.
This post is sponsored by: