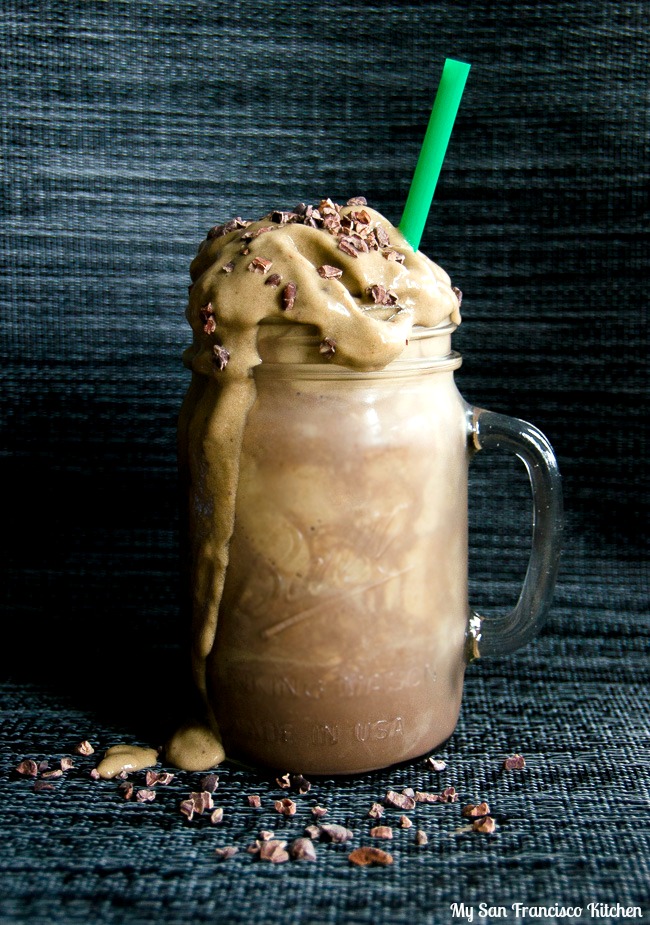 Recently something strange happened. Leila stopped liking her most favorite food, avocado. I tried feeding it to her a few times, and she always waves her hands NO, but will eat anything else I give to her. Can someone explain this sudden change of heart to me? This isn't the first time something like this happened in my family. My husband had the opposite thing happen, where he used to hate avocados and now likes to eat them! I am still a firm believer that avocados are healthy for you, so what is a mom to do but mask it in something yummy, like this avocado cacao smoothie? 
My trick worked! Leila loved slurping down this delicious avocado cacao smoothie. She couldn't get enough of it, and had no idea there was actually a whole avocado hidden inside. This smoothie is made with an avocado, frozen bananas, cacao nibs, cocoa powder and chocolate almond milk. It is so yummy! You don't taste the avocado at all, but it makes the smoothie really creamy.
I have done this before, where I made chocolate pudding with avocados and my husband had no idea (back in the day where he didn't like them). I'm convinced avocados are a great substitute for many things, because they create a wonderful texture without leaving a strong flavor.
Have you tried cacao nibs before? After all the buzz on social media these days, I decided to try them. At first I was shocked when I saw 0 grams of sugar on the label. I have to admit, they are very bitter. I mean, there is absolutely no added sugar! Talk about minimally processed chocolate in the raw. This is as close to real true chocolate as you can get! I prefer adding them to things, because eating them alone is just too bitter for me. They have a lot of antioxidants and you get the health benefits without the fat and sugar from processed chocolate. I guess now that cacao nibs are on the scene we can't use the "but chocolate is healthy for you" excuse anymore unless we are meaning these guys :(.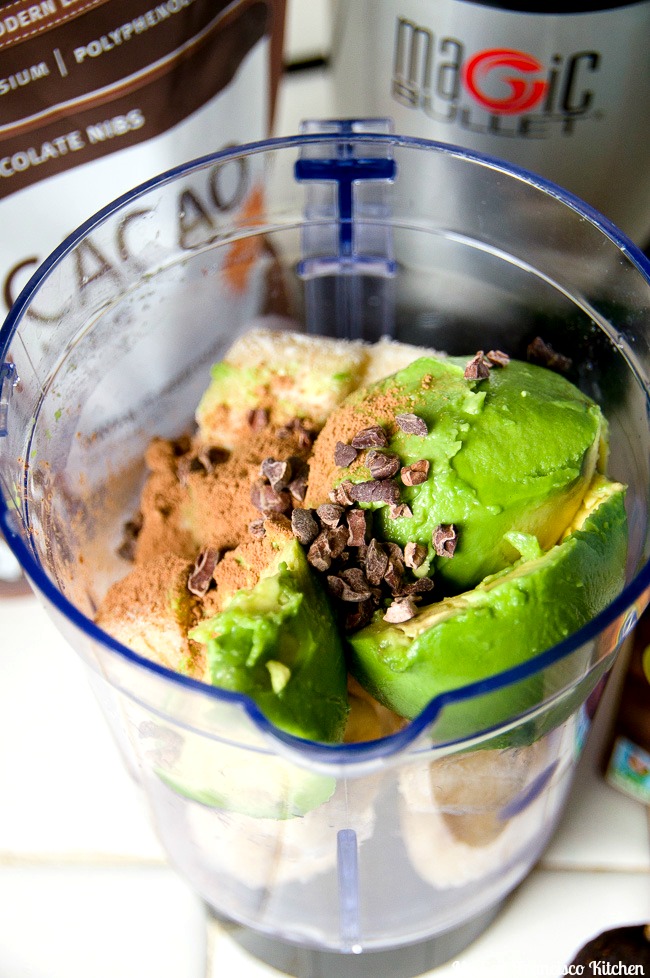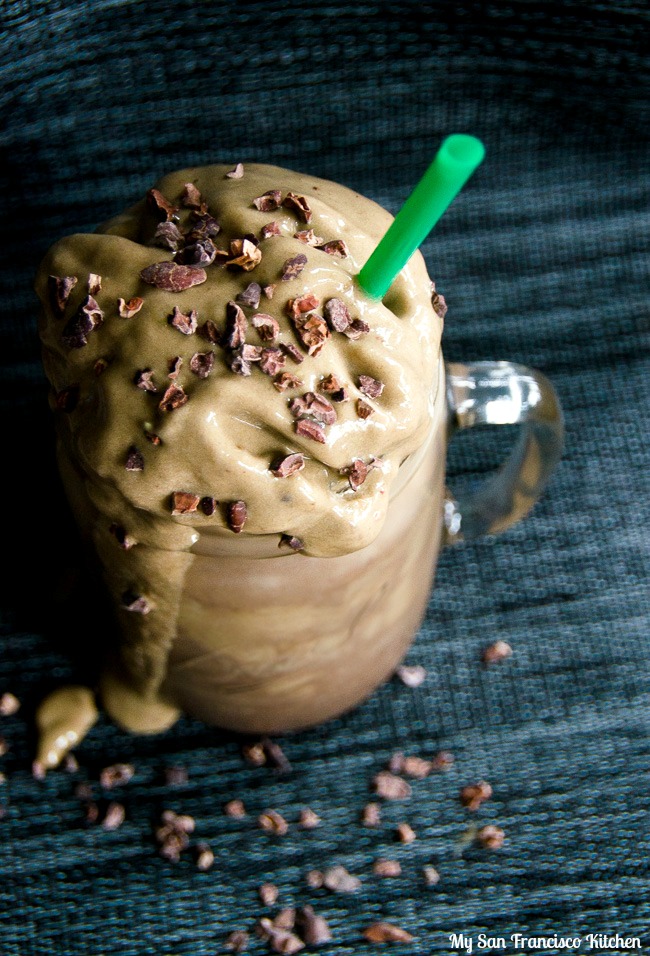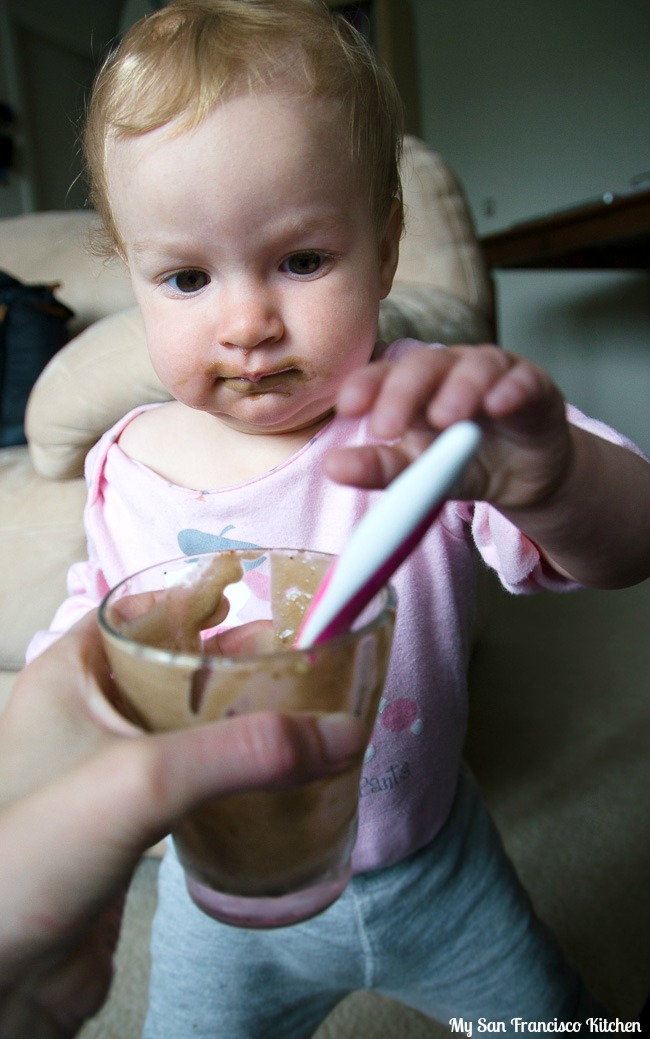 Avocado Cacao Smoothie
Ingredients
2 bananas, chopped and frozen
1 avocado, pitted, peeled and chopped
1 cup chocolate almond milk
1 tbsp unsweetened cocoa powder
1 tbsp cacao nibs
Instructions
Add all ingredients to a blender and blend until smooth and creamy.
Makes 2 smoothies