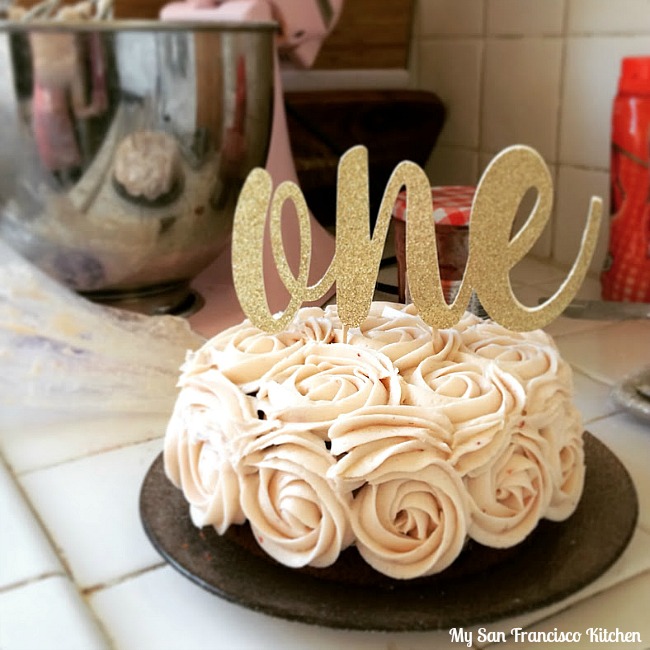 Leila turned one last week! I still can't believe she is one already. The past year has seriously flown by. My parents came up to San Francisco to help celebrate her first birthday. My mom made vanilla cupcakes with strawberry filling and pink buttercream rose frosting, and she made all of the party favors. We gave out candles and candy bags for our party guests. I had so much fun making Leila's first birthday cake, or should I say SMASH CAKE! I have been looking forward to making a smash cake since I witnessed my first one many years ago. It was fun watching my daughter dig her hands into (and try) her first birthday cake. 
The smash cake I made was a double layer 6-inch chocolate cake with strawberry preserves in-between the layers. I decorated it with strawberry buttercream in the shape of rosettes using my Wilton 1M tip and topped it with a gold cake topper that stated "ONE" 🙂
For her high chair, she had a banner made by mom that said "ONE," and we hung the photos we took every month of this past year on twine around a tree in the park where we had her first birthday party. In the end, I think the rosette smash cake was a little much for her, since it took her a while to get through the frosting and dig into the actual cake!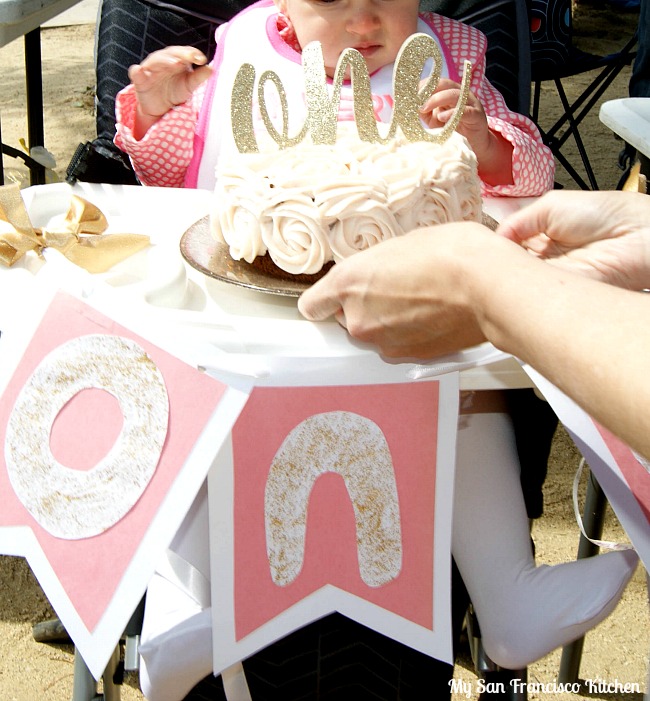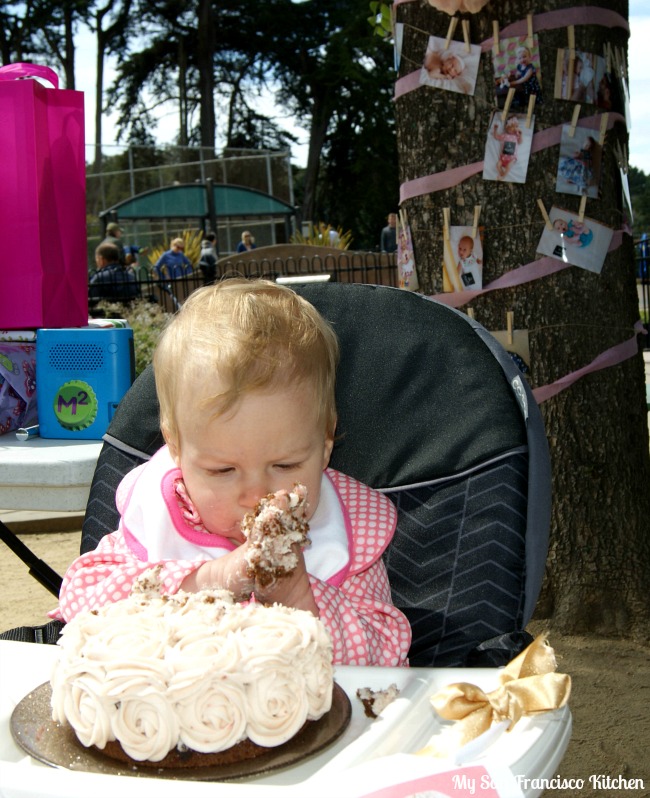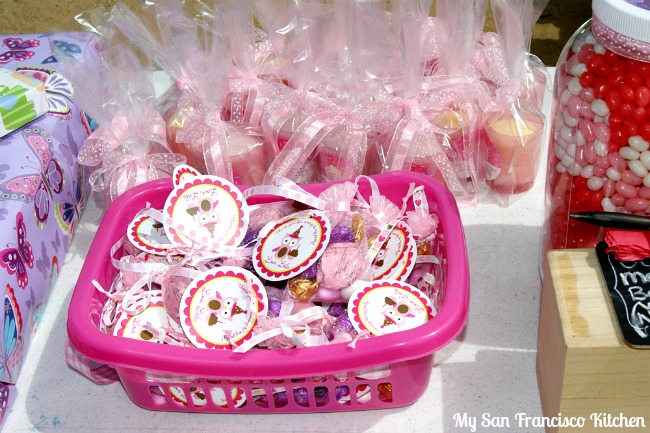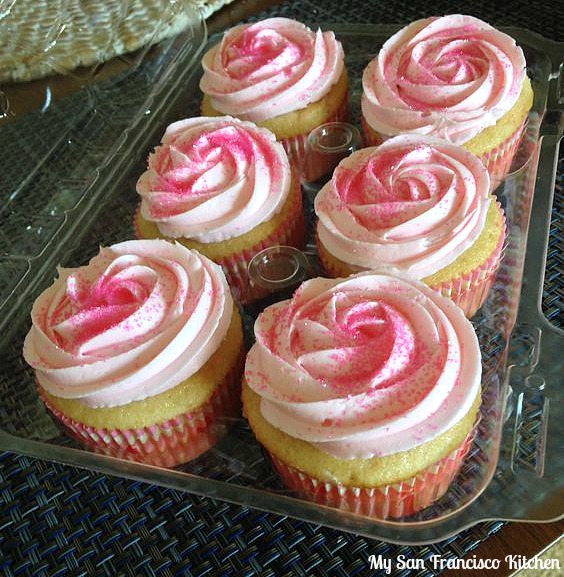 First Birthday Rosette Smash Cake
Ingredients
1 cup all-purpose flour, plus 2 tbsp for cake pans
6 tbsp unsweetened cocoa powder
¾ cup granulated sugar
1 tsp baking powder
½ tsp baking soda
½ tsp salt
1 egg
½ cup milk
¼ cup vegetable oil
1 tsp vanilla extract
½ cup boiling water
½ cup strawberry preserves
Strawberry Buttercream Frosting
½ cup unsalted butter, room temperature
2 cups powdered sugar
2 tbsp strawberry preserves
1½ tsp vanilla extract
Instructions
Grease two 6-inch cake pans with cooking spray or butter.
Add 1 tbsp flour to each cake pan, and rotate like a steering wheel over a sink until the flour completely coats the pan. Shake out excess flour into the sink.
Preheat oven to 350 degrees F.
Add flour, cocoa powder, sugar, baking powder, baking soda, and salt to a standalone mixer bowl fitted with paddle attachment (you can also use an electric mixer and add ingredients to a large bowl).
Mix the dry ingredients on low speed for 30 seconds.
Add eggs, milk, vegetable oil and vanilla to the flour mixture and mix on medium speed about 2 minutes.
Turn off the mixer and add the boiling water.
Beat on medium speed for 1 minute.
Use a spatula to transfer the batter evenly between the two 6-inch cake pans.
Bake for 20-25 minutes, or until a toothpick inserted in the center comes out clean.
Cool for 10 minutes, then loosen carefully with a thin spatula or knife and turn over onto a wire cooling rack.
Cool for 30 minutes before frosting.
Add the strawberry preserves between the 2 cake layers.
Mix the butter, powdered sugar, vanilla and strawberry preserves in a stand mixer until smooth and decorate using Wilton 1M tip.
Makes 1 6-inch double-layered cake