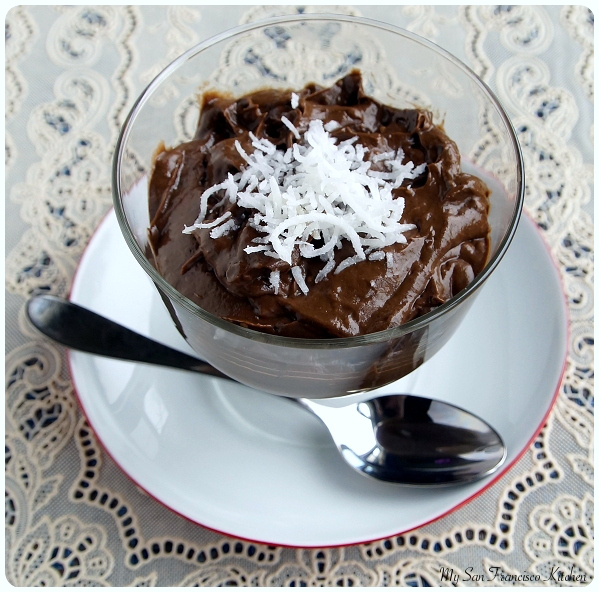 I know what you are thinking: chocolate pudding, made with avocados? See, the two don't really go together…Chocolate pudding is not supposed to be healthy. Oh, but it can be! I am not vegan, ok I can't even consider myself vegetarian (even though I have been succesfully limiting my meat consumption to less than a few times per week), but this is an excellent vegan dessert. There are no dairy products used in this recipe. This was the first time I tried making chocolate avocado pudding, and I was really surprised at how it turned out. The consistency is exactly like regular chocolate pudding, and it has a rich chocolately taste so you can't even taste the avocado at all. I used coconut milk and shredded coconut to give it some extra flavor, but I have seen some recipes that use bananas (which sounds amazing!!). Sooo I sort of did something really mean. My husband hates avocados (I know…), but he loves chocolate, especially pudding. So guess what? I gave him a little spoonful without telling him there were avocados in it, and he just said "MMM". I asked him what he thought it was made of and he had no idea! When I told him, of course he refused to eat another bite. Hahaha. I know that was mean, but it proved that even if you don't like avocados you can still enjoy this dessert! Sorry sweetie…
I also wanted to share the Avocados from Mexico's Better Baking Sweepstakes going on over at their Facebook page right now. All you have to do to enter is like them on Facebook and enter your information between 11/30/12 and 12/31/12. You can win a $2,500 iCard gift card, $100 iCard gift card, or $25 iCard gift card. What in the world is an iCard (I had to look it up)? It is a gift card that lets you choose from over 180 merchants – how awesome is that?! Let me know if one of you wins, I'm crossing my fingers for us!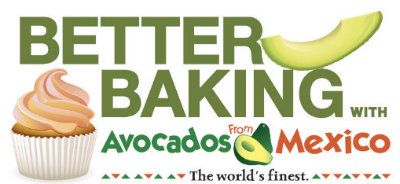 Coconut Chocolate Avocado Pudding
Ingredients
1 ripe avocado
¼ cup unsweetened cocoa powder
1 tsp vanilla
3 tbsp honey
¼ cup coconut milk
Sweetened, shredded coconut for garnish
Instructions
Add avocado, cocoa, vanilla, honey and coconut milk to a mixing bowl.

Blend with an electric mixer until well blended and creamy. When ready, it should have very few lumps.

Chill for 15 minutes, then serve in a dessert bowl and top with shredded coconut.
Serves 2
This post brought to you by Avocados from Mexico. All opinions are 100% mine.