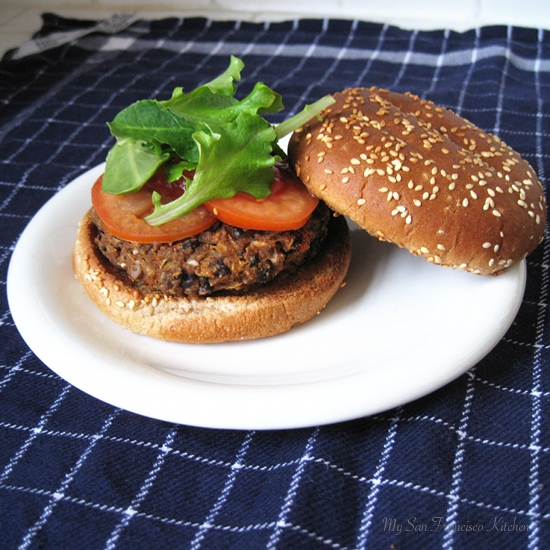 Happy Super Bowl Sunday! Earlier my mom told me my family was grilling burgers and hot dogs for the game today, and it made me sooo hungry! I went to Trader Joe's and bought some stuff to make these delicious, healthy black bean veggie burgers. They are super flavorful and keep wonderfully in the freezer for days. Why veggie burgers? Without even knowing it I have sorta become a vegetarian! OK, so not completely…I still eat fish, and occasionally chicken or turkey sandwiches…but for the most part my diet consists of mainly fruits, vegetables, nuts, etc. I love dairy too much to be a strict vegetarian, but I noticed I barely ever eat meat anymore. I think it was the drive past the cow slaughterhouse on Interstate 5…disgusting and so sad. Ever since I saw that my taste for beef has crashed immensely. This site has some pretty good reasons for becoming a vegetarian: http://www.britishmeat.com/49.htm. Although I don't think I can ever give meat up 100%, I feel good about cutting a lot of it out of my diet. Honestly, I don't even miss the taste of beef when I eat these veggie burgers, they are completely satisfying! Tip: The less water, the better-try to pat out excess water from beans and veggies for best results.

Baked Black Bean Veggie Burgers
Ingredients
1 16 oz can black beans, drained
½ red bell pepper
½ onion
3 cloves garlic
2 eggs
1 tbsp chili powder
1 tbsp cumin
Pinch crushed red pepper flakes
1¼ cups plain bread crumbs
Olive oil
Instructions
Preheat oven to 375 degrees F.
In a medium-sized bowl, mash black beans with a pastry blender or fork.
Finely chop bell pepper, onion, and garlic in a food processor, then stir into mashed black beans.
In a separate bowl, beat together egg, chili powder, red pepper flakes, and cumin with a fork.
Add egg mixture to the mashed beans and stir well with a fork.
Mix in bread crumbs well (should hold together).
Divide mixture into four patties using hands greased with olive oil.
Place patties on a baking sheet or broiler pan, and bake 15 minutes on each side for a total of 30 minutes.
Serve on a toasted wheat bun with tomatoes, onions, and lettuce.
Makes 4 patties
Get your own broiler pan:

This post is sponsored by:


See this post on: