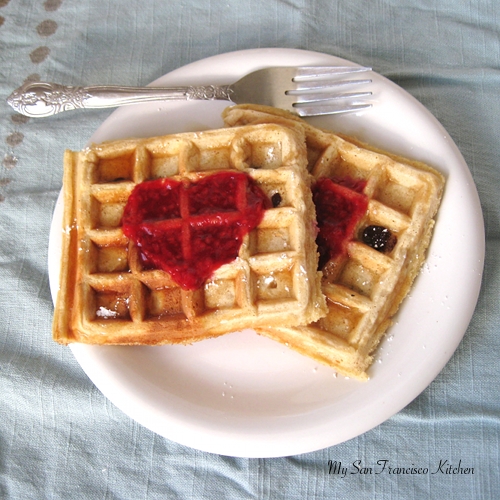 Sunday is my favorite day of the week because I can get up and make myself a delicious breakfast…its nice to eat something besides yogurt or cereal in the morning! Today I made these chocolate chip waffles with part applesauce and whole wheat flour to make them a little healthier. I also made homemade waffle raspberry topping from organic frozen raspberries. This recipe makes 10 waffles, which is great because you can freeze them and have a quick breakfast all week! I made these waffles with my Aroma waffle maker. You can find waffle makers fairly cheap on Amazon (see below). These are perfect for a Valentine's Day breakfast <3

Chocolate Chip Waffles with Homemade Raspberry Sauce
Ingredients
Waffles
1¾ cups milk
2 eggs
1 tbsp granulated sugar
¼ cup applesauce
¼ cup vegetable oil
4 tsp baking powder
Pinch of salt
1 tsp vanilla extract
1¼ cups all-purpose flour
¾ cup whole wheat flour
¼ cup semi-sweet chocolate chips
Raspberry Topping
1 cup frozen raspberries
¾ cup water
¼ cup granulated sugar
¼ cup cold water
1 tbsp corn starch
Instructions
Preheat waffle maker.
Add milk and eggs to a large bowl or measuring cup and mix with a whisk until blended well.
Add and whisk sugar, applesauce, oil, baking powder, salt, and vanilla together.
Add flour last and mix with whisk until well blended.
Spray waffle maker with cooking spray before each time you pour the batter.
Pour batter to fill lines on waffle maker and add chocolate chips quickly. Close.
The cooking time depends on the waffle maker, but usually about 1 minute is enough, or until golden brown.
Raspberry Topping
Add ¾ cup of water, sugar and frozen raspberries to a small saucepan over medium-high heat. Bring to a boil.
Mix cornstarch in ¼ cup cold water until fully dissolved, then add to raspberry mixture. Stir.
Bring to a boil and then simmer for 5 minutes, stirring occasionally.
Top waffles with syrup, powdered sugar, and raspberry topping.
Makes 10 waffles and 1½ cups of raspberry topping
Get your own waffle maker:
This post is sponsored by: