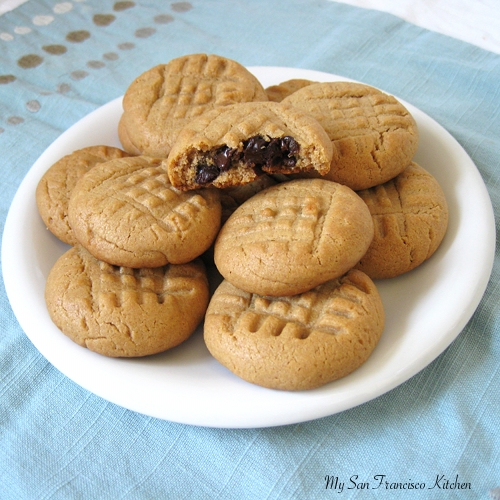 Who doesn't love peanut butter and chocolate? These classic soft, chewy peanut butter cookies are made with a little twist: chocolate in the middle! You will enjoy every bite. I made these on a break studying for my physiology midterm…last week, this week, and next week is "midterms week" (I know, 3 weeks?! its crazy). In addition, I started a new job so things have been a little crazy lately. How do you balance work/school with cooking? Have a great weekend all <3 Notes: Using Hershey kisses or chocolate bar pieces might work better than adding individual chocolate chips to get one chocolate center-sometimes the chocolate chips might spread when rolling into a ball, making them more like "chocolate chip peanut butter cookies". If you like your cookies really sweet, don't be afraid to add a bit more sugar because I used all natural unsalted peanut butter in this recipe and I always like to cut out as much sugar as possible, so they might not be sweet enough for some 😉

Chocolate Surprise Peanut Butter Cookies
Ingredients
¼ cup granulated sugar
¼ cup packed brown sugar
⅓ cup peanut butter
1 tbsp shortening
3 tbsp butter or margarine, softened
1 egg
¾ cup all-purpose flour
¼ tsp baking soda
¼ tsp baking powder
pinch salt
¼ cup semi-sweet chocolate chips
Instructions
Whisk flour, baking soda, baking powder, and salt together in a medium-sized bowl. Set aside.
Cream butter, shortening and sugar together in a standalone mixer or with an electric mixer.
Add peanut butter and eggs and mix on medium speed until well blended.
Add flour mixture a little at a time, using spatula to scrape sides while you mix in on low speed.
When blended, remove dough with floured hands and form into a log. Wrap with plastic wrap and place in the freezer for 1 hour.
Preheat oven to 375 degrees F.
Cut ½ inch cookies from log and place on a baking sheet.
Place ~6 chocolate chips in the middle of each cookie, and wrap with hands into a ball. Work quickly to keep dough as chilled as possible.
Bake for 10 minutes, then cool on a wire cooling rack before serving.
Makes 12 cookies
This post is sponsored by: