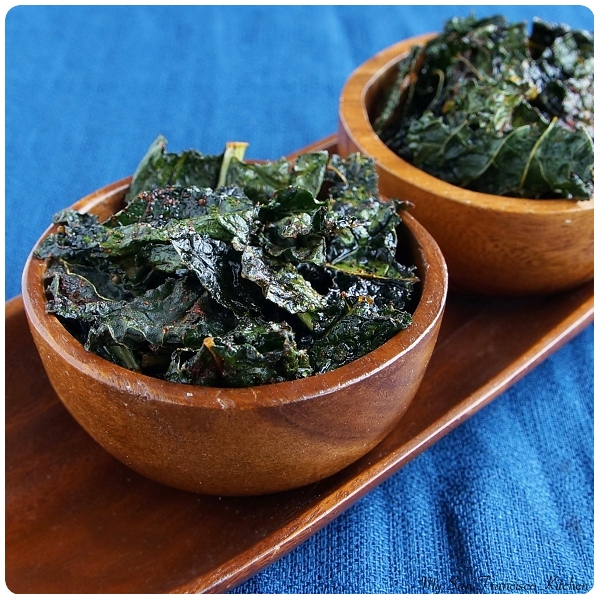 I have a confession to make: I have never tried kale chips! I first heard about them a few years ago, and I have always wanted to try to make them. Kale is not one of my favorite veggies, so I wasn't sure if I would like them. My brother eats all different kinds of veggie chips and inspired me to finally try these kale chips out! Kale chips are a healthy snack, and after baking cookies yesterday I was craving something healthy! If you have tried kale before, you know that it has a pretty bland taste by itself. There are endless ways to season kale chips, but I thought spicy chili kale chips would be sooo good, so I decided to go with some cayenne pepper and chili powder. They definitely had a good kick to them, and came out very flavorful! When I gave the first batch to my "taste tester," AKA husband, he thought the kale chips were really good too. We both agreed that they didn't taste like a "healthy snack," and that kale chips are an excellent substitution for potato chips. I was so surprised at how crunchy they were out of the oven, and 15 minutes later they were still crunchy! I can't tell you if they stay that way longer than that, because all of the kale chips I made were gone within minutes – we couldn't stop eating them! From reading comments on other recipes, it seems that baking them in an oven still leaves a significant amount of moisture and the kale chips will become soggy if you don't eat them right away. When I bake zucchini chips, they also will become soggy after 30 minutes from taking them out of the oven. If you are looking for something to keep to snack on for a few days, I suggest buying a dehydrator. You can probably find one on Amazon or Ebay. However, these kale chips are so easy to make that you can just make them when you are craving some!
I hope you had a nice weekend. It is raining here in San Francisco, so we are having a lazy weekend indoors. The sun is supposed to come out soon, so I have to continue my half-marathon training later!
I currently have two giveaways going on, so enter if you haven't already!
1) Nespresso U espresso machine
2) Truvia® $25 grocery store gift card
Baked Organic Chili Kale Chips
Prep time:
Cook time:
Total time:
Ingredients
4 cups organic kale, rinsed and chopped
2-3 tbsp olive oil
Cayenne pepper
Chili powder
Sea salt
Instructions
Preheat oven to 225 degrees F.
Add dried, chopped kale to a large mixing bowl and drizzle olive oil over the top. [img src="http://mysanfranciscokitchen.com/wp-content/uploads/2012/12/kale-chips1.jpg" alt="organic kale" title="kale-chips1″ width="599″ height="454″ class="aligncenter size-full wp-image-2713″]
Toss kale with two forks until all pieces are coated in olive oil. Start with 2 tbsp, and if it seems too dry use another tbsp olive oil. [img src="http://mysanfranciscokitchen.com/wp-content/uploads/2012/12/kale-chips2.jpg" alt="chopped kale" title="kale-chips2″ width="599″ height="436″ class="aligncenter size-full wp-image-2714″]
Sprinkle cayenne pepper, chili powder, and sea salt over the top and continue to toss. Repeat once or twice more, but be careful with the cayenne pepper because they may get too hot!
Lay out piece by piece on an ungreased baking sheet. Make sure each piece is not touching another and has enough room to bake properly. You will need 2 large baking sheets. [img src="http://mysanfranciscokitchen.com/wp-content/uploads/2012/12/kale-chips3.jpg" alt="" title="kale-chips3″ width="599″ height="454″ class="aligncenter size-full wp-image-2715″]
Sprinkle more seasonings on top if needed.
Bake for 35-40 minutes. You can check by trying one chip and if it is very crispy they are done!
For best results, enjoy immediately after removing from the oven. [img src="http://mysanfranciscokitchen.com/wp-content/uploads/2012/12/kale-chips-single.jpg" alt="baked kale chips" title="kale-chips-single" width="599″ height="599″ class="aligncenter size-full wp-image-2716″] [br] [img src="http://mysanfranciscokitchen.com/wp-content/uploads/2012/12/kaletop.jpg" alt="kale chips" title="kaletop" width="599″ height="599″ class="aligncenter size-full wp-image-2717″]
Makes 2 cups
Serving size:
1 cup
Calories:
94
Fat:
7.5g
Saturated fat:
1g
Sugar:
0g
Sodium:
29mg
This post is sponsored by: