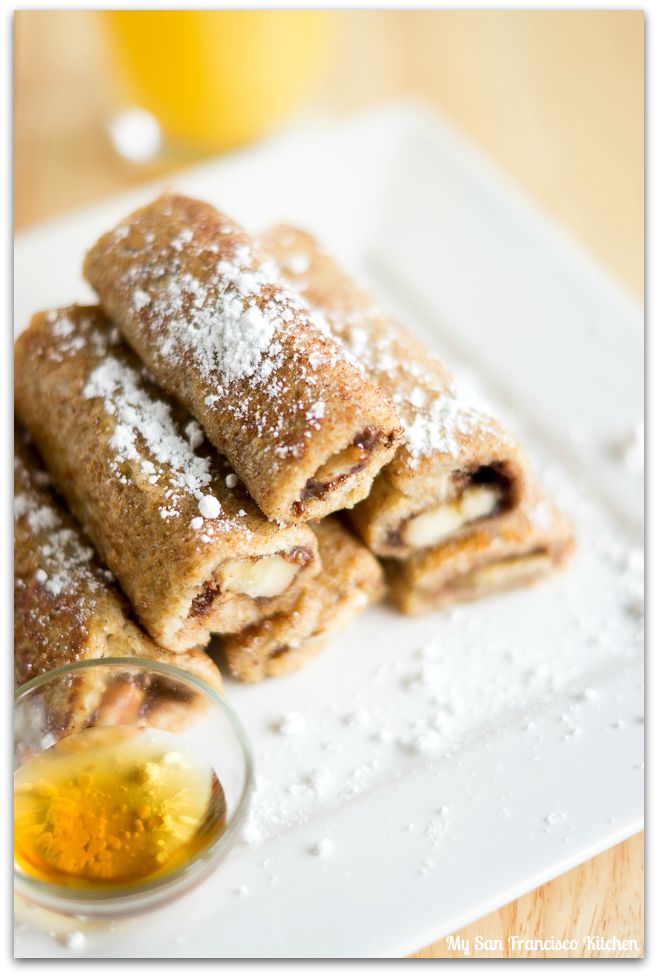 It's Friday and I have a special treat for you to make this weekend! These banana Nutella french toast roll-ups are fun and easy to make, and are perfect for brunch. Speaking of brunch, I don't know how it is in your city, but in San Francisco brunch is a HUGE thing. I'm talking waiting in line for over an hour even if you get there early kind of thing. Everyone and their mother goes to brunch on the weekends in SF, so I have only gone twice on the weekends. The lines just aren't worth it to me! Why wait in line and dine with a crowd when you can make your own fabulous brunch at home?
I make these french toast roll-ups with whole wheat bread (the kind you buy in a plastic bag at the grocery store). You just need to cut of the crust and then roll out the slices of bread with a rolling pin until they are very flat. Then spread a generous amount of Nutella and add slices of bananas on top before rolling them up, dipping them in egg, frying in butter, and sprinkling with sugar and cinnamon – yum! Skip the last step (sprinkling with sugar and cinnamon) if you don't want them so sweet. I find the Nutella and maple syrup is enough sweet for me! You can fill them with anything you want, but I must say banana Nutella french toast roll-ups are my favorite french toast roll-ups.
What would you fill your french toast roll-ups with?
On a healthier note, yesterday was my weekly Thursday weigh-in. I came in at 129.8! Once again I am thrilled to see some progress here. Just about 10 pounds left to go to my pre-pregnancy weight, and I am starting to focus more on building muscle too. Tonight's spin class consists of spinning and lifting…at the same time! Sounds grueling, but definitely worth it. Especially because I have a brunch and BBQ planned for this weekend where I will probably eat way more than I should!
Have a great weekend :-)!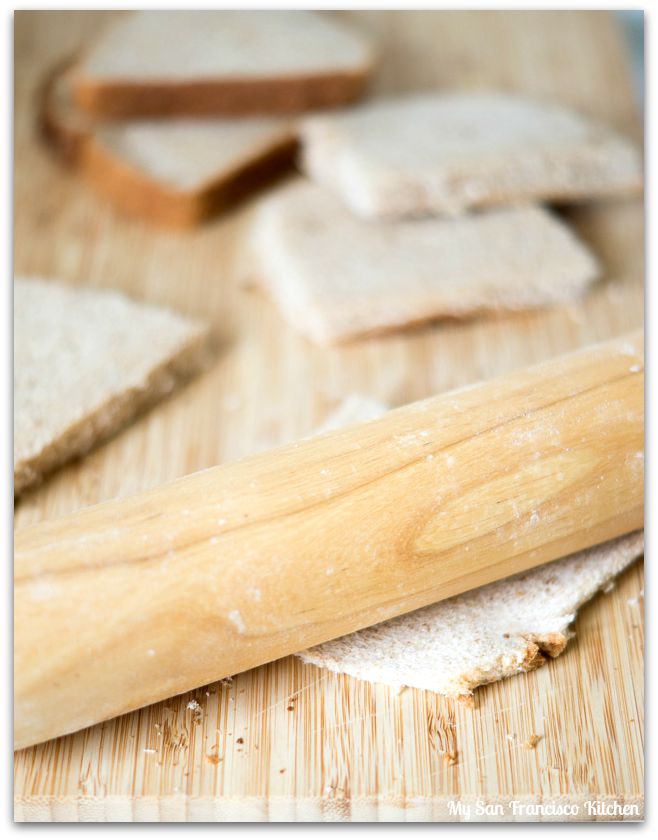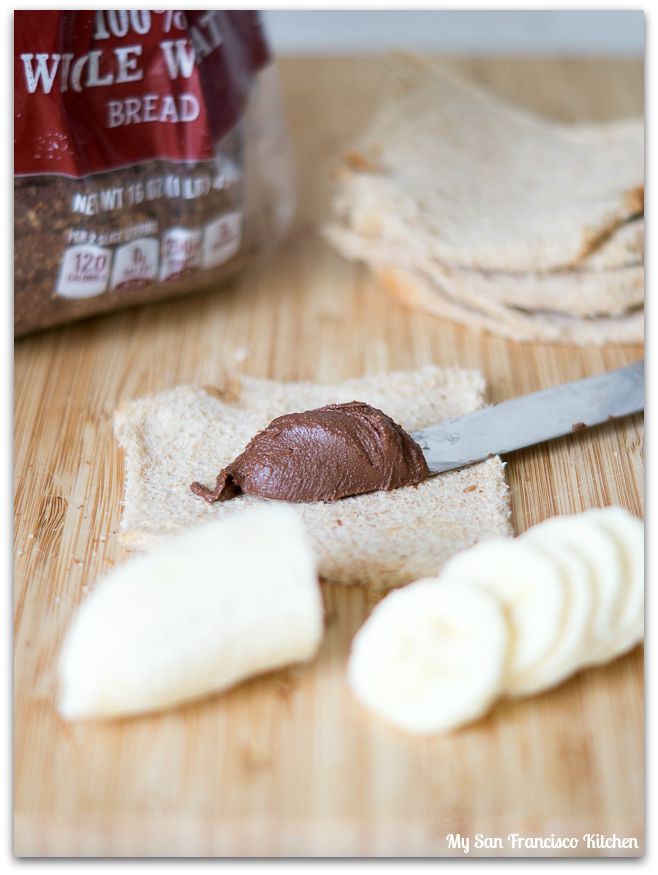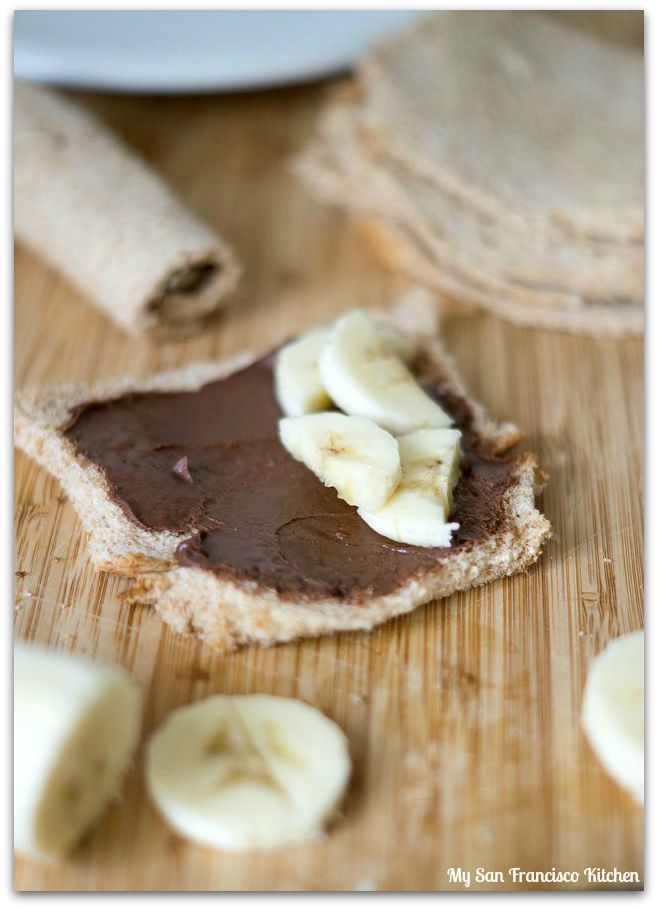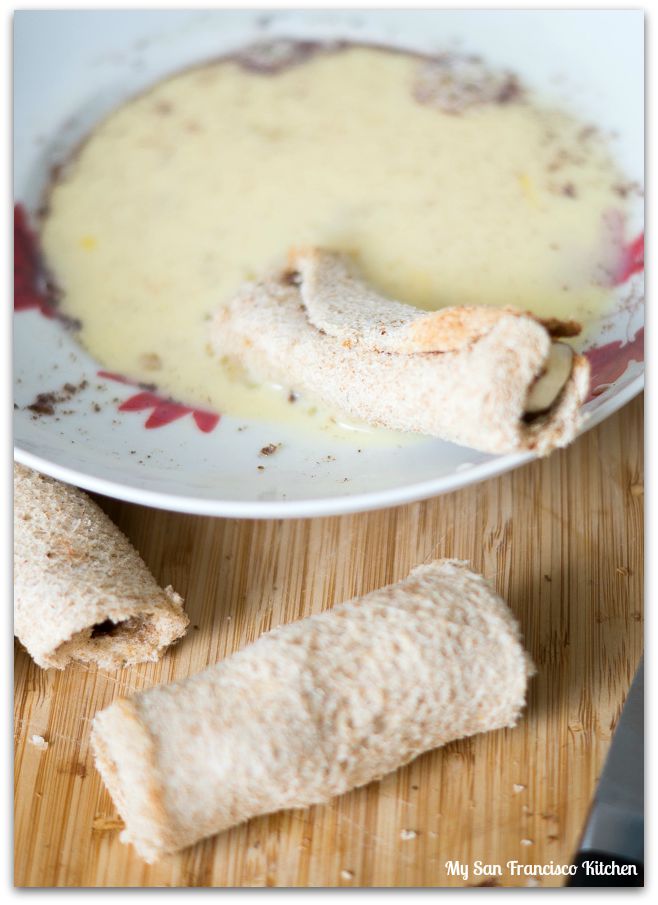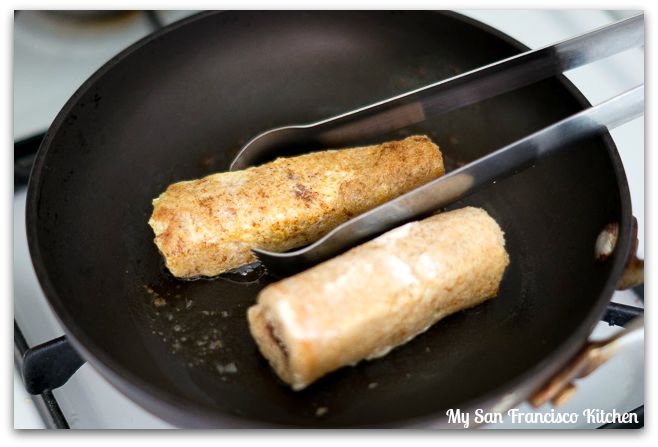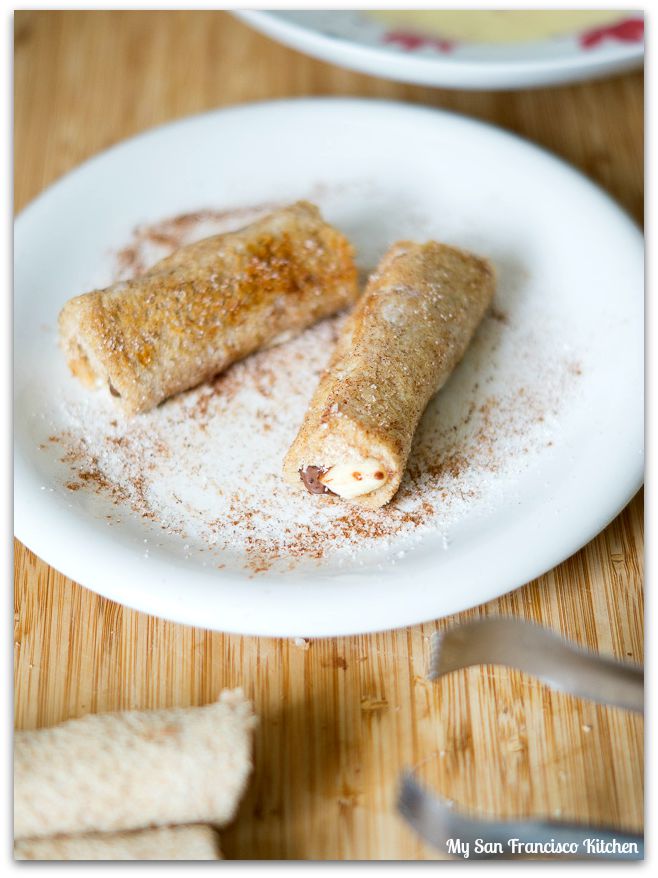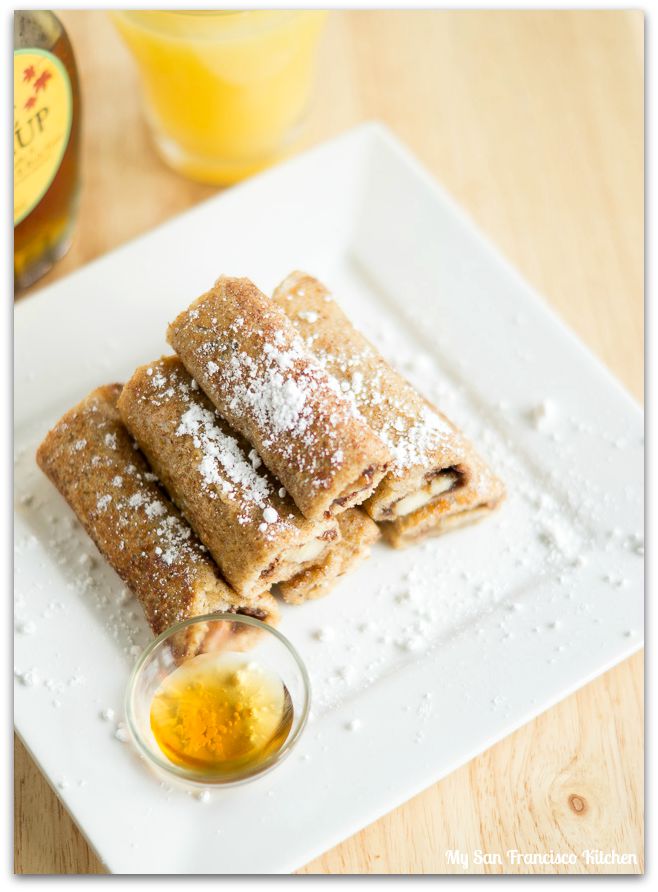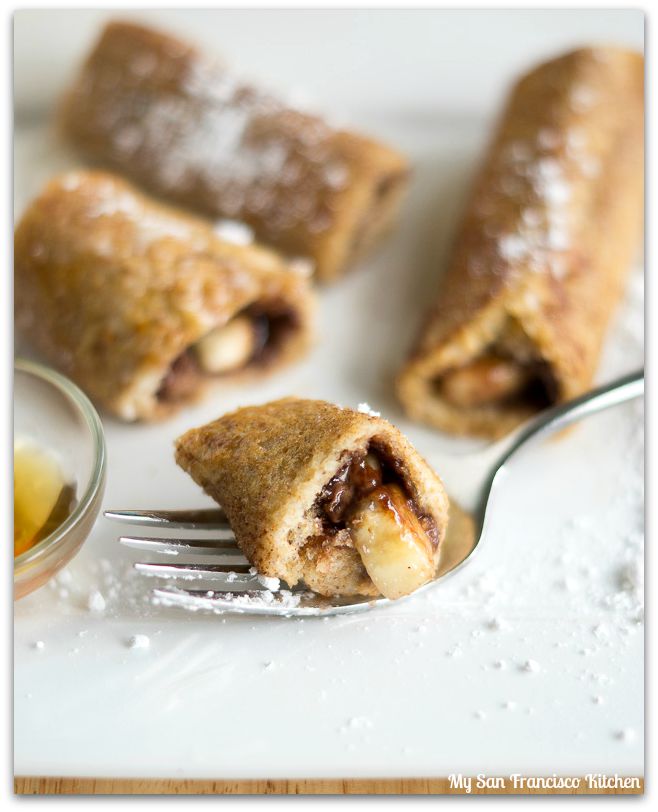 Banana Nutella French Toast Roll-Ups
Ingredients
6 slices whole wheat bread
1 egg
½ tsp cinnamon
6 tbsp Nutella
2 bananas, sliced
1 tbsp butter
Sugar and cinnamon for rolling
Powdered sugar for garnish
Instructions
Add sugar and cinnamon to a place and mix together. Set aside.
Add the egg and ½ tsp cinnamon to a bowl and beat together.
Cut off the crust of each slice of bread and roll until very flat.
Spread 1 tbsp of Nutella on each slice, top with banana slices, and roll up.
Dip each roll in the egg, turning all the way around, and shake off excess.
Melt the butter in a skillet and fry each french toast roll-up by turning with tongs until browned all the way around, about 5 minutes each.
Immediately roll the roll-up in the sugar cinnamon mixture and set aside on a plate.
Keep warm in an oven (200 degrees F) if desired until ready to serve.
Sprinkle with powdered sugar before serving.
Makes 6 roll-ups