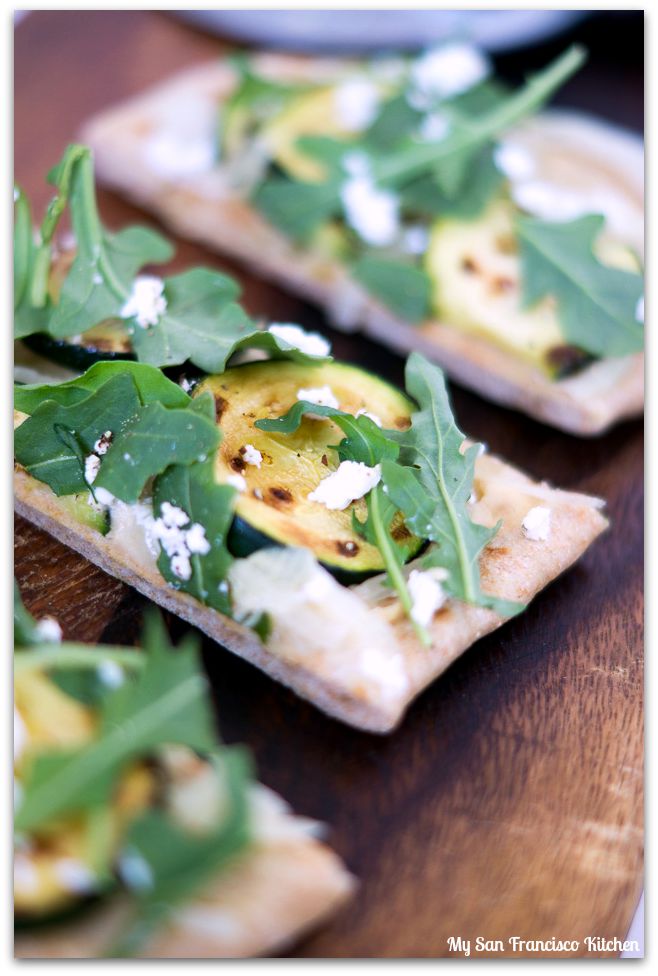 This week's Meatless Monday recipe is a homemade whole wheat flatbread topped with hummus, onions, zucchini, arugula and goat cheese. I have a really easy recipe to make your own flatbread from scratch, which is included in this recipe below. I don't have a grill pan (what?!), so I use my George Foreman grill to make the flatbread. It always surprises me how quickly it cooks the flatbread…it literally takes a few minutes until the flatbread is fully cooked!
I love this vegetarian recipe because it is incredibly flavorful. The vegetables are pre-cooked (you can either sauté them in olive oil or roast them in the oven – your choice!), which really brings out their flavor. The hummus works nicely as a subtle base, whereas the goat cheese and arugula add strong tangy flavors. With every bite, it is like a concert going on in your mouth. Flatbread recipes are great because they are really versatile, and really quick and easy to make most of the time.
What is your favorite flatbread recipe?
This weekend we went to a neighborhood BBQ, and it was a lot of fun meeting some new neighbors. We brought our baby girl for a little, and at first I was anxious she would hate all of the noise and cry, but she had a good time looking around all curious! All of the action wore her out, because she has been snoozing most of the day today. Poor thing! I think it is also because of the warm weather we have been having. I couldn't even sleep last night because it was so warm in our apartment. Most apartments in San Francisco don't have air conditioning because we never need it, but last night would have been nice. I am still loving that we actually have a summer though!
4 more days until Eat Drink SF!!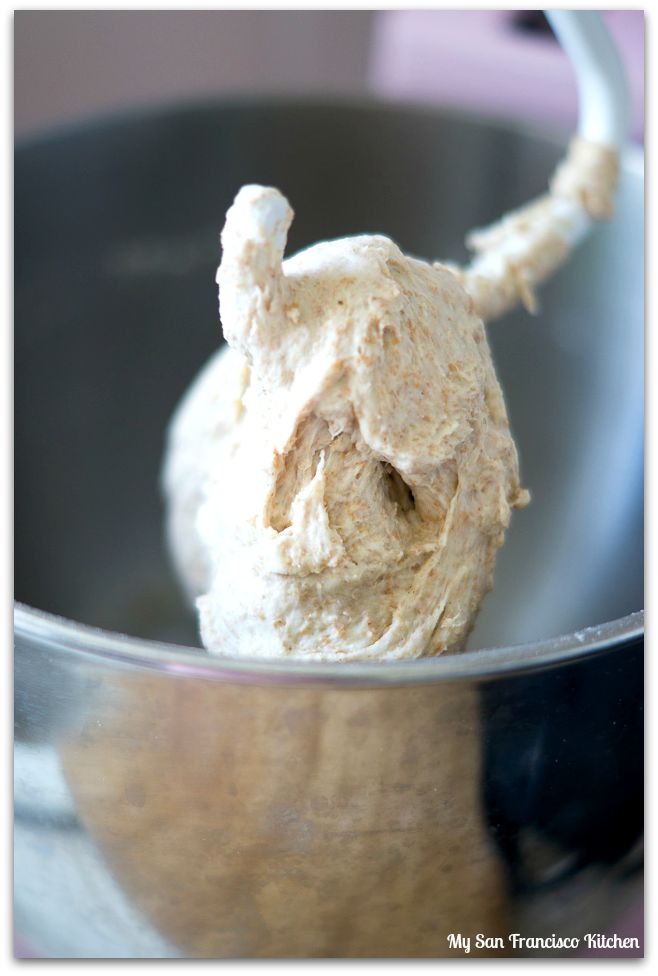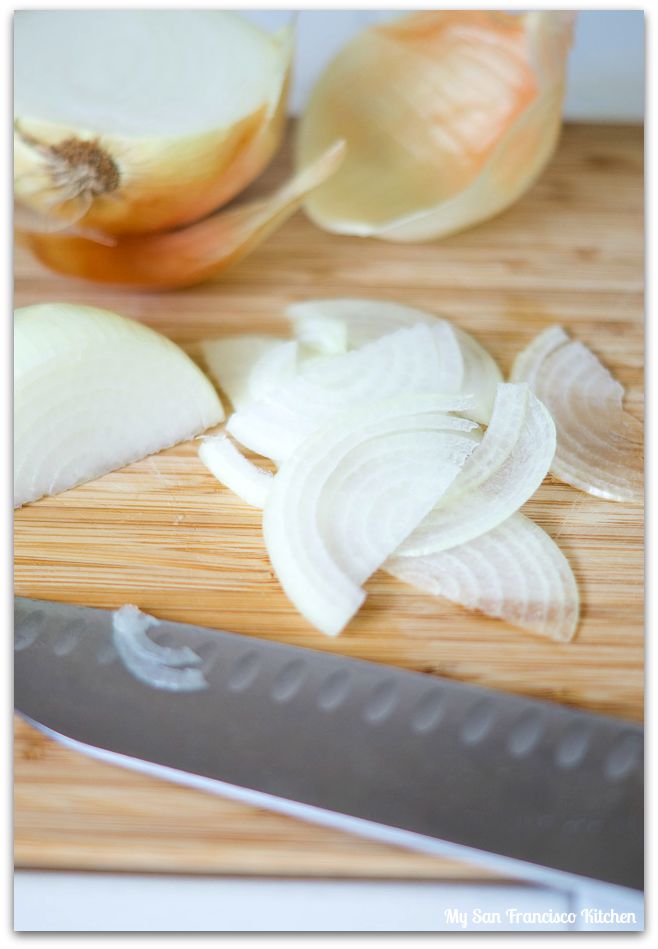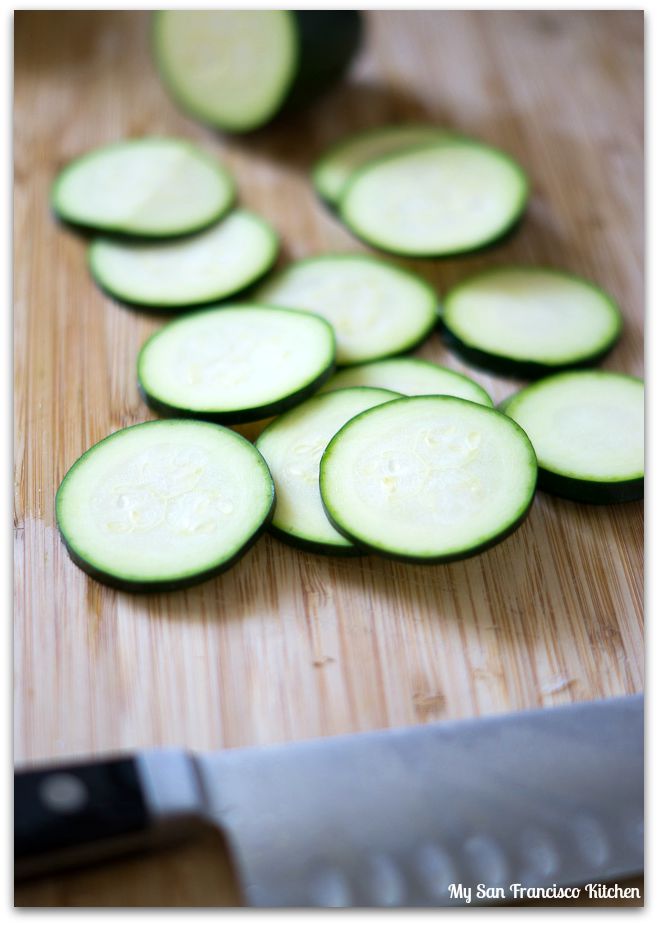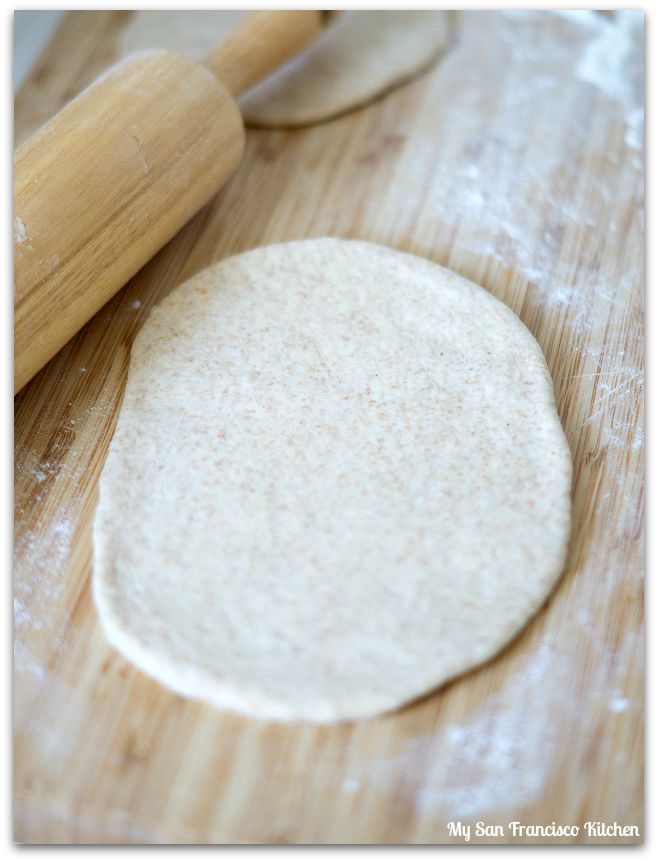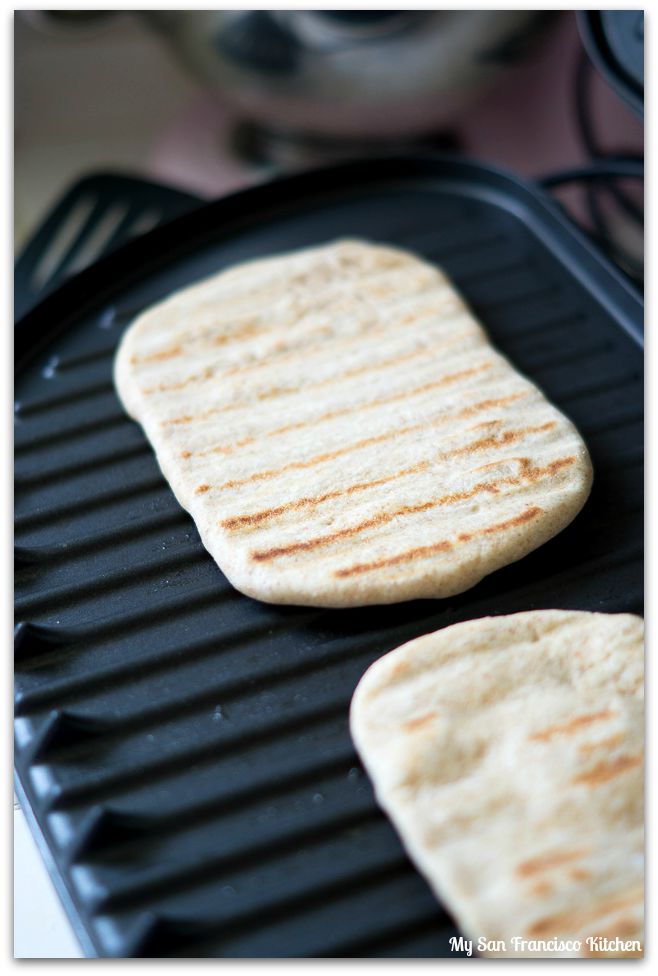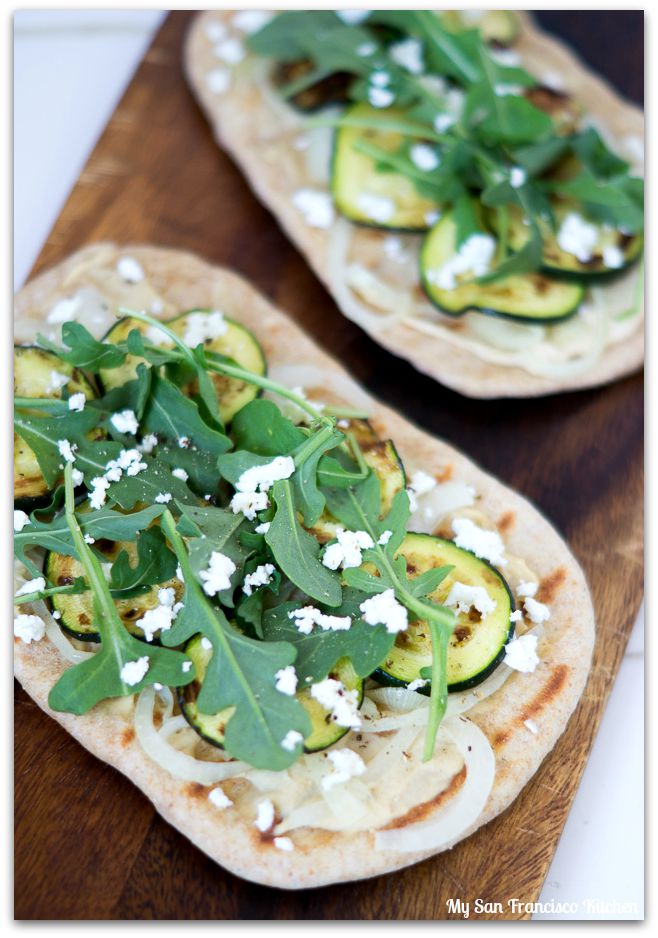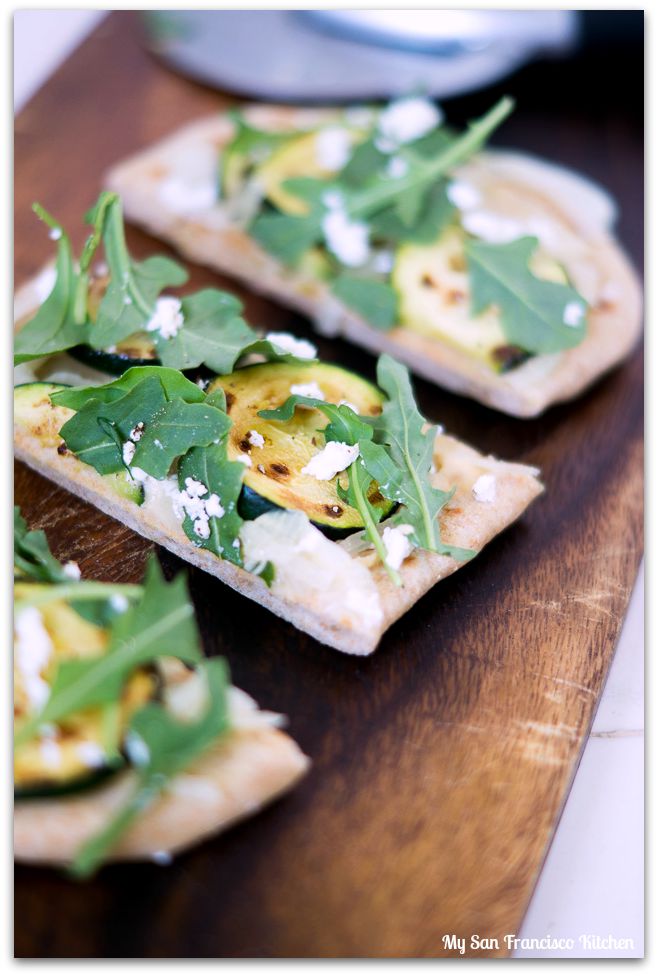 Zucchini Flatbread with Onions, Arugula & Goat Cheese
Ingredients
Flatbread
1 tsp active rapid rise yeast
½ cup warm water
¼ tsp sugar
1 tbsp olive oil
¼ tsp salt
½ cup whole wheat flour
⅔ cup all-purpose flour
Toppings
1 tbsp olive oil
1 yellow onion, thinly sliced
1 medium zucchini, thinly sliced
½ cup hummus
½ cup arugula
¼ cup crumbled goat cheese
Pepper, to taste
Instructions
Add the yeast, sugar and water to a stand mixer with hook attachment. Let proof for 10 minutes (should be foamy).
Add the salt and olive oil, then turn on the mixer and mix on low speed.
Slowly add the flour little by little.
Continue to mix the dough for 5 minutes to "knead" it.
Gather the dough into a ball and set back into the mixing bowl. Cover with a towel and let stand 1 hour.
In the meantime, heat the olive oil in a skillet over medium heat.
Add the onions and cook until soft, about 10 minutes, stirring occasionally.
Remove the onions and set aside in a separate bowl.
Add the zucchini and cook until browned on both sides, then remove from heat.
Preheat a grill pan or indoor grill.
Once the dough is ready, separate into four balls and roll out on a floured surface into a thin square or circle.
Transfer to the grill and cook on both sides until dark lines from the grill appear, and bubbles start to form in the dough (about 5 minutes on each side). Puncture with a fork to release the air inside and flatten.
Top with hummus, then add the onions, zucchini, arugula, goat cheese and black pepper.
Makes 4 flatbreads
Did you make it? I'd love to see! Snap a pic and share via #mysanfranciscokitchen, or tag my social media sites!
Disclaimer: Some of the links above may be affiliate links. If you purchase the product, I will receive some of the profits.