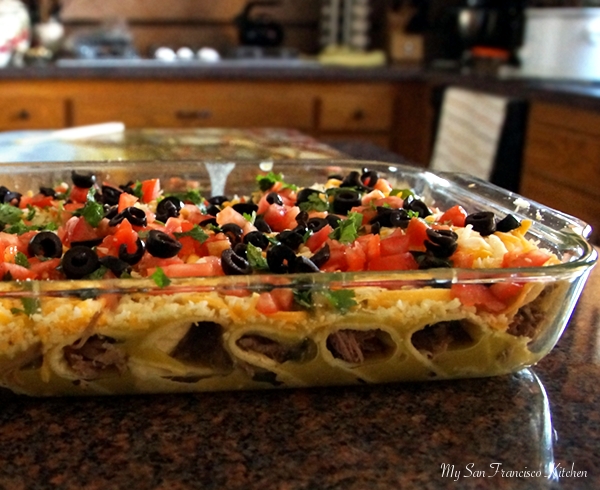 We are back from Hawaii and spending a day at my parents' house before heading back to San Francisco. This afternoon my mom and I made shredded beef enchiladas with green chile sauce. It was so great to come home and make a home-cooked meal with her after being on vacation for 2 weeks. You can also make these with chicken. I can't decide which version I like better! What's your preference? We also made fresh salsa and guacamole to go along with the enchiladas-I was in heaven! Try my mom's amazing salsa recipe and my guacamole recipe with these enchiladas as a topping.

Slow-Cooked Shredded Beef Enchiladas
Ingredients
1-2 lbs sirloin roast
½ cup beef stock
1 tbsp taco seasoning
2 tsp cumin
2 tsp coriander
Kosher salt
20 corn tortillas
28 oz can green chile enchilada sauce
3 cups shredded Colby & Monterey Jack Cheese
2 Roma tomatoes
2 tbsp fresh chopped cilantro
Olives
Canola oil
Instructions
Mix salt, cumin, coriander and taco seasoning together in a bowl.
Use half of the mixture to rub on one side of the sirloin roast, and the remaining half to rub on the other side.
Set roast in center of a 3qt crockpot and pour beef broth around the meat (not on top!).
Cover and cook on low for 7 hours, turning once after 3.5 hours.
Remove the roast from crockpot and place on a large plate.
Using two forks, shred the meat into small pieces. Cover and set aside.
Heat a small skillet on low and add ½ tbsp canola oil in the center.
Dip corn tortillas in oil on both sides until soft, one at a time. Place on a plate covered with a paper towel, and place another paper towel on top to keep soft.
Preheat oven to 350 degrees F.
Dip each tortilla in green chile enchilada sauce and place on a 15x10 casserole dish.
Add a few tbsp shredded meat and cheese in each tortilla, and roll tightly. Make sure they are all seam-side down.
When all are rolled, top with remaining green chile sauce, cheese, tomatoes, cilantro, and olives.
Bake in the oven for 45 minutes.
Serve warm with salsa, sour cream, and guacamole.
This post is sponsored by: