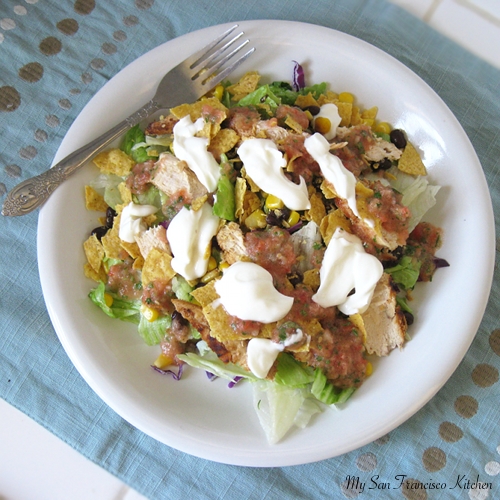 It's official – I'm a Mrs.! We are now honeymooning in Hawaii, which is so beautiful and I am loving every moment here. Even though our suite has a kitchen, I haven't been using it very much. The groceries in Hawaii are incredibly expensive, and its almost the same cost to eat out at a restaurant here :/ For example, milk is $7 when back home in Cali the same size is $3! I miss having my fully stocked kitchen at home! As a wedding present, my grandparents gave us a Sony DSLR, so this is the last post where you will be seeing my old point & shoot camera photos. I can't wait to start playing with it back home in San Francisco!
Here is a quick and easy lunch or dinner idea: a Mexican grilled chicken salad. This salad can double as a side or a main dish. It can be very filling depending on how much stuff you add to it! You can grill the chicken ahead of time, or use leftover chicken as well. Have fun with the seasonings…I kept it plain and simple with salt and pepper, which always tastes great. Don't forget the homemade salsa and sour cream as "dressing"!

Ingredients
1 bag chopped romaine/iceberg lettuce
2 chicken breasts
2 tbsp olive oil
Salt & pepper
1 can organic black beans
1 can corn
1 avocado, sliced (optional)
Tortilla chips, fresh salsa & sour cream for topping
Instructions
Brush chicken breasts with olive oil and season with salt and pepper.
Grill on a BBQ or indoor Foreman Grill.
Slice chicken on a plate and cover. Set aside.
Rinse romaine lettuce and drain well. Add to a bowl.
Toss in corn and black beans, then top with chicken.
Sprinkle crushed tortilla chips over the top.
Once served, add a few dollops of salsa and sour cream over the top.
This post is sponsored by: