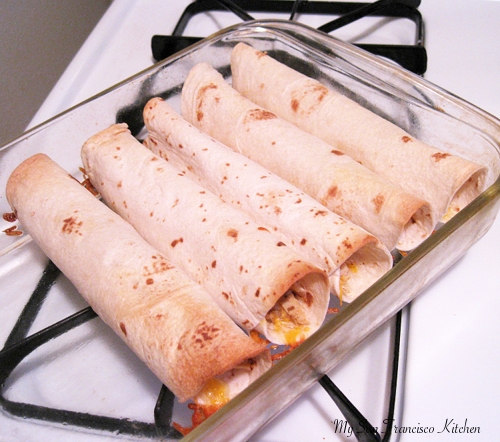 Once again the weekend has gone by too fast. Have a great week everyone! If you are looking for an easy dinner recipe, look no further! This baked chicken taquitos recipe uses tender chicken seasoned in a crock pot on low all day, so minimal cooking time is required! They come out of the oven nice and crispy. I have seen many different recipes that use a variety of seasonings, and some use flour some use corn tortillas…but this is my favorite chicken taquito recipe. I kind of always fail at rolling them tight enough…I think it helps to microwave to tortillas to soften them up. Enjoy!

Baked Crockpot Chicken Taquitos
Ingredients
1 frozen boneless skinless chicken breast
1 tsp chile powder
1 tsp cumin
2 cloves garlic, minced
½ cup water
1 tsp chicken bouillon powder
Salt and pepper to taste
2 tbsp cream cheese (optional)
1 tbsp fresh cilantro
1 cup of shredded Mexican cheese (jack and cheddar)
5 flour tortillas
Instructions
Add chicken breast to crock pot and set on "low".
Add water and all of the seasonings listed above and cover.
Let simmer on low for 4-5 hours, turning chicken twice throughout.
Preheat oven to 425 degrees F.
Transfer chicken to a plate and shred by using two forks.
With a spoon, drizzle a few spoonfuls of juices from crockpot.
Warm tortillas in microwave if needed and top with chicken on the bottom ⅓, followed by cheese.
Roll up tightly and place on a greased baking dish seam-side down.
Bake for 20 minutes, careful not to burn the tops.
Serve with Mexican rice, sour cream, salsa, and guacamole!
Makes 5 chicken taquitos
This post is sponsored by: