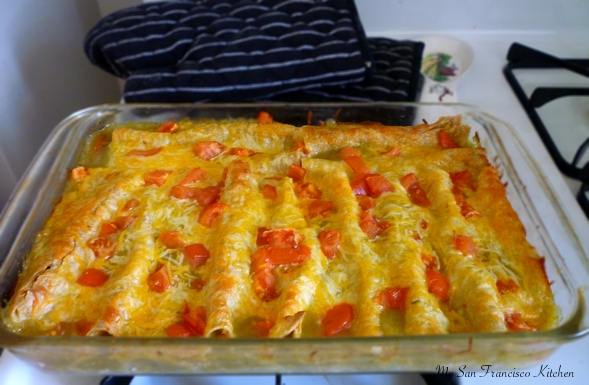 These green chile enchiladas can be made with chicken or beef, but I prefer shredded chicken. Tenderize and season the chicken breasts in a crock pot on high, and after 3 hours the chicken will fall apart and will be easy to shred. This recipe was originally my Mom's, and I still have not had enchiladas at any Mexican restaurant that I have loved more. I admit to cheating a little with the tortillas (not homemade) and the enchilada sauce (also not homemade) because it would be very time consuming to make those myself too. Serve with salsa, sour cream, and guacamole, mmmm mmm!

Green Chile Chicken Enchiladas
Ingredients
2 chicken breasts
2 cups of chicken broth
1 clove fresh garlic, minced
½ tsp paprika
½ tsp chile powder
¼ tsp dried red chili pepper flakes
½ tsp oregano
1 tomato
1 28oz can Las Palmas Green Chile Enchilada Sauce
2 cups shredded Mexican blend cheese (cheddar & jack)
13 corn tortillas
Olive oil
Instructions
Pour 2 cups of chicken broth into a crockpot and set on "high".
Add chicken breasts and all seasonings, then cover for 3 hours.
Turn chicken over halfway through.
Transfer chicken to a plate and shred with 2 forks.
Pour 1 cup of the seasoned chicken broth from the crockpot over the shredded chicken.
Preheat oven to 350 ºF.
Heat 2 tbsp olive oil over low heat in a small skillet.
Place corn tortilla in skillet for 10 seconds on each side, and transfer to a paper towel to pat out excess oil.
Dip tortilla in can of enchilada sauce.
Add a few tablespoons of chicken and cheese to the center of the tortilla, then roll and fix seam-side down in a greased 9x13 baking dish.
Once all tortillas are rolled, cover with remaining enchilada sauce.
Top with cheese and diced tomatoes.
Bake at 350 ºF for 45 minutes.
Let stand 10 minutes before serving.
This post is sponsored by: