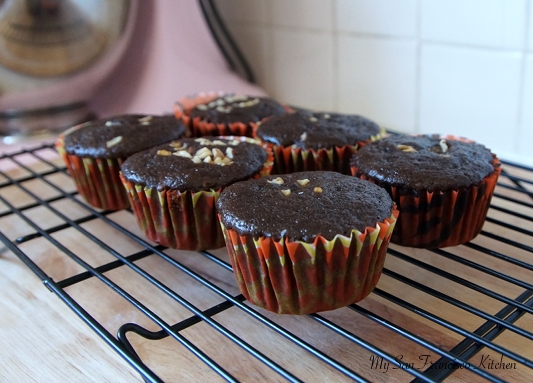 Last night we got back home to San Francisco, along with a carload of wedding presents! We started out with around 30 boxes to carry up 5 flights of stairs, and when there was only 3 left in the car we gave up. Pathetic, I know. The laziness has continued and I haven't unpacked a single thing (except my suitcase). Maybe tomorrow I will be more motivated. My living room looks like a hurricane came through, and I have no idea where to start fitting everything in this tiny apartment-especially the kitchen… Of course I wasn't too lazy to make these chocolate chocolate chip & walnut muffins! The yogurt makes them so moist and delicious-yum! The only thing I hate about muffins is every time I see the nutrition info I always feel so guilty. The amount of sugar in them is insane, so for this recipe I used NECTRESSE™Sweetener, the only 100% natural sweetener made from fruit (monk fruit extract) available in the grocery stores. I usually don't use artificial sweeteners in my recipes, but I have heard great things about this one so I thought I would try it. It gives the muffins a sweet taste without all of the guilt. My hubby couldn't even tell the difference. If you aren't able to use sugar or want to cut down some of the sugar in your recipes, try this sweetener instead. You can sign up for your own FREE sample of NECTRESSE™Sweetener to try it out! Check out the video I posted at the end with Lisa Ling to find out more.
p.s. Another tip is to use mini chocolate chips to avoid all of the chocolate chips sinking to the bottom during baking in the oven!

Double Chocolate Walnut Muffins
Ingredients
¾ cup all-purpose flour
½ cup sugar OR 12 packets of Nectresse sweetener
¼ cup unsweetened cocoa
½ teaspoon baking soda
Pinch of salt
1 egg
⅓ cup plain, nonfat yogurt
2 tbsp and 2 tsp water
2 tbsp and 2 tsp milk
2 tbsp and 2 tsp vegetable oil
¼ tsp vanilla extract
4 tbsp semisweet chocolate chips
2 tbsp chopped walnuts
Instructions
Whisk together all dry ingredients in a large bowl (including chocolate chips and walnuts).
Add egg, yogurt, water, milk, oil, and vanilla and stir with a wooden spoon until the batter is well blended.
Preheat oven to 325 degrees F.
Fill paper cups lining a muffin pan ¾ full and bake in the oven for 20 minutes.
Test with a toothpick, and if it comes out dry they are done!
Immediately transfer to a wire cooling rack and let cool 10 minutes before serving.
Serve warm with milk.
Makes 8 medium-sized muffins
This post brought to you by Nectresse™ Sweetener. All opinions are 100% mine.