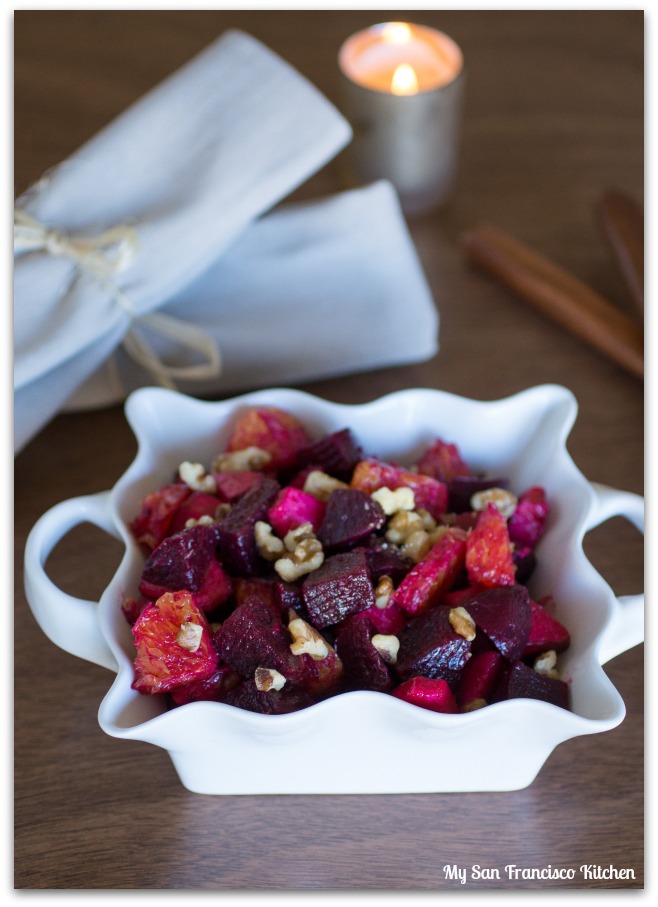 After my last post, I thought I would balance it out with something healthy! Just one week left until Thanksgiving…do you have your menu planned out yet? This beet, orange and apple salad is a colorful and healthy addition to your spread. It is a recipe inspired by my husband's mom, because she makes a similar salad for us and is one of my favorites! It is tossed in a balsamic vinaigrette and sprinkled with chopped walnuts. Beets are very healthy, and taste so good when cooked fresh (not from a can). I always turn my hands pink when cooking with them, but don't worry, it goes away 😉 You can always wear gloves when handling the beets to avoid your hands turning pink.
To view the recipe for my Beet, Orange and Apple salad recipe, check it out on Thanksgiving.com: http://www.thanksgiving.com/recipes/vegetarian/beet-apple-orange-salad/
This week it is raining in San Francisco, but we needed the rain really badly! Today is my day off, and a good friend is in town so we plan to have a girls day 🙂 Shopping trips are perfect for rainy weather!