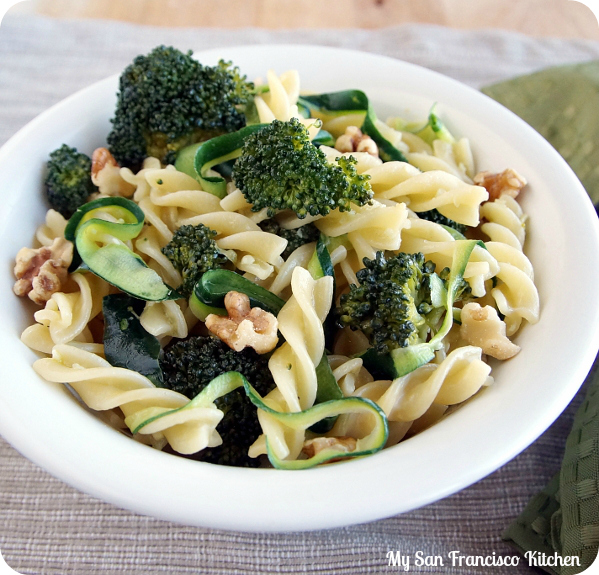 Of course the day before my final exam the weather is beautiful in San Francisco… I'm talking, perfect California beach day. Depending on who you talk to here, this weather is rare or not (people who live in the Mission district see the sun a lot more than the rest of us!). To me, a day like this is rare – the few "summer days" I will get in San Francisco! Hopefully it will stay like this after my finals are over so I can enjoy the sun.
Happy St. Patrick's Day! As you can tell, I am stuck inside studying all day instead of celebrating. Are you doing anything special today? In honor of St. Patrick's Day, here is a green, healthy recipe for you – Broccoli Walnut Pasta tossed with olive oil, garlic, zucchini ribbons and Parmesan cheese. Before this recipe, I never experimented with adding nuts to pasta. I usually add them to my salads, but never pasta. I loved the flavor and texture the walnuts gave to this dish! You can toast them in a toaster oven for a few minutes, or in the skillet with the rest of the ingredients to enhance their flavor. I kept it simple in this recipe and just added them in raw.
I hope you are having some of this fantastic Spring weather and are able to enjoy it!

Broccoli Walnut Pasta
Ingredients
2 cups uncooked fusilli pasta
1 head organic broccoli
4 tbsp olive oil, divided
1 organic zucchini
3 cloves garlic, minced
½ cup chopped walnuts
¼ tsp pepper
Parmesan cheese
Instructions
Bring a large pot of water to boil and add fusilli pasta.
Cook for the time written on the bag, usually around 7-10 minutes, until al dente. Once done, strain and set aside.
In the mean time, heat olive oil in a large skillet over medium heat.
Add the minced garlic.
Use a vegetable peeler to peel off zucchini ribbons into the skillet. Cook for 6 minutes, stirring occasionally. Once done, turn heat to low to keep warm.
Add the broccoli (you can change the water if you wish) to the boiling water and cook for 6 minutes, or until tender and dark green.
Strain and chop into small, bite-sized pieces.
Add broccoli to the skillet and stir everything together.

In a large bowl, mix together the pasta, remaining olive oil, vegetables, walnuts, pepper and freshly grated Parmesan cheese.
Serve warm.

Makes about 4 cups